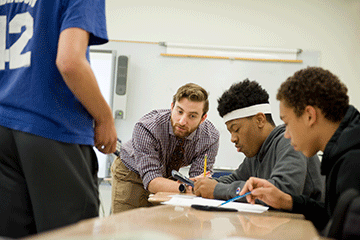 05/16/2023

SUNY Cortland faculty, staff and administrators will gather at the Greek Peak Mountain Resort on Tuesday, May 23, for a one-day conference that celebrates teaching and learning.
The first "Great Expectations: SUNY Cortland Teaching and Learning Conference" is intended to offer all university employees an opportunity to present new ideas and discuss a range of teaching and learning issues aimed at improving students' college success.
Because of the strong response, organizers limited registration to only SUNY Cortland faculty and staff. Participation is free and lunch will be provided.
Interest in the conference has been strong, and registration for Great Expectations is closed. For more information or to have your name placed on a waitlist for an opening, please contact Melinda Shimizu, Vince DeTuri, and/or Carol Van Der Karr.
"We had hoped to have 50 people for the first round and needed to close registration at around 80 because of space constraints," said co-organizer Van Der Karr, vice provost, academic affairs and institutional effectiveness.
"Great Expectations" will host sessions in three topic tracks between 9 a.m. to 3 p.m.:
"Revising and Utilizing Student Learning Outcomes"
"Teaching in 2023: Innovative Teaching Methods and Strategies"
"Assessment Tools and Methods"
In March, organizers lined up their colleagues' seminar proposals to share their work and perspective. The presenters will give their talks in their choice of several different formats: a 10-minute challenge talk, a 15-minute short presentation, a 45-minute-long presentation, or a 40-minute panel with three or more presenters.
"The university's Student Learning Outcomes Committee received funding for this type of professional development from the Institutional Planning and Assessment Committee," Van Der Karr said. "It was intended to support teaching and learning and provide more perspectives on student outcomes. The SLO Committee has worked on this for several years and waited for some COVID restrictions to be lessened for a safer environment for all."
The conference continues the institution's ongoing professional development work in improving student success, she noted.
Coordinated by the SLO Committee, this event is supported by the Faculty Development Center, Institutional Planning and Assessment Committee and the Provost's Office.
---