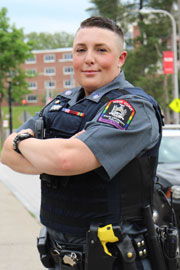 Campus Champion
University Police Officer Danielle Salisbury designed official Pride Month patches that let campus police officers across New York state show support for the LGBTQ+ community throughout June. The patch project doubles as a fundraiser for the Point Foundation and you can read more about it online. Officer Salisbury also instructs students and staff on behalf of the Green Dot bystander intervention programs and she teaches self-defense for UPD's Rape Aggression Defense sexual assault prevention training. Plus, she's a certified New York Police Juvenile Officer, bringing to the department skills needed to assist with issues impacting young people on campus.

Nominate a Campus Champion
---
Monday, June 13
Newman Foundation Golf Tournament: Golf to support a good cause at the Newman Foundation of Cortland Third Annual Golf Tournament, Cortland Country Club, shotgun start at 12:30 p.m. To register, contact Tricia Wilder, director of Catholic Campus Ministry.
---
Saturday, June 18
Juneteenth Celebration in Cortland: Speakers, family friendly vendors, music, hosted by the Cortland County Community of Color (C4), Courthouse Park on Church Street, 5:30 to 8:30 p.m.
---
Friday, June 24
Orientation for transfer students: Session 1, online via Webex, 10:30 a.m. to 4:30 p.m.
---
Tuesday, June 28
Orientation for first-year students: Session 1, 8:30 a.m. to 5 p.m.
---
Wednesday, June 29
Orientation for transfer students: Session 2, 8:30 a.m. to 5 p.m.
---
Thursday, June 30
Orientation for first-year students: Session 2, 8:30 a.m. to 5 p.m.
---
Thursday, July 14 to Sunday, July 17
Reunion 2022: Alumni return to campus for this annual event, register online.
---
---
UPD officers showing pride
A Pride Month patch designed by a SUNY Cortland officer will be worn throughout the SUNY system read more
Graduate students build awareness of aphasia
June has been declared Aphasia Awareness Month locally thanks to the Communication Disorders and Sciences Department. read more
---
Capture the Moment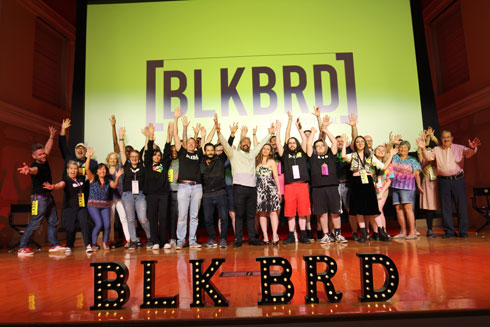 Signing off from the 2022 Blackbird Film Fest are filmmakers, student interns, alumni and others who helped make this year's event a success. Films were shown May 19 to 22 in Old Main Brown Auditorium, with other events taking place throughout the community. Of the 1,196 films submitted to Blackbird's judges, 136 films were screened over the four days. View more photos from the festival.
---
In Other News

Suggest a feature story
---
Faculty/Staff Activities
Eileen Gilroy shared that her graduate students accepted a proclamation declaring June 2022 as Aphasia Awareness Month in Cortland County. read more
Daniela Baban Hurrle was awarded the Clark Center Internationalization Award in April. read more
Jeremy Jimenez had an essay advocating for indigenous land management in a climate changing world published. read more
Patricia Martinez de la Vega Mansilla received the Clark Center Internationalization Award in April. read more

Submit your faculty/staff activity
In Memoriam
Josephine Ogden, who was employed at SUNY Cortland as a secretary for 37 years, died on Sunday, May 15.
Russell R. Scott, who worked as an office assistant in the Duplicating Center for over 21 years until his retirement in 2021, died on Monday, May 23.
Willi A. Uschald, director of International Programs emeritus and professor emeritus of foreign languages, died on Sunday, May 22.