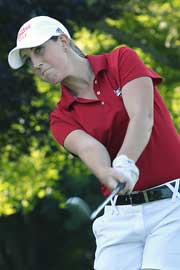 Campus Champion
Senior Rebecca Studin isn't winding down in the days before Commence-ment; the Ithaca, N.Y., native is just gearing up to represent SUNY Cortland at the NCAA Women's Golf Championships in Howey-in-the-Hills, Fla. The week already has been chalked up as a success for the first Red Dragon women's golfer to qualify for the national championship, even before four-day tournament play begins. Rebecca earned the NCAA's Elite 89 Award for women's golf Tuesday, which goes to the student-athlete with the highest cumulative grade point average at each of the NCAA's 89 championship sites. The sport management major carried a 4.08 GPA into the spring semester.

Nominate a Campus Champion
---
Friday, May 16
Commissioning Ceremony: Recognizing graduating senior Joe Ursitti for completing the Army ROTC program as he is commissioned at the rank of Second Lieutenant, Park Center Hall of Fame Room, 3:30-4:30 p.m.
Friday, May 16
Graduate Commencement: Park Center Alumni Arena, 7 p.m.
Saturday, May 17
Undergraduate Commencement: Stadium Complex, 9:30 a.m. and 2:30 p.m.
Tuesday, May 20
UUP's Professional Employee's Recognition Luncheon: Corey Union Function Room, 11:30 a.m.-1 p.m., R.S.V.P. via email to UUP@cortland.edu
Wednesday, May 21
Summer Session I begins. Continues through Wednesday, June 25.
---
---
Stadium Complex to Host Historic Commencement
An estimated 1,477 seniors will receive bachelor's degrees at Commencement. read more
Professor's Final Gift Continues Legacy
Lawrence Smith's $125,000 gift will endow the Faculty Senate's annual scholarship. read more
---
Capture the Moment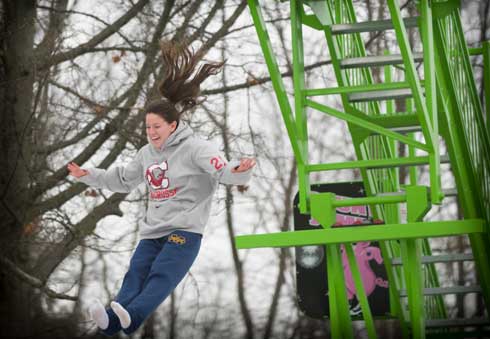 Mid-flight off the Stunt Jump, sophomore Geena Donovan entertains friends watching from below at the College's Spring Fling Carnival on May 3. The afternoon of outdoor fun was followed by a concert with Grammy-nominated hip hop artist J. Cole. This annual celebration is a last fling before final exams, which continue through tomorrow.
---
In Other News

Suggest a feature story
---
People on the Move
---
Faculty/Staff Activities
Mark Dodds had his article published in the Journal of Brand Strategy. read more
Terrence Fitzgerald, Frank Rossi and Michael Wolfin '12 co-authored a paper published in the current issue of . read more
Denise Knight will have her essay on Charlotte Perkins Gilman included in a collection about American women writers in Italy. read more
Jean W. LeLoup co-authored a recently published paper that focuses on the relationship between language learning and leadership development. read more
R. Bruce Mattingly participated in a panel discussion on tenure issues in higher education geared to students pursuing faculty careers. read more

Submit your faculty/staff activity