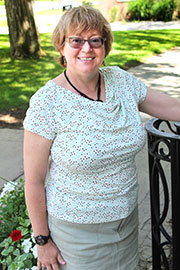 Campus Champion
Jennifer Wilson, associate director of communications, has been writing SUNY Cortland's stories for more than 20 years. Jennifer has served on numerous committees and coached many writing interns, giving selflessly of her time, talent and energy to advance SUNY Cortland's mission. Her dedication to higher education institutional advancement is far-reaching. She raised support for annual conferences of the State University of New York Council for University Affairs and Development (SUNYCUAD) by serving as sponsor liaison for five consecutive conferences. In recognition, SUNYCUAD inducted Jennifer into its Hall of Fame Class of 2018 on June 7.

Nominate a Campus Champion
---
Wednesday, July 4
Independence Day
Thursday, July 12 to Sunday, July 15
Friday, July 13
Red and White Golf Classic: Captain and Crew 18-hole tournament. Proceeds will support Cortland Athletics and the SUNY Cortland Alumni Association. Cortland Country Club, 9:30 a.m.
Thursday, Aug. 23
President's Opening Address and Faculty Meetings: Corey Union Function Room, 8 a.m.
Sunday, Aug. 26
Academic Convocation: Park Center Alumni Arena, 4 p.m.
Monday, Aug. 27
---
---
SUNY Cortland Receives Record Number of Applications
More than 13,000 prospective students applied for Fall 2018 enrollment. read more
Reunion 2018 Kicks Off Sesquicentennial
"America's Got Talent" hit Robert Channing will highlight the College's anniversary with a special painting. read more
---
Capture the Moment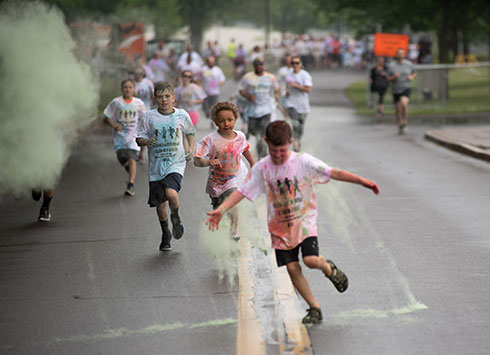 The fifth annual William Shaut Memorial Color Fun Run on June 24 drew 83 participants, including members of the Shaut family. Shaut, who died in 2014, was SUNY Cortland's vice president for finance and management and a dedicated supporter of SUNY Cortland's Child Care Center. The event raised nearly $2,000 for the center. Promising "more fun than run," children and adults were splashed with colorful powder at each of three color stations along the route. See more photos.
---
In Other News

Suggest a feature story
---
Faculty/Staff Activities
Tyler Bradway had his article published in GLQ: A Journal of Lesbian and Gay Studies special issue devoted to the study of LGBTQ literature. read more
Li Jin co-authored a paper that was published in Science magazine in May. read more
Will Montgomery was recognized for his feature story about SUNY Cortland's 1980 national champion women's soccer team. read more

Submit your faculty/staff activity