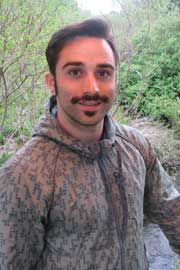 Campus Champion
Participants ducked under ropes, carried friends on their backs through ankle deep water and tackled 3.5 miles of rugged terrain at the Lime Hollow Center for Environment and Culture on April 29. It was all part of the Great Cortlandia, a first-year adventure race dreamed up and organized by Colin Wilson, a senior kinesiology major from Fulton, N.Y. The four-person team relay brought the College's passion for fitness into the community. And, perhaps more importantly, Wilson's brainchild raised nearly $750 for the Wounded Warrior Project, a national charity that provides support for injured service members.

Nominate a Campus Champion
---
Thursday, May 10
Artist Talk: Alumna Ji Eun Kim '11, Beard Building Gallery, 9 Main St., 6:30 p.m.
---
Friday, May 11
$ 2012 Red Dragon Golf Classic: Elm Tree Golf Course, 283 Rt. 13, Cortland, noon
---
Friday, May 11
Graduate Commencement: Park Center Alumni Arena, 7 p.m.
---
Friday, May 11
Kente Celebration: Corey Union Function Room, 8 p.m.
---
Saturday, May 12
Undergraduate Commencement: Park Center Alumni Arena, 9:30 a.m. and 2:30 p.m.
---
---
Chancellor's Award Honorees Named
The four recipients accepted their awards at Commencement on May 12. read more
Association Names Three Distinguished Alumni
Lawrence Fielding '66, James Costa '85 and Michael Draper '03 will be honored. read more
---
Capture the Moment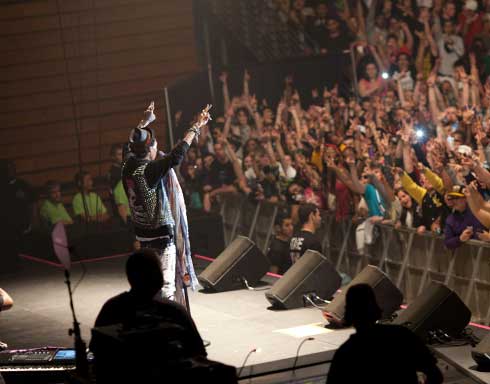 Grammy-nominated rap artist Wiz Khalifa rocked a sold-out Park Center Alumni Arena on April 28. More than 3,500 people attended the concert, which shattered the College's Spring Fling attendance record.
---
In Other News

Suggest a feature story
---
Faculty/Staff Activities
Karen Downey was an invited panelist at an American Chemical Society workshop at Binghamton University. read more
Guiseppe Getto presented at a conference in Missouri and had his poem accepted for publication. read more
John Hartsock presented a reading from his book, Seasons of a Finger Lakes Winery, at the Hudson Valley Writers' Center. read more
Kathleen Lawrence had her paper selected for presentation at the national American Popular Culture Association Annual Conference. read more
Jean W. LeLoup received the William H. Heiser Award for the United States Air Force Academy's Outstanding Senior Faculty Educator. read more

Submit your faculty/staff activity