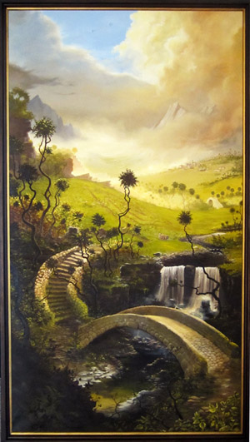 04/27/2012

An artist who has contributed illustrations and political cartoons to some of the nation's most recognizable daily newspapers will serve as the guest juror for SUNY Cortland's Student Select art exhibition, which continues until Saturday, May 12, at Dowd Gallery on campus.
The gallery will offer special hours from 11:30 a.m. to 1:30 p.m. on Saturday, the day of SUNY Cortland's Undergraduate Commencement ceremonies, to hold a reception for seniors in the Art and Art History Department.
The juried art exhibition was organized by Dowd Gallery employees and members of the student-run SUNY Cortland Art Exhibition Association. It opened on April 30.
The gallery admission is free and open to the public. The Dowd Gallery operates from 10 a.m. to 4 p.m. Monday through Friday.
Twenty SUNY Cortland students enrolled in art courses during the 2011-12 academic year submitted artwork for the exhibition. A piece by David Hernandez is pictured above at left.
The students included: Kelsey Cornell, Danielle Diehl, Leah Fries, Jake Gerard, Margaret Giamo, Hernandez, Xena Holzapfel, Danielle Jordan, Kellie Lynch, Robyn Macy, Amanda Mignano, Brenna Munz, Melissa Neher, Marie O'Malley, Tracy Reardon, Jordan Therrien, Nicole Torrey, Michelle Voipini, Lindsay Wilson and Kelli Withey.
Yvonne Buchanan, an associate professor of art and design and program coordinator for illustration at Syracuse University, will serve as the exhibition's guest juror. She instructs courses related to media and animation at Syracuse and is nationally recognized for her drawing.
The illustrator of several children's books, Buchanan's work has appeared in The New York Times, The Washington Post and The Los Angeles Times. Her media works have been screened at the Slamdance International Film Festival in Park City, Utah, the Syracuse International Film Festival, the Everson Museum of Art in Syracuse, N.Y., and the Memorial Art Gallery of the University of Rochester.
Buchanan earned a bachelor of fine arts degree from Parsons College in New York City. She holds a master of fine arts degree from Bard College in Annandale-on-Hudson, N.Y.
For more information, contact Bryan Thomas, gallery interim director, at (607) 753-4311.
---