Chancellor's Award Honorees Named
05/08/2012
Four SUNY Cortland faculty and administrators received the prestigious State University of New York Chancellor's Award for Excellence during the 2012 Undergraduate Commencement on May 12 in the Park Center.
The honorees were:
• Jeffrey J. Walkuski, associate professor of physical education — Chancellor's Award for Excellence in Faculty Service;
• Melony Warwick, secretary II in the Division of Institutional Advancement — Chancellor's Award for Excellence in Classified Service;
• Julian H. Wright, director of recreational sports — Chancellor's Award for Excellence in Professional Service; and
• Tiantian Zheng, professor of sociology/anthropology — Chancellor's Award for Excellence in Scholarship and Creative Activities.
The Chancellor's Awards are conferred to provide system-wide recognition for consistently superior professional achievement and to encourage the pursuit of excellence at all 64 SUNY campuses. Each campus president submits nominations, which are reviewed by the SUNY Committee on Awards.
This year's SUNY Cortland award winners are profiled below:
Jeffrey J. Walkuski
Jeffrey J. Walkuski
Walkuski becomes the ninth SUNY Cortland recipient of the Chancellor's Award for Excellence in Faculty Service. It recognizes his extensive College service and leadership, as well as his specific efforts to help both individual students and his community as well as his profession, which he represented at an international level.
Walkuski joined the College as an assistant professor in 1999 and was promoted to associate professor in 2006.
He has delivered presentations on teacher preparation and on childhood motor learning and fitness in Singapore, Bangkok and Shanghai. On the international level, he was a member of the Scientific Committee of the Association Internationale des Ecoles Superieures d'Education Physique (AIESEP) World Congress, an organization which he chaired in 1997.
He has spoken at more than 69 regional, state and national conferences. In addition, Walkuski has served as a grant reviewer for the United States Department of Education on the "Head Start Body Smart" Play Space Grant Program for the National Center for Physical Development and Outdoor Play. He also was a 2012 proposal reviewer for the American Association of Health, Physical Education, Recreation and Dance (AAHPERD) national convention, in his role as a member of the Higher Education Committee.
Walkuski is the author of 21 published articles in the areas of teacher preparation and methodology; implementation of technology and systematic observation in teaching and learning; curriculum development; and motor learning in children. These writings have appeared in prestigious publications including Journal of Sport Sciences; Journal of Human Movement Studies; Teaching and Learning; and Research Quarterly for Exercise and Sport. In addition, he has been a frequent presenter at the international, national, state and regional levels.
"Being involved in the education of students is not only about the intellectual side, but also the affective side," Walkuski stated. "This perhaps can and will have the most lasting impact on one's life and profession."
He has served as the advisor to the men's ice hockey and rugby clubs and the Alliance for Physical Education Majors.
His work in the Dryden community, on the outskirts of Cortland, has focused on youth sports and youths at risk. He has served as a volunteer head coach for community youth soccer, basketball and swimming, the latter with the Dryden Aquatic Racing Team (DART).
Walkuski has served the Faculty Senate for 11 years in many leadership roles, including as chair and in other executive roles and on key committees.
Walkuski holds a Bachelor of Arts in Physical Education from California State University, Sacramento; a Master of Science in Motor Learning and Control from Kansas State University; and a Ph.D. in motor development and physical education teacher education with secondary emphasis in research methodology and statistics, developmental psychology, from Ohio State University.
Melony Warwick
Melony Warwick
Warwick, a SUNY Cortland employee for the past 25 years, becomes the fourth SUNY Cortland recipient of the classified service honor, created by SUNY in 2009 and presented in recognition of outstanding job performance, flexibility, creativity and exemplary customer service.
"Ms. Warwick is well known for her superior organizational skills and excellent work ethic," said College President Erik J. Bitterbaum. "A perfectionist, she has a definite eye for detail that most certainly ensures the success of the events she has supervised. Ms. Warwick readily volunteers for new initiatives, and she has repeatedly demonstrated great flexibility in assisting with the training of new staff in the division throughout the years."
Warwick has served three different vice presidents during her years at the College. She has been instrumental in organizing board meetings and materials and providing support to the Cortland College Foundation Board of Directors. Warwick is a key organizer of donor and College events, including alumni gatherings, emeriti faculty gatherings, donor dedication ceremonies, Alumni Reunion Weekend, the annual Partners in Leadership celebration, the annual College-Community Appreciation Award Dinner and numerous donor sports events hosted by the president. She has hosted VIP donors at the New York Jets summer training camp on the SUNY Cortland campus. She has coordinated the committees for the Rozanne Brooks Dedicated Teacher Award and the Marilou Wright Scholarship.
"Most noteworthy this year was the highly successful capital campaign kick-off celebration and dinner, hosted by an alumnus at his magnificent farm outside of Cortland," noted Raymond D. Franco '72, M '75, vice president for institutional advancement. "Scores of donors were invited, a wonderful program was organized, group transportation was arranged and food was selected and catered — all under the watchful eye of Ms. Melony Warwick.
"In every aspect of her position as a classified service staff member of the campus, Ms. Warwick is a professional," Franco said. "In many ways, her caring and ownership provides a solid foundation for the College's and the Foundation's outreach efforts."
She has served on College search committees, including several at the vice president and executive director level. Warwick has been a member of the Auxiliary Services Corporation personnel and operations advisory committees, the local Civil Service Employees Association's picnic committee and the Service Award Luncheon Committee. She also has volunteered for many years with the State Employees Federated Appeal and was the College Bowling League secretary for many years.
In 2003, Warwick was honored with SUNY Cortland's President's Award for Excellence in Classified Service.
A native of Willet, N.Y., Warwick graduated from Cincinnatus High School and worked at the Cortland County Probation Department before joining SUNY Cortland in 1985 as a temporary typist.
She joined the College's Memorial Library in 1988 as a keyboard specialist. In 1992, Warwick joined the College Relations and Development Office as a secretary I. She was promoted to the rank of secretary II in 2002.
Julian H. Wright
Julian Wright
Wright, who joined SUNY Cortland in 1991, is the 24th staff member to receive the Chancellor's Award for Excellence in Professional Service.
The honor recognizes his consistently superior professional service within and beyond his position description. During his 21 years in the campus community, he has developed a premier, state-of-the-art recreational sports program that includes intramural sports, sport clubs, open recreation and fitness facilities/programming.
"Julian established a dedicated fee for the Recreational Sports program, assumed management of and re-vamped the Sport Club program, developed two outstanding fitness facilities, created a department logo, and developed a non-credit instructional program," President Bitterbaum said. "In so doing, he has made a positive and enduring impact on students, faculty, staff and alumni who have benefited from his tireless efforts."
"Julian has worked exceptionally hard to build the most comprehensive student recreation program in the SUNY system," wrote one colleague in a letter supporting the nomination. "Our intramural, sport club and open recreation offerings are second to none in SUNY."
"He has built the Recreational Sports Program from the ground up, improving the number and variety of offerings as well as the quality of activities," wrote another nominator, Louise Mahar, assistant director for recreational sports for fitness.
Today, the program is extremely well rounded. It includes 37 sport clubs, more than 60 intramural and special events, fitness facilities that are open many hours per week, personal training, group exercise, and ample hours of opportunity for open recreation, Mahar wrote. Last year, the intramural sport program had close to 40,000 participations, the sport club program consisted of 38 clubs with more than 900 participants and the Tomik Fitness Facility had 150,000 recorded visits.
"Our students have consistently rated the Recreational Sports Program number one in student satisfaction in the SUNY Student Opinion Survey since 1994," Mahar wrote.
In addition to serving the student body, Wright advocated successfully for the free use of the campus fitness facilities for College faculty and staff.
Wright earned his associate of arts degree from Northeast Mississippi Community College, Booneville, Mississippi; Bachelor of Science in Health, Physical Education and Recreation from Mississippi State University in Starkville; and Master of Science in Health, Physical Education and Recreation, also from Mississippi State University. A Certified Recreational Sports Specialist, he graduated from the National Intramural Recreational Sports Association National School of Recreational Sports Management in 1997.
Tiantian Zheng
Tiantian Zheng
Zheng becomes the 11th SUNY Cortland faculty member to receive the Chancellor's Award for Excellence in Scholarship and Creative Activities, which recognizes her for the reach, scope, impact, and the sheer volume of her academic body of work on health, related women's issues, sexuality, social inequality and human rights. In less than a decade, Zheng has become a major scholar in her field.
Zheng joined SUNY Cortland in 2003 as an assistant professor, was promoted to the rank of associate professor in 2007 and to professor in 2010.
Her ethnographic work examines the nexus of state power, entrepreneurial masculinity and the influx of rural migrant women in a post-socialist setting. These research areas have narrowed specifically on the interaction of gender politics, nationalism and state power as they pertain to birth control, disease control — especially HIV/AIDS and STDs — and control over women's bodies as these have played out in post-socialist China.
Zheng is the author of four scholarly books, two of which have won book awards. Her most important piece of work to date is her 2009 text, Red Lights: The Lives of Sex Workers in Postsocialist China (University of Minnesota Press). That volume won the 2010 Sara Whaley Book Award from the National Women's Studies Association and has been widely reviewed, praised, and discussed.
Her written scholarship also encompasses the editorial coordination of a journal issue, 18 articles published in refereed journals, 18 book chapters, 16 book reviews and 62 academic papers.
Zheng has delivered more than 30 presentations on her research in the U.S. and abroad.
She earned a bachelor's degree from Bo Hai University in China, a master of arts from Dalian University in China, and master of philosophy and doctor of philosophy degrees from Yale University.
Association Names Three Distinguished Alumni
05/08/2012
The SUNY Cortland Alumni Association will present its most prestigious honor, the Distinguished Alumni Award, to three graduates on Saturday, July 14, during the 2012 Alumni Reunion Weekend luncheon in Corey Union.
The 2012 Distinguished Alumni Award recipients are:
• Lawrence W. Fielding '66, a professor of sport management and sport history at Indiana University who was named a research fellow by the North American Society for Sport Management.
• James T. Costa '85, a professor of biology at Western Carolina University who serves as executive director of the Highlands Biological Station.
The 2012 Distinguished Young Alumnus Award recipient is:
• Michael C. Draper '03, a Massapequa (N.Y.) School District educator who is behind the successful peer mentoring program The Senior Nation.
Since 1968, 113 SUNY Cortland graduates, including this year's honorees, have received the Distinguished Alumni Award for their career accomplishments and outstanding service to their community and alma mater. In addition, 20 alumni have been recognized with Distinguished Young Alumni awards, reserved for alumni who are younger than 35 years old and have graduated in the last 10 years. Seven individuals have been named Honorary Alumni and, since 1999, nine alumni have been honored with Outstanding Alumni Volunteer awards.
Here's a closer look at the three graduates:
Lawrence W. Fielding '66
Considered one of the founding fathers of the field of Sport Management, Fielding has distinguished himself as a research scholar in three academic disciplines: sport history, sport management and kinesiology.
While most sports historians were focusing on the relationship between sports and society and culture, Fielding analyzed the business of sports. He examined the performance and practices of entrepreneurial sports organizations like the Harlem Globetrotters and analyzed trends in the sporting goods industry, athletics marketing, professional sports ticket distribution agencies and other sports-related businesses.
One scholarly article described the Indiana University professor as "perhaps the best example of an academician who brought sports business history into the realm of sport management."
Lawrence W. Fielding '66
In addition to teaching, Fielding has directed Indiana University's sports marketing/management program since 1996.
The former physical education major has helped establish sport management degrees at the University of Louisville and at Indiana University. He has delivered several keynote talks related to his fields of study and written more than 60 published academic articles.
Named the Young Faculty Researcher of the Year at the University of Louisville in 1978, Fielding was chosen to deliver the Stewart C. Staley Address at a North American Society for Sport History event in 1985 and was tapped as a research fellow by the North American Society for Sport Management in 2002.
Fielding's passion for academics, he said, was born at Cortland during his freshman year.
"At Cortland, I quickly found that I needed to work in order to survive," Fielding said. "I learned a lesson that stayed with me not just for my Cortland years but ever since."
Fielding said that he was among the first group of Cortland students selected by Whitney "Pete" Corey '43, the College's Physical Education Department chair at the time, to present an undergraduate thesis in 1966.
"I don't know how good of a thesis it was," said Fielding, who compiled research on human movement. "But it was a lot of fun and I learned a lot."
He went on to earn a master's and doctoral degree in sport history from the University of Maryland, where he also taught as an instructor in the Kinesiology Department from 1970 to 1975.
Fielding taught on the Kinesiology Department faculty at the University of Louisville for 22 years, achieving the rank of professor in 1986 and serving as department chair from 1986 to 1993.
In 1995, Fielding joined Indiana University as a visiting professor and attained the rank of professor in 1996. From 2002 to 2010, he also directed the Kinesiology Department's graduate program.
Fielding stayed connected to the field of sport history by serving as a reviewer and a book review editor for the Journal of Sport History during the late 1970s and early 1980s. He also served as a member at large on the North American Society for Sport History Executive Council from 1979 to 1981 and from 1985 to 1987.
A native of Corning, N.Y., Fielding resides in Louisville, Ky., with his wife, Joan Ebtinger Fielding '66. The couple has three grown children: Kent, Scott and Jaimie Lynn.
James T. Costa '85
A respected entomologist, science textbook author and expert on the revolutionary work of Charles Darwin, Costa, shown in the upper left photo, is the author of two books and dozens of articles on insect and larval societies, population genetics, evolutionary biology and the historic biological scholar on evolution.
His 2009 textbook, Charles Darwin: A Facsimile of the First Edition of 'On the Origin of Species,' was written for a general audience and seeks to help readers better understand the historical context, structure and content of Darwin's masterwork.
"Dr. Costa has been particularly successful in integrating ideas from philosophy, politics and biology into cogent essays that have been published in prestigious scholarly journals," wrote Costa's former mentor, Distinguished Professor Terrence D. Fitzgerald, a member of the Biological Sciences Department faculty who nominated Costa for the award.
"I owe a debt of gratitude to my professors in the Biological Sciences Department and other departments at SUNY Cortland for giving me the foundation, helping set me on a most fulfilling, endlessly interesting career path," Costa wrote in response to his award nomination. "It is my hope that in some ways I might play a similar role in training and inspiring the next generation of biologists, and in this way reflect well on my professors and my alma mater."
As an undergraduate, Costa enrolled in a biology class with Fitzgerald, who offered him his first opportunity to do research and got him interested in social caterpillar communication. The two now work as colleagues on breakthroughs in the understanding of insect behavior.
"In the mid-1990s, Dr. Costa became interested in rethinking entrenched views of insect sociality and invited me to co-author with him a critical assessment of the concept of eusociality," which was published in the review journal Trends in Ecology and Evolution, Fitzgerald noted.
Costa, pictured above to the left, built on the resulting attention and feedback from this and other essays with a groundbreaking article in American Scientist.
"Collectively, these papers have begun to reshape the way that entomologists think about sociality in the Insecta as a whole," Fitzgerald wrote.
A SUNY Cortland Presidential Scholar, Costa earned numerous other scholarships and honors including a Senior Class Award and induction into the interdisciplinary honor society Phi Kappa Phi.
After graduation, he earned a master's degree in insect ecology and a doctorate in population genetics and behavior from the University of Georgia. In 1996, he completed a postdoctoral fellow in entomology at Harvard University's Museum of Comparative Zoology, where he is a longtime research associate in entomology.
James joined the faculty at Western Carolina University in 1996, becoming a professor of biology in 2005, the same year he was appointed to direct the Highlands Biological Station, a research field station and nature center focused on biodiversity in the southern Appalachian Mountains of North Carolina.
Today, living and working in Collowhee, N.C., James teaches genetics, biogeography, entomology, the Origin of Species, and field courses in Hawai'i and the desert southwest. He is fascinated by the social behavior of the less-studied insects, such as caterpillars and sawflies. To research his 2006 book, The Other Insect Societies (Harvard University Press), he traveled from the southern Appalachian Mountains to Europe and Latin America.
His passion for Darwin and the history of evolutionary biology has led him to the Galápagos Islands several times, where he has lectured on Darwin and evolution, and to England each summer, where he teaches in Harvard's Darwin program at the University of Oxford.
He and his wife, Leslie, have two sons, Addison and Eli.
Michael C. Draper '03
A parent of one of his former students referred to Draper as "one of those once in a lifetime teachers" in a nomination letter for Distinguished Young Alumnus, detailing the profound impact of a peer mentoring program created by the Massapequa High School health education teacher.
Draper, a Massapequa School District teacher for seven years, drew up the blueprint for the Senior Nation, a yearlong project in which high school juniors and seniors teach important decision-making and health lessons to freshmen. At Massapequa, ninth graders learn in a school building separate from the main high school campus.
"Without benefit of budget or stipend, Draper created a program born only out of his drive and his deep concern for children," wrote Kevin Sheehan, an assistant professor at Molloy College and Draper's nominator. "…As a longtime consultant for Massapequa, I am not sure if I have ever witnessed a program that made a greater impact on a school district for less of a cost."
Michael C. Draper '03
The Senior Nation operates in two phases. During the first phase, Draper teaches upperclass mentors how to peer teach. They, in turn, travel by bus to the ninth grade building twice per week to teach lessons about issues such as evaluating choices and handling stress.
During the second phase of the program, freshmen students visit the high school's main campus to shadow an upperclassman for several hours. The experience can contribute to a smooth transition when the younger students attend high school, Draper said.
"It's hard not to feel physically separated, so this program brings them together to make that connection," Draper said.
In its first year, 18 students participated in the peer mentoring project. This year, 85 students joined the Senior Nation. What's even more impressive is that the program operates on a paper-thin budget. A small grant, a bake sale and $20 per student affords a group t-shirt and several lunches throughout the year.
"I can't take credit for all of it," said Draper, who won a citation from his town supervisor for the program in 2011. "The kids help out a bunch. I think a lot of times, juniors and seniors get as much out of it as the freshmen. If they think something's not right, they'll change it up. I'll monitor from the sidelines a lot of times."
Now, Draper is working to implement teambuilding activities into the program, noting that SUNY Cortland did the same at the Center for Environmental and Outdoor Education Center at Raquette Lake for its student teachers when he was a physical education major.
"At Cortland, I had the opportunity to learn from great role models for teaching," said Draper, mentioning SUNY Distinguished Service Professor of Kinesiology Joy Hendrick by name. "You could tell they cared about their students and that they were realists."
Less than a decade after graduating from the College, the same can be said for the young health educator.
The Long Beach, N.Y., resident also holds a master's degree in education from Hofstra University and a Certificate of Advanced Study in educational leadership from Stony Brook University. He taught seventh grade health education at A.G. Berner Middle School in the Massapequa School District for five years prior to moving to the high school in 2010.
Draper, who also serves as a volunteer assistant coach for the Massapequa High School boys lacrosse team, played four years for the College's men's lacrosse squad, earning its Red Letter Award in 2003. The award is given for outstanding athletic skills, team leadership, personal development as a player, or for any combination of reasons.
---
Capture the Moment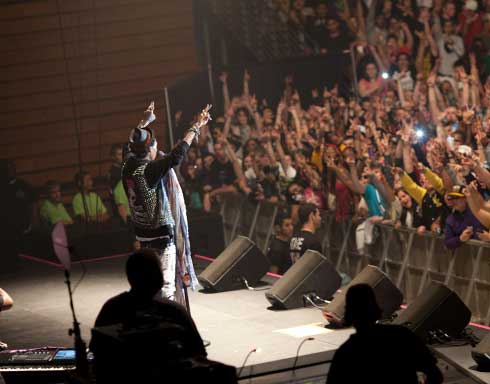 Grammy-nominated rap artist Wiz Khalifa rocked a sold-out Park Center Alumni Arena on April 28. More than 3,500 people attended the concert, which shattered the College's Spring Fling attendance record.
---
In Other News
Graduate Commencement Set for May 11
05/10/2012
The SUNY Cortland Commencement ceremony for students earning master's degrees and certificates of advanced study is scheduled for 7 p.m. on Friday, May 11, in Bessie L. Park Class of 1901 Physical Education and Recreation Center Alumni Arena.
The College will award 217 master's degrees and 22 certificates of advanced study. After the ceremony, a reception for the graduates and their guests will take place in the Corey Gymnasium.
An academic procession will open the Commencement. Associate Professor of Economics Timothy Phillips, who chairs the Faculty Senate, will be the macebearer.
Faculty members will carry the four multi-colored gonfalons representing the College, School of Education, School of Professional Studies, and School of Arts and Sciences, respectively. The gonfaloniers are: Peter McGinnis, chair of the Graduate Faculty Executive Committee and professor of kinesiology; Susan Wilson, associate dean of professional studies; Donna Videto, professor of health; and Rena Janke, associate professor of biological sciences.
Marina Gorelaya will perform the processional and recessional music. Senior musical theatre major Sara Laursen of Wantagh, N.Y., will sing the national anthem and the Alma Mater.
Provost Mark Prus will offer a welcome, and Amber K. Earl of Corning, N.Y., a candidate for Master of Science in Community Health, will provide remarks on behalf of the graduates. President Erik J. Bitterbaum will deliver the charge to the graduates. Presenting the degrees and certificates to the graduates will be R. Bruce Mattingly, dean of arts and sciences; John Cottone, dean of professional studies; and Andrea Lachance, interim dean of education.
Nancy Niskin Sorbella '82, president of the SUNY Cortland Alumni Association Board of Directors, will welcome these newest graduates into the ranks of the College's alumni, who live in all 50 U.S. states and more than 40 countries. In its 144-year history, SUNY Cortland has graduated more than 68,000 alumni.
Commencement marshals will be Mark Dodds, associate professor of sport management; Michele Gonzalez, associate professor of literacy; Beth Klein, professor and interim chair of childhood/early childhood education; Susan Rayl, associate professor of kinesiology; Hailey Ruoff '98, assistant director, instructional technologies and design services; and Jeffrey Walkuski, associate professor of physical education.
The Graduate Commencement Committee is co-chaired by Virginia B. Levine, executive assistant to the president, and Ruoff.
Committee members include: Sila Argyle, supervising janitor; Darci Bacigalupi, special events coordinator; Marley S. Barduhn, assistant provost for teacher education; Mary Kate Boland, assistant director of leadership and community development, campus activities; Amanda Burrell, student representative; Terence Cahill, college store director; Mark DePaull, university police assistant chief; Tracy Frenyea, academic advisor and coordinator of graduate student support; Michele Irvin Gonzalez, associate professor of literacy; Peter McGinnis, professor of kinesiology; Joy Mosher, associate professor of childhood/early childhood education; Mary E. Murphy '87, university police lieutenant; Brad Snyder, associate director of classroom media services; Arnold Talentino, honors program coordinator, and Yu Yu, student representative.
Graduates wishing to acknowledge their multicultural heritage will also participate in a Kente Graduation Ceremony at 8 p.m. on Friday, May 11, in the Corey Union Function Room. The traditional, woven multicolored kente cloth of Ghana, originally worn by royalty, has become an important symbol for many African Americans to highlight their connection to the African continent.
Undergraduates to March on May 12
05/10/2012
SUNY Cortland will conduct two undergraduate Commencement ceremonies — one at 9:30 a.m. and the other at 2:30 p.m. — on Saturday, May 12, in the Park Center Alumni Arena.
An estimated 1,408 seniors will receive bachelor's degrees during Commencement exercises, which will be presided over by SUNY Cortland President Erik J. Bitterbaum.
Geoffrey C. Godbey '64, whose research revolutionized the way leisure time is perceived and continues to influence both public policy and private development, will address the graduates during the morning and afternoon ceremonies. The State University of New York will bestow an honorary Doctor of Humane Letters upon Godbey during Commencement. A prelude, processional and recessional music will be provided by the Cortland Brass Ensemble.
President Bitterbaum will deliver the charge to graduates.
During the morning ceremony, Gradin Avery, associate provost for enrollment management and marketing, will carry the mace, a ceremonial staff used as a symbol of institutional authority at the College's Commencement and academic convocations. Four multi-colored gonfalons, representing the College, its School of Arts and Sciences, School of Education and School of Professional Studies, will be carried, respectively, by Gail Wood, director of Memorial Library; Larry Klotz, distinguished teaching professor of biological sciences; Joy Mosher, associate professor of childhood/early childhood education; and Jeffrey Walkuski, associate professor of physical education.
Kelsey Reed of Breezy Point, N.Y., and Samantha Rey of Syracuse, N.Y., both senior musical theatre majors, will sing the national anthem and the Alma Mater, respectively, for the morning ceremony.
During the afternoon commencement, Raymond D. Franco' 72, M '75, vice president for institutional advancement, will carry the mace. Gonfaloniers will be: Thomas Hischak, professor of performing arts, with the All-School banner; Mary Kennedy, distinguished teaching professor of English, representing the School of Arts and Sciences; Janet Duncan, associate professor of foundations and social advocacy, representing the School of Education; and Robert Johnson '58, coordinator of athletic tutoring in the Athletics Department, for the School of Professional Studies.
Keith Golden and Angelia Golden, both of Schenectady, N.Y., and both senior musical theatre majors, will sing the national anthem and the Alma Mater, respectively, for the afternoon ceremony.
President Bitterbaum will welcome the graduates at both ceremonies. Mark Prus, provost and vice president for academic affairs, will recognize the honor graduates. The 2011-12 Student Government Association (SGA) President Jamie Piperato, a senior kinesiology: sport studies major from Thiells, N.Y., will deliver remarks. Joining President Bitterbaum in conferring the degrees will be R. Bruce Mattingly, dean of arts and sciences; John Cottone, dean of professional studies; and Andrea Lachance, interim dean of education.
A total of 116 students are scheduled to graduate summa cum laude — the highest academic honor — with grade point averages of at least 3.75 on a scale of 4.00.
The largest number of majors set to graduate in each of the three schools are: 159 physical education majors in the School of Professional Studies, 149 childhood education majors in the School of Education, and 82 business economics majors in the School of Arts and Sciences.
Nancy Niskin Sorbella '82, the SUNY Cortland Alumni Association president, officially will welcome the graduates into the ranks of the College's alumni residing in all 50 U.S. states and more than 40 countries. In its 144-year history, SUNY Cortland has graduated more than 68,000 alumni.
The Undergraduate Commencement Committee is co-chaired by Virginia B. Levine, executive assistant to the president, and Marley Sweet Barduhn '76, associate dean of the School of Education.
Other committee members include: Sila Argyle, supervising janitor of Park Center; Seth Asumah, professor of political science; Darci Bacigalupi, special events coordinator; Laurie Barton, assistant to the president; Mary Kate Boland, assistant director of leadership and community development, campus activities; Terence Cahill, college store director; Mark DePaull, university police assistant chief; Ralph Dudgeon, professor of performing arts (music); senior Brenna Filipello, student representative; David Horrocks, assistant director of buildings and grounds services; Cheryl Jewell, assistant manager of sports facilities and manger of the Alumni Arena; Emilie Kudela, associate professor of childhood/early childhood education; Kathleen Lawrence, associate professor of communication studies; sophomore Brendan Lowe, student representative; Eric Malmberg, professor of physical education; William McNamara, director of dining services; Mary E. Murphy '87, university police lieutenant; Tracy Rammacher, director of publications and electronic media; Susan Rayl, associate professor of exercise science and sport studies; senior Jonah Reardon, student representative; Hailey Ruoff '98, assistant director, instructional technologies and design services; Lee Scott-Mack M '01, associate director, Registrar's Office; Timothy Slack, director of physical plant; and Brad Snyder, associate director of classroom media services.
This year, both undergraduate Commencement ceremonies will be broadcast live on Time Warner Cable access Channel 17 to viewers in the Cortland area. The ceremonies also can be viewed on campus in any classroom equipped with a television, on channels 2 and 17.
Under a tradition inaugurated at the 2004 ceremony by President Bitterbaum, undergraduates may honor a special person who has helped them achieve their academic pursuit or goals. The respective name of the honoree will be read along with each graduate.
Graduating seniors wishing to acknowledge their multicultural heritage also will participate in a Kente Graduation Ceremony at 8 p.m. on Friday, May 11, in the Corey Union Function Room. The traditional, woven multicolored kente cloth of Ghana, originally worn by royalty, has become an important symbol for many African- Americans to highlight their connection to the African continent.
Lachance Named College's Dean of Education
05/08/2012
Andrea Lachance, a SUNY Cortland faculty member since 1998, was named dean of the School of Education, effective on May 1. Lachance, who served in the position on an interim basis since July, takes the reins of the largest teacher education program in New York state.
"Dr. Lachance's experience in curriculum, personnel issues, grant procurement, policy review and numerous service activities have given her the skills necessary for successful academic administration," said Provost and Vice President for Academic Affairs Mark J. Prus.
Lachance, who previously had chaired the Childhood/Early Childhood Education Department since 2008, accepted the position after a national search.
"I feel very honored to be given the opportunity to serve as dean," Lachance said. "We have excellent faculty, staff and students, and I am looking forward to continuing our work together."
As dean, she will oversee four academic departments: Childhood/Early Childhood Education; Educational Leadership; Foundations and Social Advocacy; and Literacy.
"The faculty in our school are already working to expand our school partnerships and program offerings to better meet the instructional needs of children in the communities in our region," Lachance said. "My hope is to support that growth so that we can maintain our position as a leader in high-quality teacher preparation."
In addition to receiving more than $1 million in research grant funding from the New York State Education Department, Lachance played a vital role in the College's reaccreditation process with the National Council for Accreditation of Teacher Education (NCATE) and in external reviews for National Science Foundation projects.
Prior to her interim dean appointment, Lachance also served as the Childhood/Early Childhood Education Department's undergraduate advisement coordinator from 2002 to 2011 and as interim chair for advisement and curriculum in 2004.
A two-time recipient of the SUNY Cortland Excellence in Research and Scholarship Award, Lachance has served on more than a dozen committees at the College. She was named a SUNY Cortland Research Enrichment and Development Initiative (REDI) fellow in 2009 and was a SUNY Cortland Innovative Teaching Award winner in 2003.
Since receiving her doctorate from Cornell University in 1999, Lachance has evaluated and consulted with several teaching development projects. She has written eight peer-reviewed journal articles, two book chapters in edited volumes and four papers in conference proceedings.
From 1992 to 1998, Lachance served as a reading lab instructor, teaching assistant, instructor and graduate assistant in the Department of Education at Cornell University.
In 1998, she joined SUNY Cortland as an assistant professor of mathematics education. She was promoted to associate professor in 2003 and professor in 2010.
A native of Arlington, Mass., Lachance received a bachelor's degree in English from Boston College. She earned a Master of Science and a Doctorate in Curriculum and Instruction from Cornell University, where she specialized in mathematics education.
She lives in Ithaca, N.Y., with her husband, Bruce Lauber, a senior research associate in the Natural Resources Department at Cornell, and their two children, Ned Lauber and Maggie Lachance, both students at Lehman Alternative Community School in Ithaca.
Student Officers Present First Holland Scholarship
05/08/2012
When SUNY Cortland's Student Government Association (SGA) created the Michael C. Holland Memorial Scholarship to honor a beloved student affairs administrator who died unexpectedly last year, the task to find the first recipient was daunting.
"We had 13 applicants and they were all worthy of the scholarship," said SGA President Jamie Piperato, who served on the committee.
Candidates for the scholarship may include continuing full-time undergraduate or graduate students who have a minimum 2.5-grade-point average, demonstrated campus involvement and significant participation in the Student Government Association or Residence Life and Housing activities.
"It was one of the hardest decisions we had to make," Piperato said. "What we focused on was the candidates' community involvement, both on campus and outside.
"We were looking for some kind of involvement from them in either student government, residential life and housing or multicultural life and diversity, because Mike Holland was heavily involved in those three things," Piperato said.
Late this spring, shortly after the SGA presented a major gift of $135,000 to the Cortland College Foundation to establish the permanent scholarship, the committee awarded the first $5,000 scholarship to junior Sara Koppenhaver, a physical education major from Kenmore, N.Y.
The Michael C. Holland Scholarship is SUNY Cortland's largest scholarship. It is intended to help students who embody the best qualities of Holland, the executive assistant to the vice president for student affairs, a more than 30-year employee.
"Sara's application was very well written," Piperato said. "You could definitely see her involvement on campus. At her interview she was great with words and her enthusiasm really made her stand out with us. She reminded us of Mike. Her personality is what won her over for us since it was so much like Mike's."
Holland died unexpectedly on Oct. 29 on the way back from helping student volunteers assist flood victims in Binghamton.
"We were all close in SGA with Mike and his passing hit us hard," Piperato said. "We wanted to remember his name on campus and honor him."
Last fall, after his passing, SGA also resolved to ask the student body to set aside Nov. 16, Holland's birthday, for an annual day of service in his memory.
Holland had been a recipient of the Chancellor's Award for Excellence in Professional Service, one of the highest honors bestowed by the State University of New York system. He is remembered by many for his wonderful sense of humor and contagious laugh. He was active in many projects involving the College's relationship with the surrounding community and played a key role in SUNY Cortland's hosting of the New York Jets training camp on campus.
Jamie Piperato, Student Government Association president, presents a gift from the student body to Raymond Franco '72, M'75, vice president for institutional advancement, in April for the creation of the Michael C. Holland Memorial Scholarship.
Holland served as an academic advisor to students and groups, including the Kappa Sigma fraternity and the SUNY Cortland Emergency Medical Services (EMS), a 58-member corps of student volunteers trained in emergency medical response. Holland had advised the EMS since 1984 and during his last year advised the SGA as well.
"We said, 'How do we really make an impact and make sure his name will be around forever?" Piperato said. The SGA decided on a scholarship, "but there wasn't much time to make it happen."
The SGA E-Board, composed of current and past SGA officers corresponding electronically, developed the scholarship criteria with two College vice presidents, Raymond Franco '72, who heads institutional advancement but for many years led student affairs, and C. Gregory Sharer, the current vice president of student affairs.
After selecting the strongest résumés, the scholarship committee reviewed the applicants' short essay answers to questions posed by the committee. Then they met with the four most outstanding candidates to identify the scholarship recipient based on the character of the finalists during the interview process.
"We wanted to make sure the person on paper matched up with the person in front of us," Piperato said.
The scholarship committee also included Catherine Smith, health educator within the Student Development Center; Noelle Chaddock Paley, director of multicultural life and diversity; Ann Cutler, keyboard specialist II in the Division of Student Affairs; Jean Brown, associate director of housing and operations; Mary Kate Boland, assistant director for leadership and community development, campus activities and Corey Union; and Jeff Walkuski, associate professor of physical education.
Now that the scholarship is in place, future Holland Scholarship honorees will be chosen in time for them to be honored during late April at the annual Leadership Recognition Banquet hosted by the Division of Student Affairs.
Koppenhaver applied for the scholarship because she was convinced that the description of Mike Holland as having a "corny" sense of humor and a loving personality fit her as well.
"I worked with Mike Holland on Academic Convocation this year," recalled Koppenhaver. "I was one of two people who helped him set up and clean up afterwards. He knew what he was doing. You could tell he was enjoying himself because he was always smiling and joking. He always was appreciative of our help. He had a great rapport with the students."
A resident assistant at the College since August 2010, Koppenhaver has served since August as president of the campus' Rho Delta chapter of the National Residence Hall Honorary society. She assembled and presented Rho Delta's regionally winning Chapter of the Year bid.
Koppenhaver has maintained a 3.87 grade point average and hopes to continue working in college residential services, perhaps as a hall director and a graduate assistant in a college residence life and housing unit.
"Cortland was the only campus I visited, and that was after I was accepted here," said Koppenhaver, who had applied at seven different schools and was very familiar with Buffalo-area colleges and universities.
"What really got me was how spirited the campus was," she said. "It's what everybody always says, but it's true. To come from a high school that was very school spirited, Kenmore West, and see when I got here that everyone was wearing Cortland stuff and that everyone was nice and happy. I would ask around among new students here and I found that what sold them on this school was that people held the door for them."
Koppenhaver never played on a sport team in high school but came to college with more than 40 hours of field experience in college physical education, which turned her onto teaching.
"I think this scholarship is important because Mike Holland had a significant impact on this campus," she said. "It's also important to continue this scholarship with future generations of students. The fact that the scholarship was peer generated is significant because it recognizes the students knew how important he was to the campus and they are willing to donate to that cause and support it."
Jamie Dangler Elected to Key Union Post
05/08/2012
Jamie Dangler '80, an associate professor of sociology at SUNY Cortland and its United University Professions (UUP) campus chapter president, was elected to her first term as UUP's statewide vice president for academics, effective June 1.
Dangler, who was elected at the union's 2012 Spring Delegate Assembly that took place from April 20 to 21 in Albany, N.Y., will serve a two-year term.
She will represent the union's academics, that is, teaching faculty, under the direction of the UUP president, currently Phil Smith. Dangler's duties will include analyzing the problems and concerns of UUP academics across SUNY campuses.
Dangler is the union's chief negotiator in the current contract negotiations with New York state. She has been a member of the UUP Statewide Executive Board since 2008.
She has presided over the Cortland Chapter since 2009 and previously had served the chapter as vice president for academics since 2005. During her total 18 years of service to UUP, she also was campus executive board member, delegate and chair of various committees.
A 1980 graduate of SUNY Cortland, Dangler has master's and doctoral degrees in sociology from Binghamton University. She lectured at Binghamton University before joining SUNY Cortland in 1985 as a lecturer in the Economics Department. She was promoted to assistant professor in 1991 and to associate professor in 1996.
At Cortland, she has taught courses including Introduction to Sociology, Sociology of the Family, Social Welfare Institutions, Research Methods, American Society, and Environmental Sociology.
Dangler is the author of the 1994 book, Hidden in the Home: the Role of Waged Homework in the Modern World-Economy (SUNY Press).
She has written articles and book chapters on subjects in her field, including a chapter titled "Electronics Sub-Assemblers in Central New York: 'Non-traditional' Homeworkers in a 'Non-traditional' Homework Industry," for the 1989 book edited by Eileen Boris and Cynthia R. Daniels, Homework: Historical and contemporary Perspectives on Paid Labor at Home (University of Illinois Press).
Dangler and her Economics Department colleague, Kathleen Burke, completed the following copyrighted research report for UUP in 2009, "Gender Inequity Study: A Salary Analysis for Seven SUNY Campuses and Members' Perceptions and Experiences."
In 2007, the League of Women Voters in Cortland County awarded Dangler its first ever Alice A. Walker Award, established to commemorate the many volunteer contributions of Walker, the late SUNY Cortland professor of psychology. Dangler had co-chaired the Cortland County Clean Water Committee from 1986 to 1989 and was involved in many other groups related to local environmental concerns.
More than 300 UUP delegates voted in the elections. UUP represents 35,000 academic and professional faculty on 29 New York state-operated campuses, including SUNY's public teaching hospitals and health science centers in Brooklyn, Long Island and Syracuse. It is an affiliate of New York State United Teachers, the American Federation of Teachers, the National Education Association and the AFL-CIO.
ASC Dinners Take Home Two National Prizes
05/08/2012
Add two more medals to the trophy wall of Auxiliary Services Corporation (ASC), SUNY Cortland's campus-based, not-for-profit dining service provider.
Two special dinners that were served during the 2011-12 academic year — "Celebrate the Seasons" and "¡Sazón Latina!" — won high praise in the 2012 National Association of College and University Food Services (NACFUS) Loyal E. Horton Dining Awards Contest. The quality and creativity of the food presentation won ASC a gold medal for the Feb. 21 "¡Sazón Latina!" event and a silver medal for the Oct. 25 "Celebrate the Seasons" event, both of which took place in Neubig Hall.
"I'm just so happy for the Neubig management team, which keeps putting on these high-caliber events year after year," said William McNamara, the director of ASC Dining Services. "This year, the team did a great job with the planning of the events and with keeping a lot of different campus groups involved."
Latino and Latina classmates affiliated with Phi Iota Alpha, from the left, Jason Carriero, Phoebe Felix, Gustavo Santiago and David Paulino, attended the "¡Sazón Latina!" event at Neubig Hall. (Photos by Jonathan Rodriquez)

Since 2006, the College has won eight Loyal E. Horton awards, including three gold medals for residential dining events.
SUNY Cortland is still in competition with Brigham Young University-Hawaii, the University of North Carolina Wilmington and Vanderbilt University for the overall national gold medal and with Hendrix College and the University of Illinois at Urbana-Champaign for the overall silver medal. Both of those awards will be announced in July.
The day after last year's gold medal-winning "A Taste of Africa Dinner," McNamara received an email from a member of the Phi Iota Alpha fraternity, the Latino-oriented Greek organization on campus, inquiring about the possibility of a Latin American dinner. The "¡Sazón Latina!" event took off from there, he said.
A menu was put together that incorporated four distinct regions. Among the many food offerings, platano maduros, or fried plantains, represented the Caribbean; pernil al horno, a flavorful pork dish, highlighted South America; papa rellena, a stuffed potato, packed Central American flavor; and a vegetarian lasagna dish was served with Mexico in mind.
In addition to the tasty food, the spring semester event included an educational component. In the Neubig hallway, for example, dinner attendees learned about Latin American study abroad opportunities that are available through SUNY Cortland.
Enjoying the "¡Sazón Latina!" dinner at Neubig Hall were Jose R. Valdez, shown in the foreground, and Glodibal Natera.
"Between the campus outreach and the work of a campus fraternity, this definitely was a cultural experience," McNamara said.
The silver medal-winning "Celebrate the Seasons" event during the fall highlighted different foods that are synonymous with the four seasons, with each season receiving its own dining station in Neubig Hall.
Stuffed flank steak served as a heartier option to represent winter. Blackened steelhead trout offered a taste of spring. Steamed clams with drawn butter, the biggest menu hit of the event according to McNamara, made it feel like summer in October. And oven-roasted sweet potato wedges highlighted the fall.
"This was just a real nice event with a lot of different menu options and we had a fun time with it," McNamara said.
ASC submitted digital scrapbooks for the NACUF competition. Judging was based on several criteria, including menu selection, theme development, marketing of the event and overall impression.
Founded more than 50 years ago, ASC also provides vending, campus stores, student ID cards and other essential services to the campus community.
The NACUFS has more than 1,000 institutional and industry members. Based in Okemos, Mich., the national association is dedicated to promoting the highest quality of food service on college and university campuses.
Alumna to Present Artist Talk May 10
05/08/2012
Ji Eun Kim, an artist and recent SUNY Cortland graduate, will discuss the theme and stylistic changes that took place during her artistic career, on Thursday, May 10, in Beard Building Gallery at 9 Main St. in Cortland.
Kim's artist's talk, in conjunction with her "Achieving Oneness" exhibition at the gallery inside Main Street SUNY Cortland, begins at 6:30 p.m.
The exhibition, which opened in April and runs through Thursday, May 17, is open from 10 a.m. to 3 p.m. Monday through Friday. Both the talk and the exhibition are free and open to the public.
Ji Kim's "Birds on Tree 2" is an oil
painting on Mylar paper. It is on
display at Beard Gallery
through May 17.
Kim, who graduated in in 2011 with a Bachelor of Fine Arts (B.F.A.), first explored nature and human-made aesthetics when she made her "Layers" series, which combines gestural marks and the ready-made wood sheets and Mylar papers. Her artistic career encompasses 2009 to 2012.
Early on, her fascination with transparency drove her to abandon the traditional canvas and move to glass and Mylar paper as alternative media.
"If "Layers" captures the outer appearance of cities, the "Oneness" series illuminates the attempt to understand the inner nature of cities," said Kim.
In her quest to understand the nature of cities, the artist performed spontaneous and fast-paced walks through a variety of cities with diverse ambiences. This helped her to obtain inspiration for five different motifs: free flowing lines, architectural lines, dots, splattering lines and colored geometry. In her "Urban Drift" series, different visual motifs collide and interact together, forming one new subject.
Kim's recent works show her continued interest in transparency and grid abstraction. She believes that a grid is paradoxical since it can be both an obstacle and solution for the problem of diversity and unity in arts.
"The sameness of grid construction produces regularity while a slight change in shapes, colors or brushstrokes makes a huge difference to the grid," said Kim. "Similar to Buddha's teaching on the path of moderation between the extremes, I have attempted to find a middle path in visual problems."
For more information, contact Martine Barnaby, associate professor of new media design in the Art and Art History Department, at (607) 753-4390.
Student Select Highlights 20 Student Artists
04/27/2012
An artist who has contributed illustrations and political cartoons to some of the nation's most recognizable daily newspapers will serve as the guest juror for SUNY Cortland's Student Select art exhibition, which continues until Saturday, May 12, at Dowd Gallery on campus.
The gallery will offer special hours from 11:30 a.m. to 1:30 p.m. on Saturday, the day of SUNY Cortland's Undergraduate Commencement ceremonies, to hold a reception for seniors in the Art and Art History Department.
The juried art exhibition was organized by Dowd Gallery employees and members of the student-run SUNY Cortland Art Exhibition Association. It opened on April 30.
The gallery admission is free and open to the public. The Dowd Gallery operates from 10 a.m. to 4 p.m. Monday through Friday.
Twenty SUNY Cortland students enrolled in art courses during the 2011-12 academic year submitted artwork for the exhibition. A piece by David Hernandez is pictured above at left.
The students included: Kelsey Cornell, Danielle Diehl, Leah Fries, Jake Gerard, Margaret Giamo, Hernandez, Xena Holzapfel, Danielle Jordan, Kellie Lynch, Robyn Macy, Amanda Mignano, Brenna Munz, Melissa Neher, Marie O'Malley, Tracy Reardon, Jordan Therrien, Nicole Torrey, Michelle Voipini, Lindsay Wilson and Kelli Withey.
Yvonne Buchanan, an associate professor of art and design and program coordinator for illustration at Syracuse University, will serve as the exhibition's guest juror. She instructs courses related to media and animation at Syracuse and is nationally recognized for her drawing.
The illustrator of several children's books, Buchanan's work has appeared in The New York Times, The Washington Post and The Los Angeles Times. Her media works have been screened at the Slamdance International Film Festival in Park City, Utah, the Syracuse International Film Festival, the Everson Museum of Art in Syracuse, N.Y., and the Memorial Art Gallery of the University of Rochester.
Buchanan earned a bachelor of fine arts degree from Parsons College in New York City. She holds a master of fine arts degree from Bard College in Annandale-on-Hudson, N.Y.
For more information, contact Bryan Thomas, gallery interim director, at (607) 753-4311.
New Fall Festival Planned for Faculty and Staff
SUNY Cortland is inviting all faculty and staff members and their families to a Fall Festival on Saturday, Sept. 15, when the College's football team hosts Western Connecticut State in its annual Homecoming game.
Final details are still being worked out for the festival, which will feature free food, drinks, entertainment and prize giveaways. But organizers want to spread the word early about the employee outing.
"Last year, roughly 100 employees and their families attended a similar event and we received favorable feedback from them," said Wendy Cranmer, the College's assistant director for human resources and a member of the Fall Festival Planning Committee. "This year, we're going to invite all employees and their families."
Free admission to the football game and entertainment will be offered to Fall Festival attendees, providing a casual atmosphere for employees and their families to socialize.
More details about the event will be sent through email during the summer months. Updates also will be posted on the College's social media sites and the video screens across campus.
For more information on the event, or to submit ideas for entertainment, contact the Fall Festival Planning Committee member Michael Bersani at (607) 753-5745.
Non-Traditional Students Inducted into Alpha Sigma Lambda
Twenty-seven SUNY Cortland students have been elected to membership in Alpha Sigma Lambda, an international honor society recognizing the academic achievements of non-traditional students.
The induction ceremony was held on April 24 in Brockway Hall Jacobus Lounge.
This is the 12th year the SUNY Cortland chapter, Lambda Omicron, has elected members from among the non-traditional undergraduate students enrolled in the College. These include individuals age 24 and older as well as those who, regardless of age, have dependent children.
Alpha Sigma Lambda national standards reserve membership for students who are in the top 10 percent of all non-traditional students at the College. Members must have completed 24 credits hours of work at SUNY Cortland with a grade point average of 3.2 or higher. For the inductees to be in the top 10 percent of students at SUNY Cortland this year, they needed to have a GPA of 3.65 or greater. The GPA range for this group of students inducted was 3.65 to 4.22.
SUNY Cortland President Erik J. Bitterbaum offered welcoming remarks to the new members. Raymond Collings, an associate professor of psychology, was the faculty guest speaker. Lori Schlicht, associate director of advisement and transition, explained the ideals of the honor society.
"Each year I continue to be amazed by our adult student population," said Cheryl Hines, coordinator for Non-Traditional Student Support and the national councilor for the Alpha Sigma Lambda Omicron chapter. "They earn the highest GPAs while balancing family responsibilities, jobs and long commutes to campus. For some adult students, the adjustment attending a typically traditional-aged college can be overwhelming and intimidating. I am proud of them and happy that our campus has a chapter of Alpha Sigma Lambda so we are able to honor these extraordinary students."
The students who were elected to membership are:
Casee Ausby, Maria Barrero, Elizabeth Belfour, Amy Chaffee, Caitlin Cimino, Michael Collins, Kim Conzola, Nathan Davis, Courtney Emerson, Keri Evangelista, Carol Fritz, Daniel Gotham, Babbett Lehmer, Aleksandra McCadam, Tracy McClure, Jade Mills, Aaron Moore, Kevin Morris, Alexander Nichols, Paul Norman, Martin Oeberg, Kimberly Quartier, Michael Reilly, Douglas Scott, Sharon Spencer, Chelsea Visconti and Janet Witter.
Collings was inducted as an honorary member of Alpha Sigma Lambda.
College Names Leadership in Civic Engagement Honorees
Twenty-five SUNY Cortland students, three community members, five faculty members and 35 AmeriCorps members were recognized on April 19 with the College's Leadership in Civic Engagement Awards.
The awards recognize exemplary service in support of community agencies, social change and civic engagement by SUNY Cortland students, alumni, faculty, staff and community members.
The recipients of seven civic engagement scholarships were awarded to Jessica Andrianos, Julie Gorman, Megan Flynn, Lynne Harris, Kristen Martin, Kara Silverman and Scott Stampfl.
The SUNY Cortland Emergency Medical Services received the Don Wilcox Award and Andrianos was recognized with the Cortland Area Chapter of the Alumni Association's Community Service Award.
Award winners were selected by the Leadership in Civic Engagement Awards Committee, whose members are from campus departments and offices involved in opportunities for service activities with local, regional and national organizations, including the Institute for Civic Engagement and the Career Services Office. Also seated on the committee are a student, a community agency supervisor and an AmeriCorps member.
Student recipients were involved with a wide variety of activities, including leadership roles in the SUNY Cortland Relay for Life, tutoring and mentoring programs, reduction of bullying, economic development, literacy, health and wellness programming, hunger awareness, environmental protection and disaster relief. The vast majority of activity supports Cortland County residents, the public school system and numerous human service organizations.
Student recipients were:
Jessica Andrianos
Allison Best
Samantha Califano
Jasmine Chandoo
Megan Flynn
Austin Glickman
Julie Gorman
Matthew Green
Jennifer Hale
Lynne Harris
Matthew Hayes
Ashley Hunter
Brianna Kezner
Francesca Lansburg
Kristen Martin
Jamie Piperato
Violeta Rivera
Becky Schwartzman
Alycia Sciascia
Ashley Seeger
Kara Silverman
Scott Stampfl
Corinne Valenti
Claire Wickersham
Megan Wise
Faculty/Staff
Marie Agen
Vicki Johnson
Noelle Chaddock Paley
Ute Ritz-Deutch
Lori Schlicht
Community Partners
Aaron Baier
Kim Mullins
Mary Jane Uttech
Student Groups
Etta Sigma Gamma Health Honorary
SUNY Cortland Emergency Medical Services
SUNY Cortland's AmeriCorps Members for 2011-12
Joyce Allen
Alex Aloi
Pierre Barosy
Jason Benza
Paloma Bido
Kathleen Burns
Rebekah Caforio
Adam Campbell
Jermaine Campbell
James Cantatore
Joanna Cimini
Christina DeCorse
Karli DeGraw
Alexis Fairbanks
Lori Forshee
Janeille Frazenburg
Nicholas Gaynor
Cassidy Harahan
Michelle McGovern
Deanna Moore
Chelsea Murray
Rayne Perry
Nicole Petit
Jordan Ramos
Sarah Redfield
Ilianatacha Rosa
Amy Riotto
Theresa Ruswick
Matthew Santorufo
Kat Stevens
Caitlin Sullivan
Sara Watrous
Jenna Wegzyn
MaryJane Wood
Samuel VanBuskirk

Suggest a feature story
---
Faculty/Staff Activities
Karen Downey
Karen Downey, Chemistry Department, was an invited panelist at the "Finding Your Path" workshop held by the American Chemical Society on Campus April 21 at Binghamton University.
Guiseppe Getto
Guiseppe Getto, English Department, presented his paper, "Composing Digital Writing Relationships: Toward an Infrastructural Approach to Digital Design and Pedagogy," at the Conference on College Composition and Communication, held March 21-24 in St. Louis, Mo. Also in March, his poem, "On the Banks of Forgetting," was accepted by The Sugar House Review. Getto received a Faculty Research Program grant for his new research project "New Media Engagement: Designing Civic Practices for Digital Writers." Professional writing majors Erin Garrison and Jack Labriola, a dual major, will serve as research assistants for the project. Additionally, Getto received a Teaching Innovation Grant for the development of his new class for the professional writing major titled PWR 410: Digital and Technical Writing for Community Development. Finally, he formed a partnership with a technical writing company called ifixit.com that engages students in the creation of documentation for repairing broken technological devices.
John Hartsock
John Hartsock, Communication Studies Department, was invited to give a reading from his book Seasons of a Finger Lakes Winery (Cornell University Press) on April 29 at the Hudson Valley Writers' Center in Sleepy Hollow (formerly North Tarrytown), N.Y. He read from the first chapter of the volume. Afterwards he discussed the challenges of making wine in the Finger Lakes, and the similarities and differences between Finger Lakes and French white and red wines. The audience then tasted wines from Long Point Winery, which is located near Aurora on Cayuga Lake and is the subject of the book.
Kathleen Lawrence
Kathleen Lawrence, Communication Studies Department, had her paper, "Get It While It's Hot: A Rhetorical Examination of The Use of Female Images to Pimp Beauty, Sexuality and Vulnerability as Commodities in Contemporary American Advertising," competitively selected for presentation at the national American Popular Culture Association Annual Conference held in April in Boston, Mass. Lawrence used stylistic tropes to examine and identify a variety of images incorporated into print advertisements to suggest overt sexuality and promiscuity. Other images offer beauty products aimed at exacerbating the viewer's sense of vulnerability and inadequacy. Lawrence focused her rhetorical analysis on the combination of pressures inherent in an emphasis on purity while stressing the desired expectation of blatant sexuality from women. In addition, she illustrated the paradoxical dilemma created for contemporary female consumers and argued that this practice can create a backlash effect.
Jean W. LeLoup
Jean W. LeLoup, professor emerita of French, received the William H. Heiser Award for the United States Air Force Academy's (USAFA) Outstanding Senior Faculty Educator on May 1. Each year the Air Force Academy graduating class selects two senior faculty members, one from engineering and the sciences and one from humanities, who have contributed the most to cadet personal and intellectual development; professors who inspired and challenged their students to "work harder and dig deeper." LeLoup is the first member of the USAFA's Department of Foreign Languages to receive this honor since its inception in 1995.

Submit your faculty/staff activity