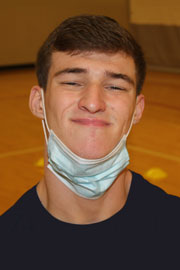 Campus Champion
When Logan Knowles was 2, his doctor offered to provide him with a wheelchair. Knowles' mother declined that for her son, who has cerebral palsy, and worked on his mobility instead. "My attitude changed from 'Why me?' to 'Why not me?'" said Knowles, who graduated high school at 17 in Horseheads, N.Y., so he could compete in four Paralympic competitions in British Columbia including alpine downhill ski. A broken leg dashed those hopes, but the junior biomedical sciences major trains relentlessly for his next Paralympic games. An aspiring future physician, Knowles volunteers his story to motivate classmates and future educators.

Nominate a Campus Champion
---
Wednesday, Oct. 27
Flu Clinic: For both Flu and 65+ Flu, Corey Union in the Exhibition Lounge, register online.
Wellness Wednesday Series: "Don't Let the Consequences Haunt You," on Halloween, learn the dangers of misuse and abuse of alcohol and drugs, Student Life Center lobby, noon to 3 p.m.
Sandwich Seminar: Frankenstein's Beautiful Monsters, presented by Karla Alwes and Geoff Bender, English Department, Old Main Colloquium, 12:30 to 1:30 p.m.
Central New York Virtual Graduate School Fair: Online via Handshake, 1 to 4 p.m.
Interview Essentials: Online via Handshake, 4 to 5 p.m.
Fall Literacy Panel: Featuring literacy coaches, specialists and Instagram influencers from across the region, hosted by Seven Valley Reading Council, online, registration link, 4:30 to 6:30 p.m.
Study Abroad 101: In-person session, Old Main Colloquium, 3 to 4 p.m.
Psychology Club Guest Speaker: A representative from SUNY Oswego's graduate psychology program, link at Cortland Connect, 5 to 6 p.m.
Education Club Guest Speaker: Superintendent Donna DeSiato, East Syracuse Minoa Central School District, will virtually present on how COVID-19 has impacted her school district, link at Cortland Connect, 7:15 to 8:15 p.m.
Take Back The Night: Students Active for Ending Rape host this annual event to acknowledge survivors of sexual assault and other forms of assault, ceremony and speakers begin at 7 p.m. followed by march through campus, 7 to 9 p.m.
---
Thursday, Oct. 28
Sandwich Seminar: Honors Convocation 2022 Preview, Old Main Colloquium, 12:30 to 1:30 p.m.
Virtual Employment Event: Opportunities Within the U.S. Department of State, career and fellowship opportunities, online via Google, 3 to 4 p.m.
Dowd Gallery Opening Reception: Of Snow and Sorrow, a solo show by Binghamton-based artist Natalija Mijatović, Dowd Gallery, 5 to 7:30 p.m.
Let's Get Ready to Grad School: Online via Handshake, 5 to 6 p.m.
---
Friday, Oct. 29
International Candy Handout: Find representatives from the International Programs Office and receive candy from around the world, noon to 2 p.m.
Registration Deadline for Cortaca Parade: Use this link to register your organization. Register by 3 p.m. on Friday, Oct. 29.
---
Saturday, Oct. 30
Spooksville Children's Festival: An annual event sponsored by the Caribbean Student Association for community children and features games, activities and candy. Corey Union Exhibition Lounge, noon to 4 p.m.
Zombie Stuff-a-Bear: Join Student Activities Board, Corey Union Function Room, RSVP on Cortland Connect, 5 to 8 p.m.
---
Monday, Nov. 1
Emergency Red Cross Blood Drive: Use this link to register. Corey Union, noon to 5 p.m.
---
Tuesday, Nov. 2
International Panel Presentation: "Security for Whom? Questioning Silos in Water Governance," panel discussion featuring a 'Round the World' tour of community-led efforts in places where water governance and existing infrastructures have failed, online via Webex, 11:40 a.m.
Open Mic Night: Bi-monthly event for students to unleash their creativity and talent in the form of music, sponsored by Student Activities Board, Corey Union, 7 to 8 p.m.
---
Wednesday, Nov. 3
UUP Presentation: Civility in the Workplace training, facilitated by Labor Relations Specialist Chris Sielaff, RSVP to UUP@Cortland.edu, noon to 1 p.m.
Sandwich Seminar: Understanding and Addressing Dyslexia, presented by David A. Kilpatrick, professor of psychology emeritus, Old Main Colloquium, 12:30 to 1:30 p.m.
Re-thinking Abilities Workshop: Sponsored by the Multicultural Life and Diversity Office, online via Webex, 3 to 5 p.m.
Study Abroad 101: Online in the IPO Remote Advising Room, 3 to 4 p.m.
Black Lives Matter at Schools Watch Party: Viewing and discussion of Melina Matsoukas's award-winning film "Queen and Slim." Sperry Center, Room 104, register here for a movie ticket, 7 p.m.
---
Thursday, Nov. 4
71st Annual Cortland Recreation Conference: A two-day virtual event on campus with a live and streamed keynote address from Distinguished Service Professor Lynn Anderson. Link to register. Continues Friday, Nov. 5.
Distinguished Voices in Literature: Van Burd Memorial Lecture titled "Theory of the Obscene" by author Jordan S. Carroll, online via Zoom, 4:30 p.m.
Dowd Gallery Documentary Screening: "Over Your Cities Grass Will Grow" (2010), a documentary about Anselm Kiefer, directed by Sophie Fiennes, Dowd Gallery, 5 p.m.
---
Saturday, Nov. 6
Trick or Eat Food Drive: Sponsored by New York Public Interest Research Group (NYPIRG), campus-wide event, 11 a.m. to 3 p.m.
---
Tuesday, Nov. 9
Alumni Speakers Series Careers in Sport: Student Life Center, Room 1104, 7 to 8:15 p.m. RSVP at reddragonnetwork.org.
---
---
Students, alumni connect at science symposium
Sixth annual event celebrates student research and alumni success in the sciences. read more
Student artists sought for Black Lives Matter mural
The racial-justice-inspired artwork will will be displayed in the lobby of Moffett Center. read more
---
Capture the Moment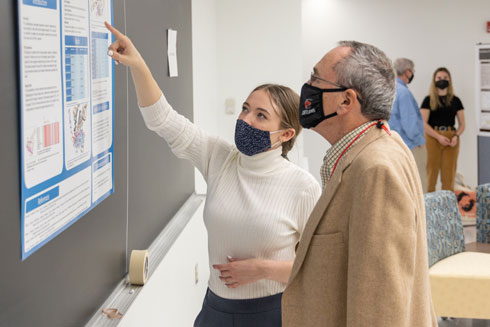 Junior biochemistry major Kayla Lawrence, left, talks about her research with Bernie LoBracco '74 at the sixth annual Michael J. Bond M '75, M.D. Alumni/Undergraduate Science Symposium in Bowers Hall on Friday, Oct. 22. Learn more about the speakers and presenters at this year's symposium.
---
In Other News

Suggest a feature story
---
Faculty/Staff Activities
Brian Barrett presented his paper virtually at the Knowledge and Quality across School Subjects and Teacher Education Symposium. read more
Genevieve Birren presented at the National Sports Law Institute's fall Symposium in October. read more
Lieutenant Francis Cullen '06 recently was certified as a FEMA national emergency manager. read more
Gary Evans won the Technology Innovation Award from PeopleConnect Live. read more
Michael Hough co-authored a paper announcing the first record of a native orchid in New York state. read more
Jeremy Jiménez coauthored an article recently published by the international peer-reviewed journal Education Sciences. read more
Christina Knopf was named a Wilson Scholar of the John P. Wilson Fellowship of the New York State Communication Association. read more
Kate McCormick and Jacob Hall co-authored an article published in October in the journal Education and Information Technologies. read more
Peter M. McGinnis had a Polish translation of his textbook, Biomechanics of Sport and Exercise, published. read more
Ubaldo Valli is a prize winner in The American Prize National Nonprofit Competition in the Performing Arts. read more

Submit your faculty/staff activity