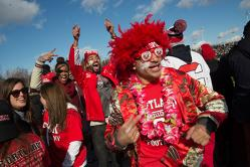 10/26/2021

SUNY Cortland's Student Government Association is looking for academic departments and offices, sports teams, clubs, sponsors and others to join in a Cortaca Jug Parade before this year's game on Saturday, Nov. 13.
The plan is to parade from Dowd Fine Arts Center to the Stadium Complex starting at 9 a.m. and ending at approximately 10 a.m. Interested groups must be at the starting location by 7:30 a.m. to participate.
SGA says its goal is to promote unity among the Cortland community and among different cultures, and is encouraging participants from diverse groups to sign up.
Interested departments, offices, teams, clubs, organizations and individuals are asked to register online by 3 p.m. on Friday, Oct. 29. The event offers members of the SUNY Cortland community an opportunity to promote their group while demonstrating unity as Red Dragons.
The parade is also sponsored by SUNY Cortland NAACP, Know Your Roots, Black Student Union, the Caribbean Student Association and the Pan African Student Association.
Questions? Contact SGA President Taylor Hunter or SGA's Director of Diversity, Equity and Inclusion Tatum Pittman for more information.
---