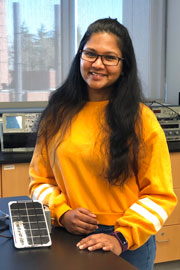 Campus Champion
Varsha Chipala Satish will graduate in May with SUNY Cortland's Professional Science Masters in Sustainable Energy Systems and her eyes are focused on the solar industry. The Physics Department graduate assistant has been a big help to Campus Energy Manager Matt Brubaker in calculating the College's energy data, but it's her internship with Dragon Solar and her volunteer experience at a national non-profit that builds solar power systems for low income families that confirmed her future in solar design and installation. Varsha's goal is to deliver free solar power to underserved communities. She'd like to start in New York state.

Nominate a Campus Champion
---
Tuesday, April 23
Lecture: "The Return of the Non-Resident Indian (NRI), Changing Representations of Identity in Bollywood," presented by Sanjay Kumar, Ph.D., history professor at Central European University, Bowers Hall, Room 1129, 4:30 p.m.
Presentation: "How to Create an Identity for Success," presented by Arel Moodie, author, entrepreneur and motivator, Sperry Center, Room 105, 7:30 p.m. The event is free and open to the public.
Wednesday, April 24
Wellness Wednesday Series: "Grow Your Own Vegetable Plant" will inspire visitors and send them off with a plant to grow, Student Life Center lobby, noon and 3 p.m.
Sandwich Seminar: "CALP: An Applied Learning Community of Practice," panel discussion, Brockway Hall Jacobus Lounge, 12:30 to 1:30 p.m.
Workshop: Understanding and Advocating for Racial Justice, Corey Union Caleion Room, 3 to 6 p.m.
Behind the Post Workshop: Explore how social media can skew relationships and sometimes influence people to stay in unhealthy ones, Corey Union, Room 209, 4:30 p.m.
Environment Debate: Members of the College Republicans and the Young Democrats debate five questions regarding the environment, Old Main Colloquium, 7 to 8 p.m.
Thursday, April 25
Sandwich Seminar: "Action Team Interns: Self-Directed Learning," Institute for Civic Engagement's Action Team interns will describe ways in which their internship activities helped them steer their careers and their development as citizens, Brockway Hall Jacobus Lounge, noon to 1 p.m.
Opening Reception for Student Select '19: Dowd Fine Arts Gallery, 4 to 6:30 p.m.
Composting Workshop: "Composting and DIY Worm Bin," sponsored by SUNY Cortland Sustainability Office, Newmark Pavilion, across from the Bookmark, 6 p.m. Rain location: Education Building, Room 1103
Friday, April 26
EAP Presentation: Caring for our Aging Loved Ones, presented by the Cortland County Area Agency on Aging representatives, Park Center Hall of Fame Room, noon
Distinguished Voices in Literature Lecture: Author Frances Botkin from Towson University, Sperry Center, Room 106, 5 p.m.
College Singers Spring Concert: "On My Way," featuring medleys from a number of popular musicals, Dowd Fine Arts Center Theatre, 7 p.m. Free admission.
Interactive Murder Mystery Dinner and Show: Starring the ACME Mystery Company, Parks Alumni House, 7 to 10 p.m. Register
Saturday, April 27
Spring Fling Carnival: A picnic and carnival will be held in front of Corey Union, noon to 3 p.m.
Spring Fling Concert: Park Center Alumni Arena, doors open at 7 p.m., concert begins at 8 p.m.
Sunday, April 28
NYPIRG Sun Run: SUNY Cortland students, faculty and staff celebrate renewable energy in New York state. Register by email or at the event, Student Life Center, 1:30 p.m., run begins at 2 p.m.
Monday, April 29
Food for Fines at Memorial Library: Through Friday, May 17, students may "pay" their fines by donating food. One non-perishable food item equals $1 off overdue fines. The food will be delivered to the SUNY Cortland Cupboard.
Green-flix Environmental Documentary Series: "The True Cost," followed by a discussion facilitated by Brock Ternes, visiting assistant professor of sociology / anthropology, Moffett Center, Room 2125, 7 to 9 p.m.
Classroom Confessions: True Tales from the Field, an evening of live storytelling with funny and poignant stories by teachers and teacher educators, Dowd Fine Arts Center Lab Theatre, 7 to 8:30 p.m.
RespectAbility Tie Dye Event: Sponsored by Students for Access and Ability, Corey Union Exhibition Lounge, 7 to 8:30 p.m. Pizza will be served.
Tuesday, April 30
College Community Orchestra Spring Concert: "Symphonic Sandwich," featuring contributions by Beethoven, Elgar, Tchaikovsky and Sibelius, a co-production of the Performing Arts Department and the Dan and Rose McNeill Foundation, Rose Hall at 19 Church St., 8 p.m.
Wednesday, May 1
Sandwich Seminar: "Which Box Do I Check?: Multiracial Identity in 21st Century America," panel discussion moderated by Chief Diversity Officer James Felton, Institute for Equity and Inclusion, Brockway Hall Jacobus Lounge, 12:30 to 1:30 p.m.
LEAP Meeting: Leaders for Environmental Awareness and Protection meet bi-weekly to discuss simple ways to help the environment, Old Main, Room G-25, 7 p.m.
Friday, May 3
Celebration: "My Cortland Writing Contest" Celebration, sponsored by the English Department, Brockway Hall Jacobus Lounge, 4 to 6 p.m. The contest will be open to students, alumni and community members.
Saturday, May 4
Writing Conference for Teachers, by Teachers: Corey Union, Keynote: "Creating and Inhabiting Spaces as Teacher-Writers" by Christine Dawson from SUNY Albany, Breakfast at 8 a.m., keynote at 9 a.m., sessions from 10 a.m. to 4 p.m.
Sunday, May 5
Choral Union Spring Concert: "Back to the Source," A co-production of the Performing Arts Department and the Dan and Rose McNeill Foundation, Rose Hall at 19 Church St., 3 p.m.
---
---
New Class Takes Break in Cuba
Four students sampled Cuban culture and politics with Professor Jeremiah Donovan. read more
Bazzi to Headline SUNY Cortland's Spring Fling
A picnic, carnival and concert happen on campus on Saturday, April 27. read more
---
Capture the Moment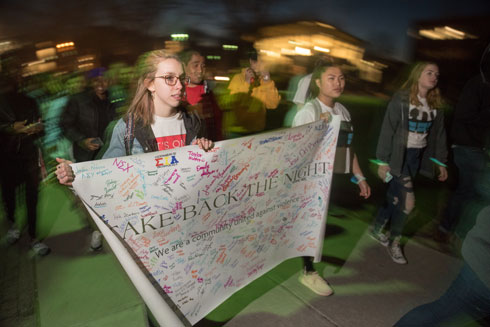 SUNY Cortland students Grace Sander-Effron, left, and Carolanne Clark carry the banner leading the Take Back the Night March on campus April 17. The march is sponsored each semester by the student club SAFER (Students Active for Ending Rape), whose main mission is to educate and raise awareness about sexual assault. New members are welcome and news and events are promoted on SUNY Cortland's It's On Us social media accounts on Facebook, Instagram and Twitter.
---
In Other News

Suggest a feature story
---
Faculty/Staff Activities
Alexandru Balas presented a paper at the International Studies Association Annual Convention in March. read more
Tyler Bradway gave a guest lecture and taught a seminar at West Chester University in Pennsylvania. read more
Thomas Hischak has had the third edition of his textbook Theatre as Human Action: An Introduction to Theatre Arts published. read more
Jeremy Jiménez was a presenter at the Comparative and International Education Society Conference in April. read more
Li Jin co-authored a paper that was accepted for publication in Science of the Total Environment. read more
Szilvia Kadas presented "Evoking Empathy through Graphic Design" at a conference in Washington, D.C. read more
Mechthild Nagel had her chapter published in Transnational Trills in the Africana World. read more
Kristine Newhall contributed a chapter to the recent collection, Sex, Gender, and Sexuality in Sport: Queer Inquiries. read more
Susan J. Rayl presented a paper titled "Schizophrenia and Elite Athletes: The Struggles of Kamara James." read more
Kevin B. Sheets was elected to the board of the International Society for the Scholarship of Teaching and Learning in History. read more
Tadayuki Suzuki will join the board of the National Council of Teachers of English LGBTQ Advisory Committee. read more
Maria Timberlake was a presenter at Cornell University's monthly diversity and inclusion dialogue series. read more
James Webb received the 2019 Chef Professionalism Award from the Syracuse chapter of the American Culinary Federation. read more
Student Achievements Matthew Norris was nominated by SUNY Cortland faculty members for a Phi Kappa Phi honor society national fellowship. read more

Submit your faculty/staff activity