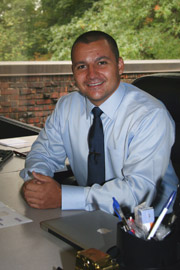 Campus Champion
Senior Patrick Viscome wears many titles at SUNY Cortland, each demanding a disciplined level of commitment. The Student Government Association president directs an executive board representing a wide range of campus populations. He aims to lead an expanded effort to give back to the community through campus-wide volunteerism. This natural leader sharpened his skills at Auxiliary Services Corporation, where he has worked since his freshman year. He now serves as Neubig's assistant supervisor, a job that he tacks onto his already full schedule as a business economics honors student: a SUNY Cortland champion charting a successful future.

Nominate a Campus Champion
---
Wednesday, Sept. 9
Fall Walk-in Welcome: Hosted by Advisement and Transition, Outstanding New Student honorees will be recognized, Memorial Library, Room A-111, 4-6 p.m.
Wellness Wednesday: "10 Things Every College Student Should Know About Sex," Mary Dykeman, Public Health Educator, Jacobus Center for Reproductive Health, Corey Union Exhibition Lounge, 7 p.m.
Thursday, Sept. 10
SUNY Cortland Study Abroad Fair: Corey Union Function Room, 11 a.m.-2 p.m.
Friday, Sept. 11
Sexual Health and Assault Prevention Educator (SHAPE) Training: SHAPE provides education and training for its members to serve as peer educators on the subject of sexual assault risk reduction and prevention., Brockway Hall Jacobus Lounge, 3-9 p.m. RSVP to Cynthia Lake, cynthia.lake@cortland.edu
UUP Welcome/Welcome Back Picnic: Yaman Park, 4-7 p.m. Reservations required.
9/11 Remembrance: All faiths are invited to share their expressions of "Sorrow and Hope: Remembering 9/11," Interfaith Center, 12:05 p.m.
9/11 Memorial Service: Members of the College and Cortland community are invited to attend this ceremony, hosted by the SUNY Cortland Emergency Medical services (SCEMS), Corey Union steps, 7 p.m.
Saturday, Sept. 12
Cortland Nites Novelty Night: Corey Union Exhibition Lounge, 8 p.m.
Saturday, Sept. 12 and Sunday, Sept. 13
Second Annual Tai Chi for Wellness Weekend: Featuring Taijiquan Master Jesse Tsao, Brockway Hall Jacobus Lounge, 9 a.m.-4 p.m. both days. For more information contact Andy Fitz-Gibbon by email or phone at 607-279-6584.
Tuesday, Sept. 15
Outdoor Tennis Courts Grand Opening: Tennis Courts Pavilion, 11 a.m.-noon
Opening Reception: "Renaissance Science, Magic and Medicine of Harry Potter's World," traveling exhibition featuring the literary phenomenon started in 1997 by British Author J. K. Rowling, Memorial Library, second floor, 6:30-8 p.m. Refreshments will be served and student science clubs and the College's Quidditch Team will be present to share information.
Harry Potter's World Panel Discussion: Faculty members will explore "Renaissance Science, Magic and Medicine of Harry Potter's World," speaking on such topics as alchemy, herbology and midwifery. Panel members include Gregory Phelan, Chemistry Department, Angela Pagano, Biological Sciences Department, Moataz Emam, Physics Department, and Sally Dear-Healey, visiting assistant professor of sociology/anthropology. A question-and-answer session will follow, Memorial Library, second floor, 7 p.m.
Wednesday, Sept. 16
Human Resources Program: "Leading with GRIT: Inspiring Action and Accountability through Generosity, Respect, Integrity and Truth," Park Center Hall of Fame Room, 8:30-10 a.m. Reservations required.
Lecture: "Turkey & ISIS: A Reliable Ally?" by Sinan Ciddi, executive director of the Institute for Turkish Studies at Georgetown University, Moffett Center, Room 2125, 4:30 p.m.
Dowd Gallery Artists's Talk: "HOMEFRONT and other works by Sarah McCoubrey," an exhibition of the artist's new paintings created in Brussels in gouache on paper and butter wrappers along with a selection of earlier drawings and mixed media pieces. Dowd Fine Arts Center Gallery, 5 p.m.
Wellness Wednesday: "Walk the Walk of Student Services," open house format, Van Hoesen Hall and Corey Union, 5-7 p.m.
Lecture: The inaugural Dr. Peter A. DiNardo '68 and Judith Waring Outstanding Achievement in Research Award recipient Associate Professor of Spanish and Linguistics Donna West, Modern Languages Department, will present "Action Habit to Cultivate the Guessing Instinct: Peirce's Pragmaticist Dimension," Old Main Colloquium, 6-7 p.m.
Thursday, Sept. 17
Constitution Day Presentation: Brandon Metroka, a Ph.D. candidate in political science at the Maxwell School of Citizenship and Public Affairs at Syracuse University, will discuss "The Roberts Court at Ten: Reconstituting Free Expression?" Brockway Hall Jacobus Lounge, 4:30-5:30 p.m.
Saturday, Sept. 19
20th Annual Suzanne Wingate Memorial Golf Tournament: Sponsored by the Sport Management Department, all proceeds benefit the Cortland Junior Police Academy, Walden Oaks Country Club, Cortland, 9 a.m. check-in; 10 a.m. shotgun start.
Tuesday, Sept. 22
Graduate Admissions Information Table: Career Services, Van Hoesen Hall, Room B-5, 4:30–6:30 p.m.
Open Mic Night: Corey Union Exhibition Lounge, 7 p.m.
---
---
Professor Traces Solar System's Origins with Support from NASA
The two NASA grants are worth approximately $650,000. read more
College Plans 9/11 Memorial Ceremony
The campus community will come together to remember those who were lost. read more
---
Capture the Moment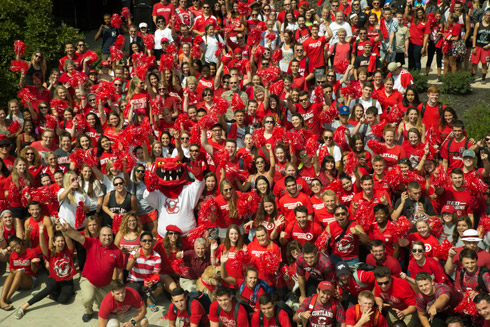 SUNY Cortland celebrated its largest Red Dragon Pride Day to date on Sept. 4 when students, alumni, faculty, staff and friends wore red and white and shared their pictures on social media. Those on campus showed their support during national College Colors Day by gathering for a campus photo on the steps of Corey Union, followed by an Ice Cream Social.
---
In Other News

Suggest a feature story
---
Faculty/Staff Activities
Brian Barrett co-authored an article with Arron Bound '14 that was published in Educational Studies. read more
Lorraine Berry had an interview and an essay published in Salon. read more
Tyler Bradway will have his book manuscript published in the Palgrave Studies in Affect Theory and Literary Criticism Series. read more
Laura J. Davies was a presenter at the Council of Writing Program Administrators conference in Idaho. read more
Herbert Haines was interviewed as part of a documentary film about protests against the classic silent film "The Birth of a Nation" in 1915. read more
Richard Hunter was a presenter at the European Society for Environmental History in Versailles, France. read more
Melissa Morris served on several NASA review panels over the summer read more
Mechthild Nagel spoke at a conference at Goethe University Frankfurt, Germany. read more
Ute Ritz-Deutch had her article on "Hermann von Ihering published in the Oxford Journal German History. read more
Robert Spitzer had his article, "Flanagan's Gun Permit, and Mine," published in the New York Daily News. read more
Tadayuki Suzuki presented at the International Literacy Association Annual Convention in July. read more
Nance S. Wilson presented a paper and a workshop at the International Literacy Association Annual Convention. read more

Submit your faculty/staff activity