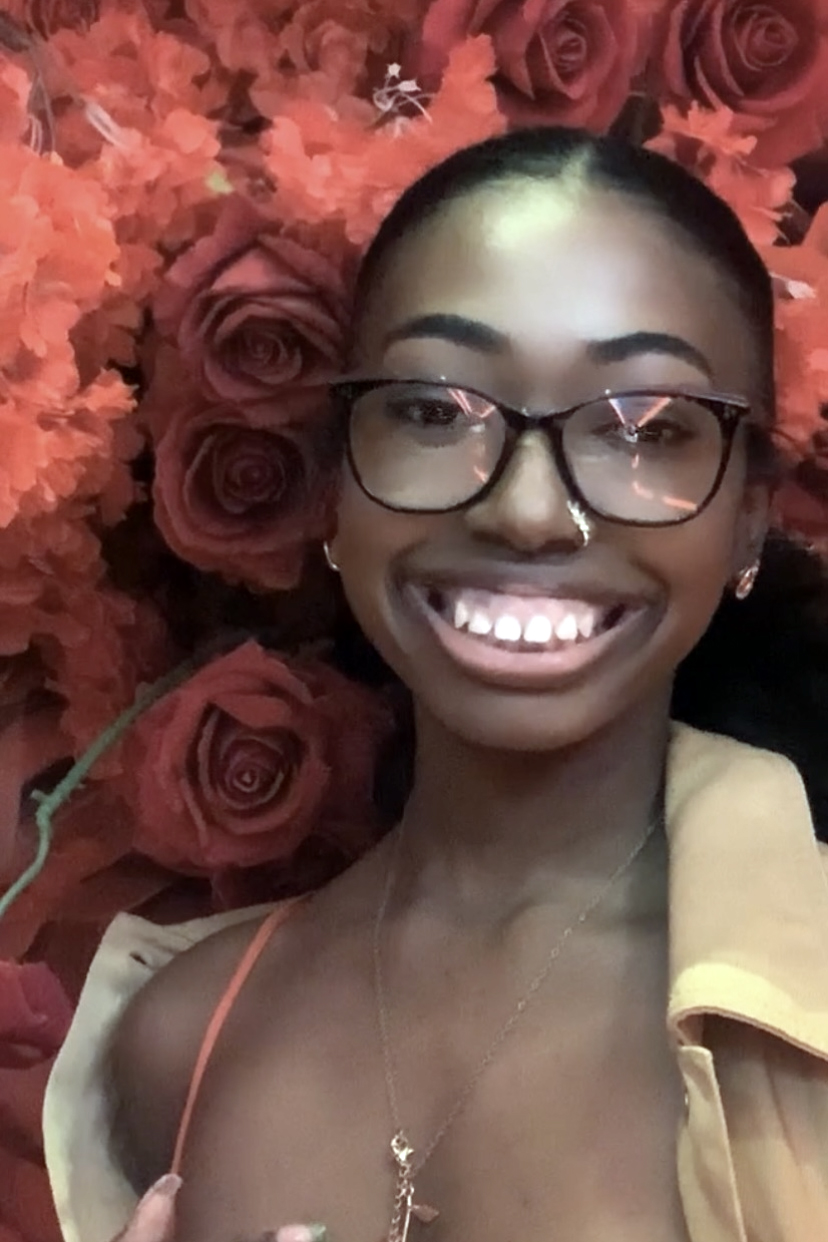 Campus Champion
Khyla Diggs, president of the Black Student Union, says "When we leave a club meeting, it is important that we have learned something about one another to build our comfortability with our diverse lifestyles and viewpoints." Khyla's goal is to collaborate with other clubs to experience and appreciate our differences. The sophomore adolescence education: history major, Africana studies minor and member of Cortland's Urban Recruitment of Educators (C.U.R.E) Program is focused on cultivating a welcoming, engaging and inclusive environment. It makes sense that Khyla's career goals to teach in an urban high school include being a positive adult in her students' lives.
This week, explore something different and attend the Black Student Union's Week of Events.

Nominate a Campus Champion
---
Tuesday, Feb. 21
Internship Info Session: Pre-register on Handshake or join the afternoon of on Webex, 4 p.m.
Online Gallery Talk: Artist, the Player, with Katarzyna Zimna Ph.D., associate professor of art, The Lodz University of Technology, Poland, online via Teams, 4:30 p.m.
Virtual Author Lecture: Native Predatory Wasps: Their Role as Pollinators and Beneficial Insects, presented by Heather Holm, online via Zoom, 4:30 p.m.
Sport advocacy panel: "Advocating for Change — How We Can All be Better Allies and Co-Conspirators in Creating Inclusive Sport Management Spaces," Professional Studies Building, Room 1176, 6:30 p.m.
Black History Game Show: Corey Union Fireplace Lounge, 7 p.m.
---
Wednesday, Feb. 22
Sandwich Seminar: Cortland's Move to Brightspace, Old Main Colloquium, 12:30 to 1:30 p.m.
Registrar's Office Open House: Miller Building, Room 203, 1 to 2:30 p.m.
Black History Month Education Lecture: "From Afro-Turks to Siddis: The East African Slave Trade and the Afro-Asian Diaspora," presented by John Jones, assistant professor of childhood/early childhood education, Moffett Center first floor conference room, 2 p.m.
Brooks Museum Lecture Series: "Science and Truth: Ignorance is the Objective," presented by Robert Darling, Distinguished Teaching Professor, as part of the series 'The Culture of Truth,' Moffett Center, Room 115, 4:30 p.m. A reception to welcome our speaker begins at 4 p.m. in the Brooks Museum, Moffett Center, Room 116.
Black History Month Celebrating Creativity: "For My People: A Black History Month Celebration," presented by performing arts professor Kevin Halpin, Dowd Fine Arts Center, Room 110, 6 p.m.
Black Student Union Letter Writing Workshop: Take time to recognize the injustice experienced by men in the Black community, share their solidarity, and encourage hope by writing letters to incarcerated men, Corey Union, Room 209, 6 p.m.
Wellness Wednesday Body Appreciation Week: Perfectly Imperfect: Eating Exercise and Body Image, national speaker Jenni Schaefer, Corey Union Exhibition Lounge, 7 to 8 p.m.
---
Thursday, Feb. 23
Black History Month Sandwich Seminar: "The African Diaspora in Latiné America: Fighting Anti-Blackness as a Collective," Online via Webex, noon to 1 p.m.
Know Your Roots Virtual Presentation: "Know Your Roots — Afro-Essence the African Diaspora in Latine America: Fighting Anti-Blackness as a Collective," presented by Tibisay Hernandez, a diversity equity and inclusion consultant, noon.
Body Appreciation Week: Mindful Eating information, Student Life Center Lobby, noon to 2 p.m.
Re-Thinking Abilities Workshops: Register for Re-Thinking Abilities Workshop #1, 3 to 5 p.m.
Seminar: Great Lakes Ecology: Restoration Research, sponsored by the Biological Sciences Department, Bowers Hall, Room 1129, 4:30 to 5:30 p.m.
Lecture: Yoga. A Journey to Myself - India, Rishikesh and Beyond, presented by Andrea Giuliano '23, senior, childhood/early childhood education and yoga instructor, Sperry Center, Room 104, 4:30 p.m.
Documentary Screening: "Beyond the Visible: Hilma af Klint," 2019, Dowd Fine Arts Center, Dowd Gallery, Room 106, 5 p.m.
Afro Essence: Sponsored by Know Your Roots, Corey Union Function Room, 8 to 11 p.m.
---
Friday, Feb. 24  
Body Appreciation Week: Mobility Flow, Student Life Center Mind Body Room, 5:45 to 6:45 p.m.
Musical Performance: Seussical, Dowd Fine Arts Center Theatre, 7:30 p.m.
Black and Boujee: What Happens in Vegas Stays in Vegas, Corey Union Exhibition Lounge, 10 p.m. until 2 a.m.
---
Saturday, Feb. 25
Kings and Queens Conference: Corey Union Function Room, 11 a.m.
Musical Performance: Seussical, Dowd Fine Arts Center Theatre, 2 p.m. (understudy performance) and 7:30 p.m.
---
Sunday, Feb. 26
Musical Performance: Seussical, Dowd Fine Arts Center Theatre, 2 p.m.
---
Tuesday, Feb. 28
Wellness lecture: "Phat and Fit: Unpacking the History of Anti-Blackness in the Fitness Industry," Corey Union Fireplace Lounge, 5:30 p.m.
Spoken Word and Workshop: Corey Union Exhibition Lounge, an hour-long workshop runs from 5 to 6 p.m. followed by a spoken word session from 7 to 8 p.m.
---
Wednesday, March 1
Career Services presents Get Resume Ready: Online, 6 to 7 p.m.
Distinguished Voices in Literature: Poet Benjamin Garcia, Corey Union Fireplace Lounge, Room 219, 4:30 p.m.
---
Friday, March 3
5th Annual TransAction Conference: Hosted by the Sexual Orientation, Gender Identity, and Expression (SOGIE) Committee, Corey Union, 9:10 a.m. to 4 p.m.
---
Monday, March 6
Safe Zone Workshop: Register for Safe Zone Workshop #2, 4 to 6 p.m.
---
Monday, March 6
Money Talks Monday – Goal Setting and Budgeting: Online session with Matt Kisloski, a financial wellness expert from Visions Federal Credit Union, register on Handshake, 4 to 5 p.m.
---
---
Team Handball Club revived at Cortland
German graduate student Deborah Seipp brings the European sport back to campus. read more
They met. They fell in love. They stayed
The Francos honored their 50-year union and Cortland love affair with a planned gift. read more
---
Capture the Moment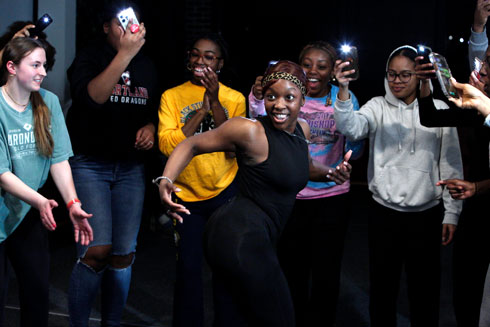 The Black Student Union's annual week of Black History Month events kicked off Monday with an African Dance workshop in the Corey Union Voice Office. The class was led by Roseclary Robert '22, a former exercise science major, shown at center. Other BSU events scheduled this week are Black History Month Jeopardy tonight; letter-writing to incarcerated men on Wednesday, Afro Essence on Thursday, the Black and Boujee formal on Friday, and the annual Kings and Queens Conference on Saturday. More information is available online.
---
In Other News

Suggest a feature story
---
Faculty/Staff Activities
Kevin Dames coauthored a paper with associate professor of kinesiology Jacqueline Augustine, two former students and a former faculty member. read more
Jeremy Jimenez was invited to present at the Central New York Youth Climate Summit. read more
Doug Langhans has been appointed by the U.S. Secretary of Commerce to serve on the New York District Export Council. read more

Submit your faculty/staff activity
In Memoriam
Joy L. Buffan '71, coordinator of school partnerships emerita and a lecturer in the Physical Education Department, died Feb. 13, 2023.
John F. Catalano, professor emeritus of psychology, died on Feb. 2, 2023.
Robert "Bob" C. Howe, Cortland College Foundation Board emeritus and 2014 College-Community Appreciation Award recipient, died Feb. 12, 2023.
Homer Mitchell, lecturer emeritus of English, died Feb. 4, 2023.