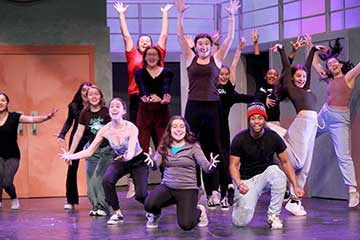 02/10/2023

It's time for happy faces, forget your frowns, the fantastical "Seussical" is coming to town.
SUNY Cortland's Performing Arts Department will continue the musical comedy's run this weekend at the Dowd Fine Arts Center Theatre, promising to bring the whimsy and wonder of the Dr. Seuss Broadway show to kids and adults alike.
"The universally recognizable characters from the Dr. Seuss stories appeal to all audiences, young, old and especially young-at-heart," said Kevin Halpin, professor of performing arts and director and choreographer of the show, which includes Seuss creations ranging from Horton the Elephant to the Cat in the Hat.
"Getting to watch various characters from different Seuss stories interact brings a level of fun and surprise to our view of the world of Seuss."
Remaining showtimes are:
Friday, Feb. 24: 7:30 p.m.

Saturday, Feb. 25: 2 p.m. (Understudy Performance) and 7:30 p.m.

Sunday, Feb. 26: 2 p.m.
Halpin, who has directed more than 30 shows at the university, noted that "Seussical" is a different type of production than the Performing Arts Department has put on in a while. He described it as featuring challenging music for the cast with powerful lyrics and a plot that touches upon inclusion, acceptance and the power of creativity.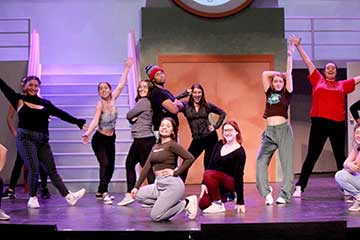 "Seussical" is based on some of the most famous creations of author and artist Theodor Seuss Geisel, best known by his world-famous pen name, Dr. Seuss. With music by Stephen Flaherty and script by Flaherty and Lynn Ahrens, it opened for its Broadway debut in 2000, leading to two U.S. tours and a stint in London's West End.
"This cast has been incredibly committed and hard-working throughout the process," Halpin said. "What I find most rewarding is when I see these young artists completely submerse themselves in the character they are playing onstage and begin to behave as that character in rehearsals, discovering ways of expressing the life of the character and telling our story as clearly as possible to an audience."
The "Seussical" team of 34 people, including cast, crew and creative team professors and professionals, has gone above and beyond to meet the challenge of the show, according to Halpin.
"This production is the shortest practice period ever for a full musical at the university," he said.
Rehearsals began on Jan. 17 and technical rehearsals started Feb. 9.
"That's several short weeks for the details of the entire show to be learned and memorized," Halpin said. "Many of the student cast play multiple roles as well, adding to the complexity."
Halpin believes the end result will be more than worth it.
"We hope the audience has a wonderful time but also walks away with a renewed sense of hope," he said. "And a strong belief that they can have a significant impact on the world around them if they trust and believe in themselves and accept people around them for who they are."
"Seussical" is appropriate for all ages. Anyone interested in hearing a Who or listening to the Lorax can find tickets online through SUNY Cortland's Ticket Office.
---