News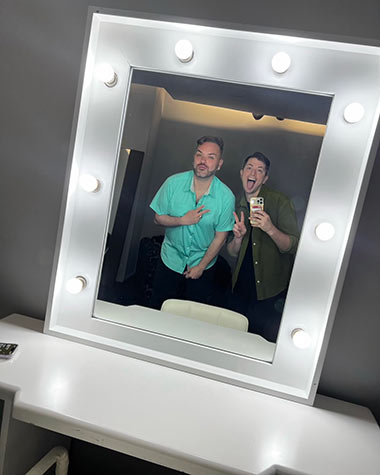 11/21/2023
A network audience of more than 2 million viewers on CBS primetime this month watched a Red Dragon alumni duo compete on one of TV's hottest new game shows and walk away with almost $40,000.
For Kevin Rayo' 17 and Billy Swenson '15 it was a far bigger audience than the 386 seats in SUNY Cortland's Dowd Fine Arts Theatre.
11/06/2023
Sonny and Cher sang "I Got You Babe" to the top of the charts in the 1960s. Now, Ella Perez '23 gets to be Babe — the 19-year-old version of a future superstar — in a life-changing chance to perform across the country in "The Cher Show."
Perez will star in the national tour as "Babe Cher," a character that represents the early career of the cultural icon, and one of three lead roles in the musical. Rehearsals began Oct. 23.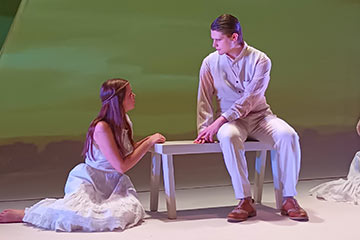 11/02/2023
The 1906 death of Grace Brown, made famous through her love letters and the fictional retelling in An American Tragedy by Theodore Dreiser, is steeped in the history of Central New York.
Now, Mark Reynolds, costume designer for SUNY Cortland's Performing Arts Department, and Crystal Lyon '09, a Cortland artist and university alum, found success with a new version of the tale at Dowd Fine Arts Center's Lab Theatre.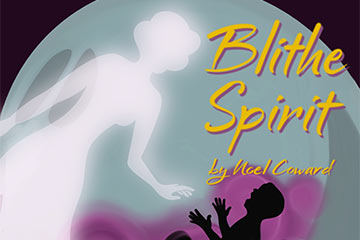 Want a little fun and fright this October? Prefer a bit of poltergeist in your plays? Then SUNY Cortland's Performing Arts Department has you covered with its first show of the semester, "Blithe Spirit," at the Dowd Fine Arts Center Theatre.
Performances are at 7:30 p.m. on Thursday, Oct. 5, Friday, Oct. 6 and Saturday, Oct. 7, with a final matinee at 2 p.m. on Sunday, Oct. 8. Tickets are available at SUNY Cortland's online Ticket Office. Discounted prices are offered to students, faculty, staff and senior citizens. Ages 13 and above will enjoy the show the most.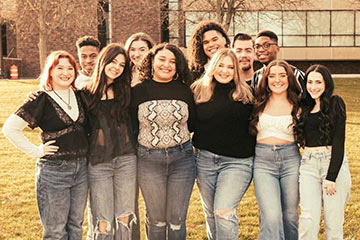 Students went to this year's SUNY Cortland Showcase in New York City with dreams of launching a career in the theater. They delivered one stellar performance after another, and every single one of them caught the eye of someone in a position to give them a big break.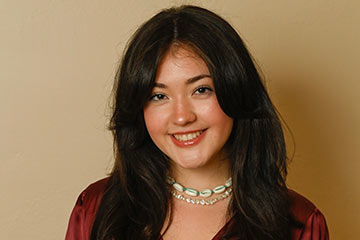 Elizabeth Fitzpatrick, a SUNY Cortland musical theatre major from Staten Island, N.Y., heard the siren's call of show business by the age of 7. For her, there was never a doubt about choosing a career.
Campus Champion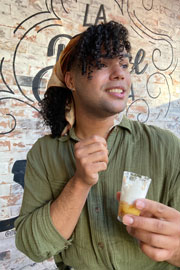 Ruben Fernandez (He, She, They) is a queer, Afro-Latine musical theatre major born in the Dominican Republic. The 2019 transfer from Long Island is building an impressive resume. He earned a lead in the performing arts production of "Proof," with five performances from Oct. 6 to 9 downtown at the Cortland Repertory Theatre. Also, he's directing a production titled "Nuestra Cultura: A Love Letter to Latine Heritage Month" set for Oct. 26. "Acting is not for the weak of heart, especially for a person of color, but there is no time to mope. Something else always comes along," he said. Read more about "Proof."
SUNY Cortland's Performing Arts Department is set to raise the curtain once more, as another theater season begins Sunday, Oct. 6 with the award-winning play, "Proof." It will run through Sunday, Oct. 9.
OnStageBlog.com recently named SUNY Cortland as one of "The 5 Most Underrated Theatre Colleges" for the Northeast, lauding the College for its contemporary training standards, facilities and past performance
Jonalyn Saxer, who has performed in "Cats" and "Holiday Inn" on Broadway and will be part of the cast of "Mean Girls" later this year, shared her experience and took plenty of questions on Friday, Feb. 2.