News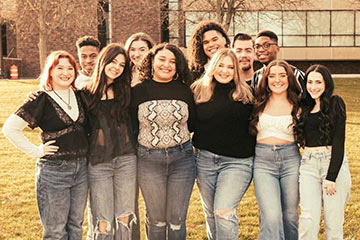 Students went to this year's SUNY Cortland Showcase in New York City with dreams of launching a career in the theater. They delivered one stellar performance after another, and every single one of them caught the eye of someone in a position to give them a big break. Read More
A big break on Broadway

Elizabeth Fitzpatrick, a SUNY Cortland musical theatre major from Staten Island, N.Y., heard the siren's call of show business by the age of 7. For her, there was never a doubt about choosing a career. Read More
Campus Champion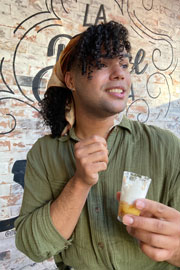 Ruben Fernandez (He, She, They) is a queer, Afro-Latine musical theatre major born in the Dominican Republic. The 2019 transfer from Long Island is building an impressive resume. He earned a lead in the performing arts production of "Proof," with five performances from Oct. 6 to 9 downtown at the Cortland Repertory Theatre. Also, he's directing a production titled "Nuestra Cultura: A Love Letter to Latine Heritage Month" set for Oct. 26. "Acting is not for the weak of heart, especially for a person of color, but there is no time to mope. Something else always comes along," he said. Read more about "Proof."
SUNY Cortland's Performing Arts Department is set to raise the curtain once more, as another theater season begins Sunday, Oct. 6 with the award-winning play, "Proof." It will run through Sunday, Oct. 9.
OnStageBlog.com recently named SUNY Cortland as one of "The 5 Most Underrated Theatre Colleges" for the Northeast, lauding the College for its contemporary training standards, facilities and past performance
Jonalyn Saxer, who has performed in "Cats" and "Holiday Inn" on Broadway and will be part of the cast of "Mean Girls" later this year, shared her experience and took plenty of questions on Friday, Feb. 2.