Performing Arts
With a BFA in musical theatre, our Performing Arts Department provides a foundation in music, theatre, dance, and technical theatre, resulting in thorough professional training for a career in this exciting field.
You'll work with the finest teachers of voice, acting, dance, theatre history, music history, and theory, and gain a liberal arts education at the same time..
In addition, you'll have opportunities to perform in main-stage musicals, classic and contemporary plays, student-directed one-act plays, workshops and readings of new musicals, and choral and instrumental ensembles. A 386-seat theatre, a recital hall, a lab theatre, a dance studio and practice and rehearsal rooms will support your study.
Whether you pursue a career as a performer, work behind the scenes or become a teacher, your experience at SUNY Cortland will serve you in a variety of career options.
---
News
Campus Champion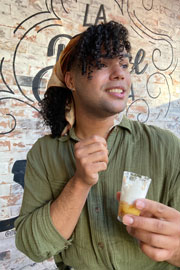 Ruben Fernandez (He, She, They) is a queer, Afro-Latine musical theatre major born in the Dominican Republic. The 2019 transfer from Long Island is building an impressive resume. He earned a lead in the performing arts production of "Proof," with five performances from Oct. 6 to 9 downtown at the Cortland Repertory Theatre. Also, he's directing a production titled "Nuestra Cultura: A Love Letter to Latine Heritage Month" set for Oct. 26. "Acting is not for the weak of heart, especially for a person of color, but there is no time to mope. Something else always comes along," he said. Read more about "Proof."
SUNY Cortland's Performing Arts Department is set to raise the curtain once more, as another theater season begins Sunday, Oct. 6 with the award-winning play, "Proof." It will run through Sunday, Oct. 9.
OnStageBlog.com recently named SUNY Cortland as one of "The 5 Most Underrated Theatre Colleges" for the Northeast, lauding the College for its contemporary training standards, facilities and past performance
Jonalyn Saxer, who has performed in "Cats" and "Holiday Inn" on Broadway and will be part of the cast of "Mean Girls" later this year, shared her experience and took plenty of questions on Friday, Feb. 2.