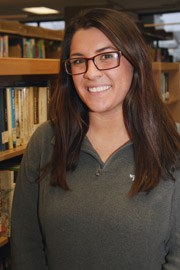 Campus Champion
When Pamela Jordan leaves SUNY Cortland this week, the December graduate takes with her a resumé filled with educational achievements, life experiences and an award from the YWCA. Honored as their December Volunteer of the Month, Pamela jumped into the Bridges for Kids program in her sophomore year and never wavered from her commitment to the kids and the agency. She mentored, organized a successful Mother/Daughter Tea Party, and learned the impact one can have on a child's life in as few as a couple hours a week. All great lessons for pursuing a master's degree in special education. All great lessons for life.

Nominate a Campus Champion
---
Friday, Dec. 18
Army Reserve Officer Training Corps Commissioning Ceremony: Recognizing graduating senior Thomas Markert, completing the Army ROTC program as he is commissioned at the rank of Second Lieutenant. Guest speaker will be Reserve Army Lawyer in the Judge Advocate General Corp and United States Administrative Law Judge Colonel Bruce Fine of Cortlandville, N.Y., Brockway Hall Jacobus Lounge, 3-4:30 p.m.
Monday, Jan. 4
Winter Session classes begin
Friday, Jan. 15
Winter Session classes end
Monday, Jan. 18
Martin Luther King, Jr. Day
Monday, Jan. 25
Spring Semester classes begin
---
---
Future Geographers Volunteer for Village Project
McGraw, N.Y., got technical help from two geographic information systems (GIS) majors. read more
Professor's NEA Award to Bring Women's Group from Belize
Art and Art History Professor Jeremiah Donovan received competitive funding from the National Endowment for the Arts. read more
---
Capture the Moment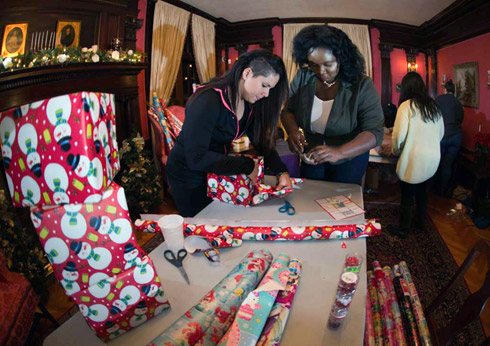 Ayse Billi, left, and Asantewa Feaster are two of more than 120 students who wrapped presents for the annual Adopt-a-Family program at the Lynne Parks '68 SUNY Cortland Alumni House in early December. Read more about the students from the Residence Life and Housing Office, who raised nearly $10,000 for this annual event.
---
In Other News

Suggest a feature story
---
People on the Move
---
Faculty/Staff Activities
Laura Davies was a presenter at the National Council of Teachers of English Annual Convention in November. read more
Kerri Freese helped coordinate a workshop for Noyce Scholars at the American Museum of Natural History. read more
David Kilpatrick was a presenter at both the Wyoming and Florida school psychology association conferences in October. read more
Patricia Martínez de la Vega Mansilla presented a workshop at the New York State Association of Foreign Language Teachers conference. read more
Tadayuki Suzuki discussed LGBTQ books for children at the National Council of Teachers of English in November. read more
Debbie Warnock presented on the effects of student debt at the Association for the Study of Higher Education annual meeting. read more
Tiantian Zheng twice presented at the Annual Conference of the American Anthropological Association in November. read more

Submit your faculty/staff activity