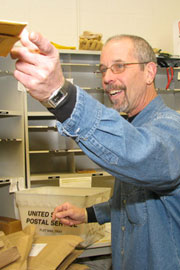 Campus Champion
Whether the thermometer reads eight degrees or 98, the College has come to rely on Mitch Seamans and his colleagues to move its mail on a daily basis — with warm smiles, positive attitudes and great efficiency. In December, Mitch received the 2012 President's Award for Excellence in Classified Service, and the accompanying story in this issue of The Bulletin details the many reasons he earned the honor. For those reasons and for many more, we launch the new year with this very deserving Campus Champion.

Nominate a Campus Champion
---
Tuesday, Jan. 22
Gallery Exhibit: "Americans Who Tell the Truth," Dowd and Beard Galleries, Main Street SUNY Cortland, 9 Main Street. Opening reception is Thursday, Jan. 31. Exhibit continues through March 9.
---
Tuesday, Jan. 22
Performance: Mind Reader Alain Nu, Corey Union Function Room, 8 p.m.
---
Wednesday, Jan. 23
Spring semester classes begin.
---
Friday, Jan. 25
InterGreek Council Carnival: Fundraiser event, Corey Union Function Room, 5-8 p.m.
---
Saturday, Jan. 26
Girls' Day Out: For girls in grades 5 to 8, Park Center, 8:30 a.m.–2:30 p.m.
---
Monday, Jan. 28
Red Cross Blood Drive: Urgent need for O negative and B negative blood types. Appointments can be made by calling 800-733-2767 (1-800-RED-CROSS) or at redcrossblood.org, Corey Union Exhibition Lounge, 12-5 p.m.
---
Thursday, Jan. 31
Dowd Gallery Opening Reception: "Americans Who Tell the Truth," Beard and Dowd Galleries, Main Street SUNY Cortland, 9 Main St., 4:30-6:30 p.m.
---
Thursday, Jan. 31
Screening and Discussion: The play "Cry for Peace: Voices from the Congo," and discussion with Congolese refugee community leader Cyprien Mihigo, Sperry Center, Room 105, 7-9 p.m.
---
Friday, Feb. 1
Grant Seminar:"NIH Small Research Grants," by Kimberly Kraebel, Psychology Department, Professional Studies Building, Room 1166, 11:30 a.m.-2 p.m. Lunch provided, from 11:30 a.m.-noon. R.S.V.P with the Research and Sponsored Programs Office by calling 607-753-2511.
---
---
"Teach-In" to Honor Sandy Hook Shooting Victim
The Feb. 5 event honors the memory of Mary Joy Greene Sherlach '78. read more
President Looks to Future at Opening Meeting
President Erik J. Bitterbaum spoke to faculty and staff members Tuesday morning. read more
---
Capture the Moment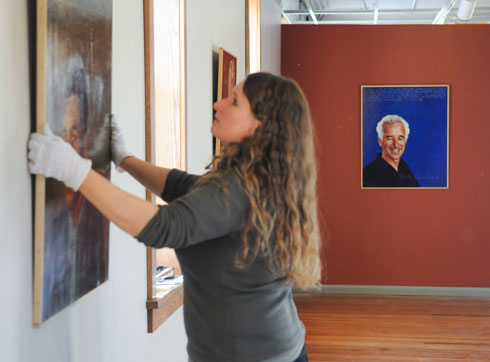 Gallery Manager Jaroslava Prihadova prepares for today's opening of a new exhibition titled "Americans Who Tell the Truth: Portraits by Robert Shetterly." The joint exhibition in Dowd and Beard Galleries at Main Street SUNY Cortland features 28 portraits of Americans who, throughout history, have spoken the truth against injustice, often under difficult circumstances. New to the collection is a portrait of William "Bill" Griffen '50, right, the former peace activist and longest tenured faculty member in the College's history.
---
In Other News

Suggest a feature story
---
People on the Move
---
Faculty/Staff Activities
Mark Dodds had his case study accepted for publication in Case Studies in Sport Management. read more
Gretchen Herrmann served on a panel and contributed comments on an exhibition recently held at the Museum of Modern Art. read more
Denise D. Knight will present at the Transatlantic Women II Conference in June in Italy. read more
Peter M. McGinnis received an Award of Appreciation at the ASTM International meeting for his work on pole vault equipment. read more
Jerome O'Callaghan recently had a review published in the Law and Politics Book Review online publication. read more
Gregory D. Phelan served on the leadership team at the U.S. Association for Small Business and Entrepreneurship National Conference. read more
Robert Spitzer had an article titled "Five Myths About Gun Control" published in a recent issue of the Washington Post. read more
Donna M. Videto will be inducted as an American Association for Health Education fellow at the April AAHPERD meeting. read more

Submit your faculty/staff activity