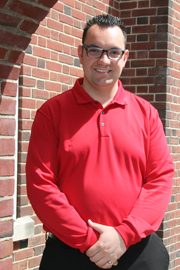 Campus Champion
Before he was a teen, Nick Lundberg wanted to be a funeral director, combining his interest in science with his compassion for people. Holding true to his conviction, he will receive a Bachelor of Arts in Social Philosophy on May 15, just two days after completing his funeral director licensing exam. The Cortland native connected with the analytical interpretations of humanity fulfilled by his social philosophy courses, preparing him for a lifetime of caregiving. His studies culminated with a 25-page independent study project titled "Ethics of Funeral Service," a piece of the venture that brings Nick closer to realizing his life goal.

Nominate a Campus Champion
---
Wednesday, April 22
Green Days Sandwich Seminar: LEED: Leadership in Energy and Environmental Design, presented by Matthew Brubaker, Facilities Operations and Services, and Rob Shutts, interim co-director of Facilities Planning Design and Construction, Brockway Hall Jacobus Lounge, 12:30-1:30 p.m.
Green Days Plant Fair: The Student Affairs Sustainability Committee will host a plant fair starting at 11 a.m. on the Memorial Library plaza.
Green Days Discussion: "Climate Change and Reforming the Energy Vision," presented by NYPIRG, Sperry Center, Room 105, 7-9 p.m.
Wellness Wednesday Series: "Earth Day Gardening Event," featuring several clubs and committees, planting bed demonstrations, plant sales and interactive information, during the afternoon at the campus garden across from Memorial Library, behind Neubig Hall.
Thursday, April 23
It's On Us Awareness Event: Sexual Assault Prevention Campaign, Corey Union steps, noon-4 p.m.
Local Sustainability Lunch: hosted by the Auxiliary Services Corporation (ASC), Neubig Hall
Lecture: "The New Social Darwinism," by David Sloan Wilson, SUNY Distinguished Professor, Biology and Anthropology, Binghamton University and author of CICC common read Evolution for Everyone), as part of the Cultural and Intellectual Climate Committee's r/evolution series , Old Main Brown Auditorium, 4:30 p.m.
Reception: Leadership in Civic Engagement Awards and Scholarships, Brockway Hall Jacobus Lounge, 4:30 p.m.
Saturday, April 25
Spring Fling Carnival: Sponsored by Campus Activities and Corey Union, Moffett Center, 11 a.m.-2 p.m.
Spring Fling Concert: Big Sean, tickets for the event are sold out, Park Center Alumni Arena, 8-11 p.m.
Sunday, April 26
Gospel Choir Spring Concert: Old Main Brown Auditorium, 4 p.m.
Monday, April 27
Recognition Ceremony: Student Employment Services (SES), recognizing student workers for their outstanding service, LOCATION, 4 p.m. Recognition forms due Thursday, April 23, to Student Employment Services, B-4 Van Hoesen Hall.
Local Food Panel Discussion: "What's In It for You?" panelists including local food store owner and committee members will explain why one should buy local foods, where to find local foods, how to support local food production and how to start a local food business, Corey Union Fireplace Lounge, 7- 8:30 p.m.
Tuesday, April 28
International Awareness Lecture: "Peace and Security in Sub-Saharan Africa: Mali, Central African Republic and Nigeria," by Martin Welz, University of Konstanz, Germany, Dowd Gallery, Room 236, noon.
Panel Discussion: "Capitalism: Does it Work for You?" by Steve Lambert, artist, and Howard Botwinick, Lisi Krall and Ben Wilson from the Economics Department, Brockway Hall Jacobus Lounge, 5-6 p.m.
Viewers may vote at the exhibition from April 21-May 8
Foreign Films Night: "Half of a Yellow Sun," (2013), presented by SUNY Cortland's International Awareness Club, Sperry Center, Room 104, 6 p.m.
College-Community Orchestra Concert: Dowd Fine Arts Center Theatre, 8 p.m.
Wednesday, April 29
Green Days Sandwich Seminar: "STARS: Sustainability Tracking, Assessment and Rating System on SUNY Cortland's Campus," presented by Matthew Brubaker, Facilities Operations and Services, and Beth Klein, Sustainability Coordinator, Brockway Hall Jacobus Lounge, 12:30-1:30 p.m.
Wednesday at Four Concert: Dowd Center, Room 110, 4 p.m.
Panel Discussion: "Students of the World," featuring two international students and two students who have studied abroad, Moffett Center, Room 2125, 4:30-5:30 p.m.
Thursday, April 30
Sandwich Seminar: "A New Approach to Community-based Learning: The Community Innovation Lab," by Richard Kendrick, Sociology/Anthropology Department and Institute for Civic Engagement, and students in the Community Innovation Lab course, Brockway Hall Jacobus Lounge, 12:30-1:30 p.m.
Louie Larson Lecture: Local speaker and performer David Latta will share his life journey and coming out story. Sperry Center, Room 104, 2:50-4:05 p.m. and at the Interfaith Center, 7 Calvert St. at 7 p.m.
Green Days Film Screening: "A Place at the Table," sponsored by NYPIRG, Sperry Center, Room 104, 6-10 p.m.
March for Suicide Awareness: "We Got Your Back," meet at Corey Union lobby, 7:30 p.m.
Saturday, May 2
The BIG Event: A one-day volunteer project that aims to round up the efforts of SUNY Cortland students, employees and alumni. The mission is to say thanks to our neighbors in the Cortland Community and to show how students care about the environment in which they live, Park Center Alumni Arena, begins at 9 a.m.
National Bone Marrow Registry Drive: Sponsored by Cortland Football, Corey Union, noon-3 p.m.
Sunday, May 3
SGA Children's Festival Celebration: Moffett Center lawn or gymnasium, weather permitting, noon-3 p.m.
---
---
Honorary Degrees Recognize Two Former Campus Scholars
John P. Allegrante '74 and Helen F. Giles-Gee will receive honorary SUNY degrees read more
Students to Pledge Against Sex Assault
On April 23 and 24, students will commit to the "It's On Us" campaign. read more
---
Capture the Moment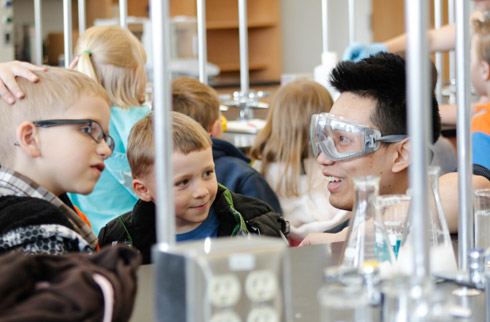 Chemistry Club member Weifeng Zhen, a junior biochemistry major, discusses the plan for an experiment called Boo Bubbles with kindergarteners from Cortland's Barry Elementary School. About 10 club members plus four advisors, eager to increase interest in chemistry and its role in daily life, hosted 50 children on April 15 in Bowers Hall and presented hands-on demonstrations and shows. Boo Bubbles combined dry ice and dish detergent to produce extra strong bubbles that the children, wearing cotton gloves, could toss without popping. Other experiments involved frozen bananas, gummy bears and elephant toothpaste.
---
In Other News

Suggest a feature story
---
Faculty/Staff Activities
Tim Delaune was a presenter at the Western Political Science Association conference in Las Vegas. read more
Terrence Fitzgerald and Frank Rossi and alumni Mike Kelly '14 and Tyler Potter '14 co-authored an article that is published in the current issue of Journal of Chemical Ecology. read more
Christopher Gascón was re-elected secretary of the Association for Hispanic Classical Theater. read more
Richard Hunter had his article published in the May issue of The Holocene. read more
Kathryn Kramer will have her review of a New Orleans exhibition published in Afterimage: The Journal of Media Arts and Cultural Criticism. read more
Gregory D. Phelan was issued a patent in April that deals with environmentally friendly ways to extract resources from the ground. read more
Gregory D. Phelan and Kerri Freese organized and led the annual National Science Foundation Noyce NE Conference in March. read more
Robert Spitzer had his new book, Guns Across America: Reconciling Gun Rules and Rights published. read more
Henry Steck delivered the keynote address at the annual conference of the New York State Political Science Association. read more
Tiantian Zheng spoke at the international conference organized by University of Vienna in April. read more

Submit your faculty/staff activity