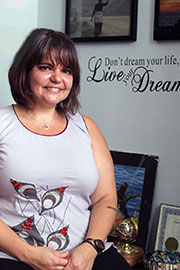 Campus Champion
Alexis Blavos will receive the Student Affairs Faculty Connection Award on Sept. 7 in recognition of her ability to establish and maintain bonds with students outside of the traditional classroom setting. An assistant professor of health, Alexis delivered the keynote lecture at Sunday's Academic Convocation, where she helped put freshmen at ease right from the start. Alexis arrived at Cortland in 2015, experienced in all areas of health promotion and engaging students. She teaches undergraduate and masters classes, serves on numerous committees, leads a national honorary and goes the extra mile to make students feel welcomed and safe on campus.

Nominate a Campus Champion
---
Tuesday, Aug. 28
Open Mic Night: Corey Union Function Room, 7 to 9 p.m.
Wednesday, Aug. 29
Student Employment and Volunteer Fair: Corey Union Function Room, 3 to 5 p.m.
Wellness Wednesday: "Relaxation Yoga," two classes are being offered at 6 and 7 p.m. at the Student Life Center Mind Body Room
Friday, Aug. 31
Study Abroad and International Student Welcome Party: Corey Union steps, noon to 1:30 p.m.
UUP Welcome Back Gathering: "We are UUP: The University's Union," Sesquicentennial Celebration exhibit opens 3 p.m., opening remarks by special guest Fred Kowal, president, United University Professions, dinner from 4 to 6 p.m., Student Life Center lobby.
Mentalist Mark Toland: Corey Union Function Room, 8 p.m.
Saturday, Sept. 1
Great New York State Fair Bus Trip: Pick up your FREE NYS Fair ticket in Corey Union, Room 406 during regular business hours. Bus is $5, cash only.
Mini Golf: Shipwreck Golf. Buses depart at 8, 9 and 10 p.m. Pickup free ticket at Corey Union information desk from 7 to 8 p.m.
Sunday, Sept. 2
Welcome Week Event: Outdoor Movie, "Life of the Party," Moffett Center lawn, 8 p.m.
Monday, Sept. 3
Labor Day: No classes, offices are closed
Labor Day Carnival and Student Club Fair: Corey Union steps, noon to 3 p.m.
Tuesday, Sept. 4
Faculty Senate Meeting: Brockway Hall Jacobus Lounge, 1:15 to 2:30 p.m.
Wednesday, Sept. 5
Wellness Wednesday: "Explore Lime Hollow Nature Center with Outdoor Pursuits" The trip, including travel, will be approximately one hour. Students are asked to wear comfortable athletic clothing and sneakers, bring water and meet the shuttle service at either 5 p.m. or 6:30 p.m. at Outdoor Pursuits.
Thursday, Sept. 6
Tai Chi Demonstration: Tai chi Master Jesse Tsao, Brockway Hall Jacobus Lounge, 7 to 9 p.m.
Friday, Sept. 7
Lunchtime Information Session: "EAP 101" An introduction to New York State's Employee Assistance Program, Brockway Hall Jacobus Lounge, noon
Cortland Nites Roller Skating: Moffett Gym, 8 p.m.
Friday, Sept. 7
Reception: Honoring Excellence, sponsored by Research and Sponsored Programs, Corey Union Function Room, 2 to 4 p.m.
Friday, Sept. 7
Tai Chi Workshop: Tai chi Master Jesse Tsao, Brockway Hall Jacobus Lounge, 7 to 9 p.m.
---
---
SUNY Cortland Near Top of Money's National 'Best College' Ranking
The College ranked in the top 5 percent nationally for the second consecutive year. read more
President Highlights Faculty Engagement in Opening Remarks
Good news from across campus shared at the start of a new semester. read more
---
Capture the Moment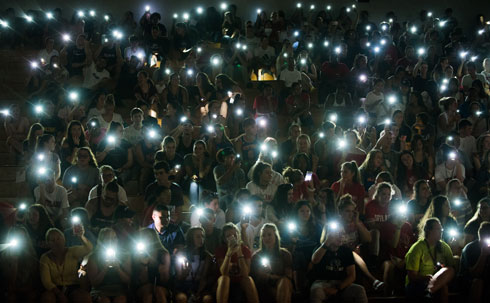 The incoming class of freshmen answered questions using the flashlight on their cell phones during a speech at Academic Convocation on Aug. 26. The lights shined bright when assistant professor of health Alexis Blavos asked, "Who is a little nervous?" They shined even brighter when Blavos asked how many were excited to be Red Dragons. More than 1,250 new first-year students and nearly 700 transfers are settling in during this Welcome Week at SUNY Cortland.
---
In Other News

Suggest a feature story
---
People on the Move
---
Faculty/Staff Activities
Kati Ahern co-authored a recently published article on listening to classroom soundscapes. read more
Alexis Blavos was elected deputy coordinator for the Coalition of National Health Education Organizations. read more
Kevin Dames collaborated on a poster and a rapid podium presentation at the American Society of Biomechanics Annual Meeting. read more
David Dickerson and John Suarez had their article accepted for publication in MathAMATYC Educator Journal. read more
Dan Harms had his chapter published in the collection Knowing Demons, Knowing Spirits in the Early Modern Period. read more
Kathleen A. Lawrence had several poems accepted for publication, including one written as a tribute to Aretha Franklin. read more
Rhiannon Maton had her scholarly article published in Policy Futures in Education journal. read more
Kristine Newhall had her commentary published on Engaging Sports, a blog devoted to the critical analysis of sports cultures. read more
Robert Spitzer has been appointed to serve on the SUNY Research Council. read more
John Suarez participated in a planning meeting of the newly-formed "Campus Compact of New York and Pennsylvania." read more

Submit your faculty/staff activity