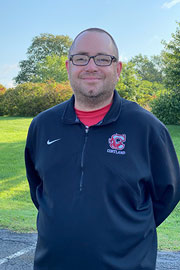 Campus Champion
Christopher Mac Nabb, a janitor at West Campus Apartments, steps up to meet the new demands that COVID-2019 has placed on our community. Since September 2020, Chris has cleaned all of our campus Quarantine and Isolation (Q/I) apartments. His long hours and commitment support the residential students going through the Q/I process. Chris, who enjoys golf when he's not at West Campus, reflects on a summer rewarded with a hole in one, and doing all he can preventing the spread of germs and keeping students safe.

Nominate a Campus Champion
---
Tuesday, Sept. 14
Discussion: Speak Your "Peace," led by SUNY Cortland NAACP, open to all students to speak on topics that often make others uncomfortable, in a respectful and peaceful environment, Corey Union Caleion Room, 7:15 p.m.
---
Wednesday, Sept. 15
Study Abroad Fair: Corey Union lower patio, 11 a.m. to 2 p.m.
Study Abroad 101: Old Main, Room 220 Colloquium, 3 to 4 p.m.
Wellness Wednesday Series: Assess and Address Your Stress, presented by Carolyn Bershad, Counseling and Wellness Services director, Corey Union Exhibition Lounge, 3 to 4 p.m.
Speed Resumes Workshop: Sponsored by Career Services, online via Handshake, 4 to 5 p.m.
---
Thursday, Sept. 16
Dowd Gallery Artist's Talk: "Nature Inside," presented by Jack Elliott, associate professor of Design and Environmental Analysis Department, College of Human Ecology, Cornell University, Dowd Gallery, 5 p.m.
Constitution Day Event: The Institute for Civic Engagement invites participants to a public deliberation "Voting: How Should We Encourage and Safeguard Our Elections?" Corey Union Function Room, 6:30 to 8:30 p.m.
---
Monday, Sept. 20
Workshop for All: Understanding and Advocating for Racial Justice, online via Webex, 3 to 5 p.m.
Money Talks Mondays - Financial Wellness: Sponsored by Career Services, online via Handshake, 4 to 5 p.m.
---
Tuesday, Sept. 21
Open Mic Night: Bi-monthly event for students to unleash their creativity and talent in the form of music, sponsored by Student Activities Board, Corey Union, 7 to 8 p.m.
---
Wednesday, Sept. 22
Study Abroad 101: Old Main Brown Auditorium, 3 to 4 p.m.
Dowd Gallery Documentary Screening: "In Grain," compilation of shorts, Dowd Gallery, 5 p.m.
Let's Get Ready to Grad School: Sponsored by Career Services, online via Handshake, 5 to 6 p.m.
---
---
SUNY Cortland recognized by two national publications
The Princeton Review and U.S. News and World Report highlighted sustainability and access to education. read more
Virtual exhibit on multicultural milestones available
The exhibit highlights diverse accomplishments of the past on the SUNY Cortland campus. read more
---
Capture the Moment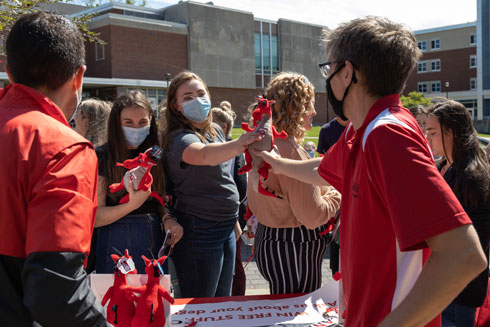 Students had an opportunity to learn about many of the organizations on campus during the Club Fair and Carnival on Monday, Sept. 6. These students received Red Dragon stuffed animals for learning about the Middle States Commission on Higher Education.
---
In Other News

Suggest a feature story
---
People on the Move
---
Faculty/Staff Activities
Hugh Anderson will present at the Association of International Educators All-Region Summit in October. read more
Kevin Dames presented a poster at the 45th annual meeting of the American Society of Biomechanics. read more
Szilvia Kadas participated in an artist residency program and group exhibition in August. read more
Jordan Kobritz coauthored an article published in July in Sport in Society. read more

Submit your faculty/staff activity