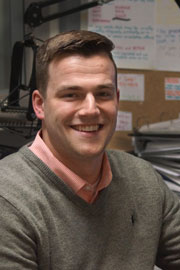 Campus Champion
SUNY Cortland athletics find a voice in communication studies major Robert Galm, who serves as lead broadcaster for the Red Dragon Sports Network and station manager for WSUC-FM. Soon, the Pine Plains, N.Y., native will champion awareness of multiple sclerosis (MS) too. After his mother was diagnosed with the neurological disease in 1998, Robert's family initiated hugely successful fundraisers for MS research near his hometown. Broadcasting commitments kept him from attending his family's event in 2015, so this year he's planning a campus walk of his own on Sunday, May 8 — Mother's Day. More than 60 people have signed up, including his family.

Nominate a Campus Champion
---
Tuesday, May 3
SUNY Cortland College-Community Orchestra Concert: Ubaldo Valli, conductor, Michael Poole, guest conductor, President Erik Bitterbaum, guest percussionist, Dowd Fine Arts Theatre, 8 p.m.
Wednesday, May 4
Student Spring Pottery Sale: Proceeds help support the 2016 Belize Pottery Project, Old Main Lobby, 11 a.m.-2 p.m.
Thursday, May 5
Paws at Memorial Library: second floor, 11 a.m.-1 p.m.
Senior Send-Off: For graduating members of the Class of 2016, Parks Alumni House, 5-9 p.m.
Friday, May 6
Friday Films at Four FilmFest: "Annie Hall" (1977), presented by Scott Anderson, Geography Department, Old Main, Room 223, 4 p.m. Refreshments will be served beginning at 3:50 p.m.
Moving Up Day Rock Ceremony: President Bitterbaum invites the Class of 2017 to the traditional ceremony on the quad between Old Main and Bowers Hall, 4:30 p.m.
Midnight Breakfast: volunteers are needed, Neubig Hall, 11 p.m.-1 a.m.
Monday, May 9
Paws for Stress Relief: Corey Union Function Room, 10 a.m.-4 p.m.
Tuesday, May 10
Paws for Stress Relief: Corey Union Function Room, 10 a.m.-4 p.m.
Friday, May 13
Undergraduate Commencement Rehearsal: Park Center Alumni Arena, 2:30 p.m.
Graduate Commencement: Park Center Alumni Arena, 7 p.m.
Saturday, May 14
Undergraduate Commencement: Park Center Alumni Arena, Ceremony 1 at 9:30 a.m.; Ceremony 2 at 2:30 p.m.; Ceremony 3 at 7 p.m.
Monday, May 16-Tuesday, May 17
Summer Ethics Institute: Professional development workshop free and open to all professional staff and faculty, Brockway Hall Jacobus Lounge, 9 a.m.-4 p.m. Register by Monday, May 9. Contact: Andy Fitz-Gibbon, Philosophy Department and Center for Ethics Peace and Social Justice, 607-753-2016.
Wednesday, May 18
Professional Service Recognition Luncheon: Corey Union Function Room, 11:30 a.m.-1 p.m.
---
Publication Dates Set for The Bulletin
This is the last issue of The Bulletin for the spring semester. The Bulletin will be published four times during the summer, as follows:
Tuesday, May 17
Tuesday, June 7
Tuesday, June 28
Tuesday, July 19
The first issue of the Fall 2016 semester will be published on Tuesday, Aug. 30.
---
---
For Two Students, Commencement Marks 'Grand' Occasion
Two seniors will share their special day with their grandparents, who will march as alumni members of the Half Century Club. read more
Bloomberg Software Benefits Future Finance Professionals
Students are training to use Bloomberg Terminals, a multi-monitor computer set-up that receives valuable financial market data. read more
---
Capture the Moment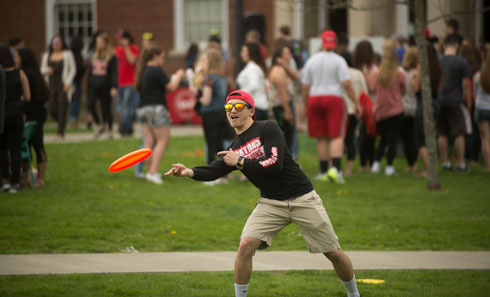 Tevin Pham, an exercise science major from New York Mills, N.Y., shows good form at frisbee during SUNY Cortland's annual Spring Fling Carnival. Climbing walls, bounce houses and a barbecue blanketed the quad between Moffett Center and Old Main on Saturday under sunny skies. Festivities continued into the evening with a concert by The White Panda, Ty Dolla $ign and Jeremih.
---
In Other News

Suggest a feature story
---
Faculty/Staff Activities
Laura Davies had a chapter on plagiarism and the Internet published in The Handbook for Academic Integrity. read more
Thomas Hischak has contracted to write a book about Hollywood movies made in 1939. read more
Deborah Matheron was an invited speaker at the Speech-Language Pathology Convention in Saratoga Springs. read more
Robert Spitzer authored a chapter on the presidency of John Tyler for a recently published book. read more
John Suarez secured a grant to fund a roundtable discussion focusing on economic mobility in Cortland County. read more
Tiantian Zheng was invited to speak about her books at invited talks at two universities in Hong Kong in April. read more

Submit your faculty/staff activity