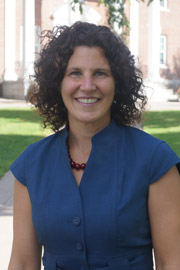 Campus Champion
There's more inside Parade magazine than its annual "What People Earn" report. This year, the online edition of the publication gave props to History Professor Randi Storch by including her second book, Working Hard for the American Dream: Workers and their Unions, World War I to the Present, on its short list of Labor Day "must reads" — tremendous praise from the most widely read magazine in America. The chair of the College's History Department and Live-In Cortland Initiative Committee fittingly serves as the grievance officer for SUNY Cortland's United University Professions chapter.

Nominate a Campus Champion
---
Tuesday, Sept. 9
Open Mic Night: Coffeehouse entertainment, Corey Union Function Room, 7 p.m.
Wednesday, Sept. 10
Sandwich Seminar: "What's New at the Inclusive Recreation Resource Center?" by Lynn Anderson and Vicki Wilkins, Recreation, Parks and Leisure Studies Department, Brockway Hall Jacobus Lounge, 12:30-1:30 p.m.
Dowd Gallery Lecture: "Digging through Rubble for a Usable Past: German Reconstruction after 1945," by Scott Moranda, History Department, Dowd Fine Arts Center, Room 106, 4:30 p.m.
Wellness Wednesday: "Solo Cup Culture: Minimizing the Risks of an Alcohol-Soaked Campus Climate," presented by national speaker Jake Byczkowski, campuspeak.com/speakers/jake, Corey Union Function Room, 7 p.m.
Thursday, Sept. 11
Lecture: Executive in Residence Michael Flaster '78, discuss his path from SUNY Cortland to media consultant and entrepreneur, Brockway Hall Jacobus Lounge, 3 p.m.
Friday, Sept. 12-Sunday, Sept. 14
SUNY Cortland Homecoming 2014
Friday, Sept. 12

Portfolio Development Workshop: Sponsored by the Faculty Development Center, Brockway Hall Jacobus Lounge, 1-3 p.m.
Saturday, Sept. 13

Fall Employee Festival: Park Center Alumni Arena, 10 a.m.-2 p.m.
Tuesday, Sept. 16
Dowd Gallery Artist's Talk: New York City-based artist Fawn Krieger, whose "Keeping Things Whole" show is on exhibit, Dowd Gallery, 5 p.m.
Take Back the Night March: Corey Union Steps, 8 p.m.
Wednesday, Sept. 17
Constitution Day Lecture: "The Constituting Constitution, and How to Reconstitute It," by Timothy Delaune, an assistant professor of political science and SUNY Cortland's pre-law advisor, Brockway Hall Jacobus Lounge, 4:30 p.m. The Constitution Day talk is presented by the College's Institute for Civic Engagement.
Brooks Museum Lecture: "Sustainability Present and Future: International Perspectives," presented by Brice Smith and Douglas Armstead, Physics Department, and international students, Moffett Center, Room 2125, 4:30 p.m. A reception to welcome speakers begins at 4 p.m. in the Brooks Museum, Moffett Center, Room 2126
Wellness Wednesday: "Walk the Walk of Student Services" open house in Van Hoesen Hall and Corey Union, 5:30-7:30 p.m. Meet student services staff, enjoy refreshments and participate in prize raffles.
Thursday, Sept. 18
Lecture: "Who Should Count as a Woman on the Playing Field? The Questions of Intersex and Trans in Sports," by Alice Dreger, Clinical Medical Humanities and Bioethics Feinberg School of Medicine at Northwestern University, Sperry Center, Room 105, 7 p.m.
Friday, Sept. 26

Performance/Re-opening of Dowd Theatre: Avant Garde Toy Piano by Margaret Leng Tan, Dowd Theatre, 8 p.m.
---
---
Cortland Again Ranked One of America's Top Colleges
U.S. News & World Report and Money magazine give the College high marks. read more
C-Club Induction Highlights Busy Sports Weekend
Events begin Friday with a reunion of softball squads coached by Julie Lenhart. read more
---
Capture the Moment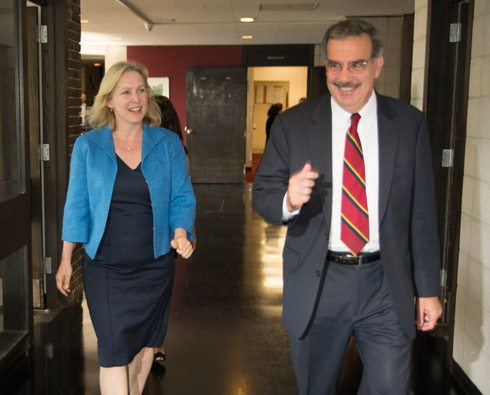 U.S. Sen. Kirsten Gillibrand leaves Corey Union with SUNY Cortland President Erik J. Bitterbaum on Friday after she addressed a group of about 170 people attending "Made in Rural America," one of just a handful of regionally focused forums aimed at increasing exports manufactured or raised in Upstate New York.
---
In Other News

Suggest a feature story
---
Faculty/Staff Activities
Christa Chatfield will have her paper published in the Journal of Microbiology and Biology Education. read more
Michelle Cryan developed an app prototype designed to teach sign language to pre-verbal children. read more
David Kilpatrick was a presenter at the Society for the Scientific Study of Reading annual conference. read more
Robert Spitzer was elected to serve on the Executive Council of Pi Sigma Alpha, the national political science honors society. read more
Jeff Walkuski presented workshops on fitness education at public schools in Minnesota and Illinois. read more
Gregg Weatherby served as a consultant for a number of books on poet Paul Blackburn, a member of the faculty in 1970-71. read more
Orvil White attended the Phi Kappa Phi honor society convention as the College's voting delegate. read more
Nance S. Wilson recently had two papers and a textbook published. read more
Tiantian Zheng had a paper accepted for publication and has an ethnography in production for release next year. read more

Submit your faculty/staff activity