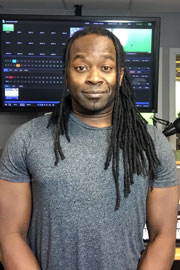 Campus Champion
"I do my best work when I'm under pressure," says Ricardo Nelson '12, SUNY Cortland's go-to guy for all things video. Since April, the media services technician has produced too many videos to mention, each dedicated to engaging the campus community during distance learning and quarantine restrictions. Some projects keep him up all night, one was a social media hit. He works with all corners of campus, from athletics to fundraising to academics and helps people — some with wild ideas — meet their online objectives. Then he rallies his students taking introduction to media production and teaches them things like how to get the audience more involved and how to strive for the best.

Nominate a Campus Champion
---
Wednesday, Nov. 25
Native American Heritage Month Virtual Film Series: Three documentaries are available for on-demand viewing throughout November: "Dawnland"– password: ten.orange.oak; "Dear Georgina" and "First Light" – password: green.five.cloud. Films can be accessed through Events page on our website.
---
Thursday, Nov. 26
Thanksgiving
---
Monday, Nov. 30
Discussion: Understanding your white privilege, testimonials and stories told by college-aged students. Facilitated by Multicultural Life and Diversity Programming Intern Hannah Fitzgerald. Register, online via Zoom, 5 to 6 p.m.
Poetry Slam: Presented by Cortland Writer's Association, listen to and perform poetry. Online via Webex, meeting code: 132 747 7327 Password: VcyipuMm476, 7 to 8 p.m.
Paint & Sip Mondays: Create art with friends from the comfort of your own room, sponsored by Pride Club, online, 7 to 8:30 p.m.
---
Tuesday, Dec. 1
Trap Yoga: Virtual yoga with different forms of music, presented by SUNY Cortland NAACP, online via Webex, 6:30 to 7:30 p.m.
---
Wednesday, Dec. 2
Life After Cortland: Getting Real with Your Job Search. Register online via Handshake, sponsored by Career Services, 4 to 5 p.m.
Create Your Own Pride Flag: Grab any canvas and any art supplies and create, online, 7 to 9 p.m.
---
Thursday, Dec. 3
Water Workshop: What's in my water? Join NYPIRG to discuss water quality and justice. A brief presentation followed by an interactive component where event attendees will use NYPIRG's "What's in My Water?" tool to learn about water quality in their area. Online via Zoom, RSVP, 5 to 6 p.m.
---
---
President's message on 2021 academic calendar
President Bitterbaum highlights key dates for the spring 2021 semester. read more
Students spend an evening with President Bitterbaum virtually
Students chat with President Bitterbaum via Webex read more
---
Capture the Moment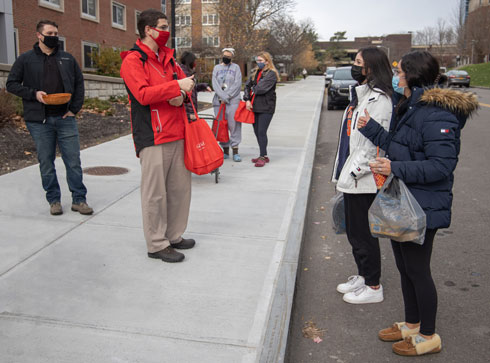 William Bellingham, an Advisement and Transition graduate assistant, left, and Greg Diller '07, coordinator of transition programs, center, talk to students as part of Advisement and Transition's "Advising on the Go" event on Nov. 13. Advisors gave tips and answered questions about registering for spring semester classes and handed out candy and SUNY Cortland bags that included Cortland ski hats, masks and other goodies. Learn more about the Spring 2021 academic calendar.
---
In Other News

Suggest a feature story
---
Faculty/Staff Activities
Eric Edlund presented a poster at the 2020 American Physical Society's Division of Plasma Physics Conference. read more
Kristine Newhall participated in a conference panel that addressed Title IX in the time of COVID. read more
Christine Paske was elected to the American School Health Association (ASHA) Board of Directors. read more
Anne Vittoria is the author of a recently published book titled Women of Color in a World Apart, An Ethnography of Care Workers. read more

Submit your faculty/staff activity