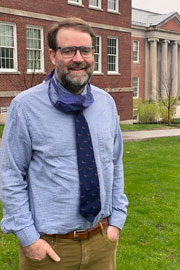 Campus Champion
Associate Professor Ben Wilson of the Economics Department invites students to learn firsthand how national problems impact small rural communities through a summer course taught in the Adirondacks. The two-week class will connect students with local residents to survey the impact of climate, tourism, geography and overdevelopment. Ben is a collaborator. He's a founding member of the Cortland Food Project that advocates for and supports policies and actions that promote a healthy population. He chairs the Cultural and Intellectual Climate Committee which delivers a year-long series of events under a common theme. Next year's theme, memory, will bring us together through reflection and the promise of a great future.

Nominate a Campus Champion
---
Tuesday, May 4
Distinguished Voices in Literature: Reading with Myriam Gurba, author of Mean, register for Zoom link, 6 p.m.
Trivia Tuesday – Disney/Pixar Theme: Online, 9 p.m.
---
Wednesday, May 5
Red Dragon Adoption Day: Sponsored by Advisement and Transition, Newmark Pavilion, (rain location, Memorial Library lobby), noon to 2 p.m., or until all stuffed red dragons have found a home.
Teacher Certification Requirements Overview: Online via Handshake, 4:30 to 5:30 p.m.
Discussion: Afro-Religion in Latin America, online via Webex, meeting number: 132 690 7830, password: Latin, 6 p.m.
---
Thursday, May 6
Student Select '21 Opening Reception: Online via Webex, 4:30 p.m.
Let's Get Ready to Grad School: Online via Handshake, 4:30 to 5:30 p.m.
How to be an AAPI Ally to #StopAAPIHate: A student and alumni discussion about the rise of anti-Asian hate, violence and racism, online via Webex, 5 to 6:30 p.m.
---
Friday, May 7
Virtual Rainbow Reception for LGBTQ+ students and allies: Registration required, online via Zoom, 6 p.m.
---
Saturday, May 8 and Sunday, May 9
Study Days
---
Wednesday, May 12 and Thursday, May 13
Grad Walk: Open to graduating students only, Lusk Field House
---
Wednesday, May 12 through Friday, May 14
Online Commencement Celebration: For more information on activities planned for the celebration, go to our Commencement Get Involved page.
---
Saturday, May 15
Virtual Commencement Ceremony: Online, 10 a.m.
---
Wednesday, May 19
Summer Session begins
---
Friday, May 21
2021 Virtual Kente Celebration: Guests are invited, RSVP, online via Webex, 6 p.m.
---
---
University replacing all campus lamp posts
The project will make the campus safer and more energy efficient. read more
Physics class using brand-new wind tunnel
Students are getting hands-on experience in a semester-capping group project. read more
---
Capture the Moment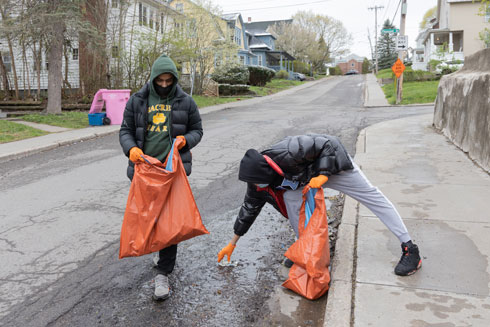 Seniors John Concepcion (left), a sport management major from the Bronx, and Nathaniel Webster, a business economics major from the Bronx, helped with a downtown cleanup on Saturday, May 1. The cleanup was organized by Brian Tobin, Cortland's mayor and SUNY Cortland's head swimming and diving coach.
---
In Other News

Suggest a feature story
---
Faculty/Staff Activities
Brian Barrett had an article published in the Journal of Curriculum Studies. read more
Alexis Blavos presented her research on the COVID-19 response by health education specialists at a conference and had an article accepted for publication. read more
Lindsey Darvin had an article on gender stereotyping in the NBA2K accepted for publication, and presented a podcast talk on women in sports leadership. read more
Jeremy Jimenez and alumni Tova Wilensky '00 received a best published paper award for their article in International Studies in Sociology of Education. read more
Tom Lickona had his Psychology Today blog post reprinted in Australia's MercatorNet. read more
Kate McCormick and John Suarez presented "A Seat at the Table" at the April 23rd SUNY Student Success Summit. read more
Tiantian Zheng presented a paper and served as a moderator at the New York State Sociological Association annual conference and delivered a book talk at Syracuse University in April. read more

Submit your faculty/staff activity