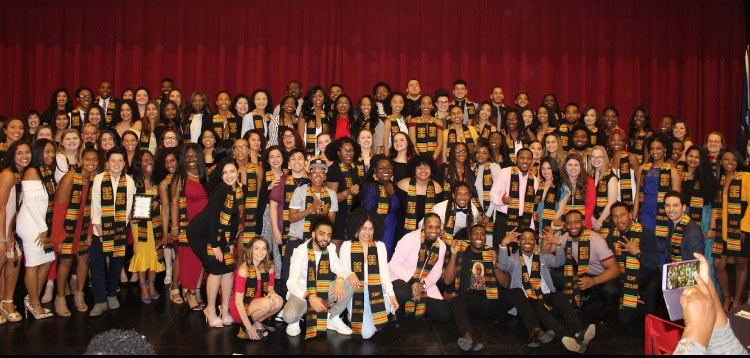 Kente Celebration 2023
The Kente Celebration will take place on Saturday, April 1, 2023 in the Corey Union Function Room.
Check in starts at 4 p.m. and the celebration will begin at 5 p.m.
What is Kente?
The Kente Celebration symbolizes and commemorates the rite of passage for learners and scholars who are transitioning from institutions of higher learning to the next chapter of their lives. The Kente Celebration has deep institutional history and is an important experience for our multicultural students.
The kente cloth is a traditional African cloth – the colors and design hold a specific meaning. It is the most popular and best known of all African textiles. Originally, royalty exclusively wore kente but since Ghana's independence from Britain in 1957 kente has become a symbol of national pride. Ordinary citizens wear it for special celebrations. The kente cloth has also become an important symbol for African Americans, people of color in general, and their allies to highlight their achievements and connection to the first learning centers of the world in Africa.
---
Graduating seniors and graduate students are encouraged to apply for the Kente Celebration.
Applicants will be accepted based on the quality of the application.
---
Kente Awards
Use this form to nominate a graduating senior
Calvin Louis-Juste Memorial Award Criteria:
Must be a graduating senior
Be an example of high academic achievement
Committed to doing community service
Be a leader on campus and be in extracurricular activities
Be passionate about continuing to improve oneself
Advocate for equity and inclusion on campus
Use this form to nominate a graduating senior that demonstrated achievement in social justice and education.
The SUNY Cortland NAACP Award Criteria:

Must be a graduating senior

Be an example of high academic achievement

Active in promoting diversity, inclusion and social justice matters in support of the Black community and racial equity, either individually or as part of their work within a student organization
Please use this form to nominate faculty, staff or administrators, who have worked at SUNY Cortland for at least three years and have demonstrated support for students of color and have been involved in diversity, equity and inclusion initiatives.
You can nominate yourself or others who you think fulfill the criteria of these awards and honorary stole.
The nomination deadline for all three awards is Friday, March 3, 2023.
If you have any questions, please contact our office at multicultural.life@cortland.edu.
---