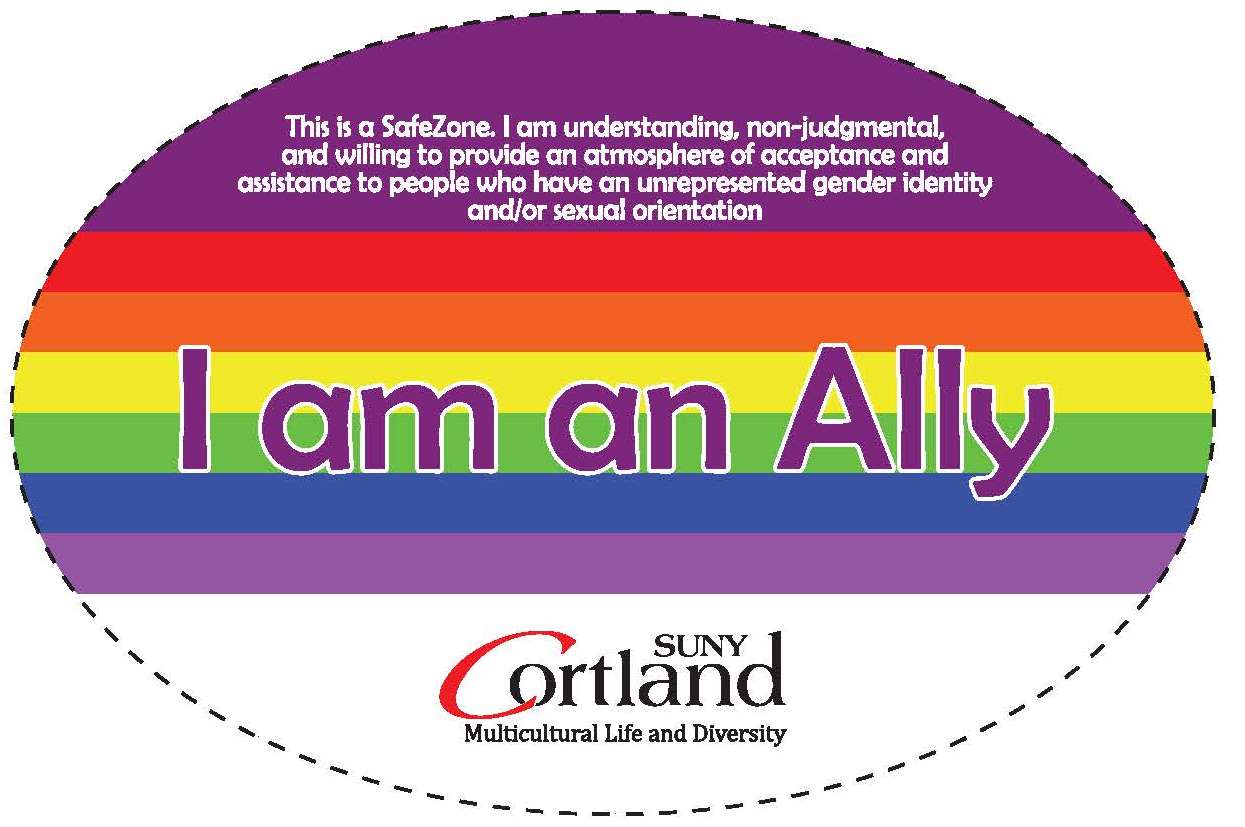 Multicultural Life and Diversity is proud to host SafeZone at SUNY Cortland. The mission of the SafeZone program is to identify, educate, and support Lesbian, Gay, Bisexual, Transgender, Two Spirit, Questioning, Queer, Asexual, Intersex and Pansexual allies (LGBTQAIP.) Allies are individuals in the Cortland community who consider themselves to be open and knowledgeable about LGBTQAIP matters and who choose to provide support, as well as advocate for those who identify as LBGTQAIP. By training individuals to have their office/work/communal space be considered a "SafeZone," we hope to provide the LGBTQAIP community with recognizable, visible locations where they can feel safe, welcomed, and supported.
SafeZone Participant Vocabulary
Upcoming Workshops:
Fall 2019
SafeZone Train the Trainer
Wednesday, Sept 18 from 3-6pm
Corey Union Caleion Room
SafeZone Workshop
Tuesday, October 1 and Thursday, October 3 at 1 to 2:30pm
Corey Union Voice office
*You must attend both dates
SafeZone Workshop
Monday, Nov. 18 and Wednesday, Nov. 20 from 4pm-5:30pm
Corey Union Exhibition Lounge
*You must attend both dates
---
The You Are Not Alone Campaign was designed to compliment SafeZone by providing the campus community with an opportunity to pledge to support LGBTQAIP students, staff, and staff at SUNY Cortland.
Robert Earle
Susan Stiner
Marinda Souva
Cheryl Hines
Emily Quinlan
Lori Schlicht
Abby Thomas
Adam Harvey
Charlotte
Mary Kate Boland
Cheryl Jewell
Sandra Wohlleber
Mickey Gibbons
Calvin Ruthven
Lisa Allen
Donna Young
John Shirley
Mecke Nagel
Kim Rombach
Brent Wilson
Carolyn Bershad
Mary Guido
Gary Sutton
Lori Porter
Jeremy Zhe-Heimerman
Susan Wilson
Lewis Rosengarten
Marc Dearstyne
Janet Hegedus
Amy Dahlman
Priscilla Harvey
Karen Gallagher
Michelle Kelly
Heather Daugherty
Cynthia Moriarity
Maria Timberlake
Judy Bentley
Natalie Dopson
Janet Duncan
Janice Eaton
David Smukler
Ji-Ryun Kim
Kate Coffey
Jeanette Dippo
Laura Campbell
Louis Bush
Cathy Smith
Nick Koziol
Amy Becker-George
Vicki Johnson
Juan Galan Sabugo
Leah Calzolaio
Michelle Gonzalez
Claus Schubert
Lauren Stern
Tom Spanbauer
Wes Weaver
Ann Cutler
Tamara Taylor
Noelle Chaddock
Amanda Carpenter
Nancy Kane
Darlene Miller
Chris Xenakis
Erik Bitterbaum
Lynn Anderson
Judy Ouellette
Anderson B. Young
Vicki Wilkins
Tyler Merriam
Darleen Lieber
Will Ahern
Shedia Christopher
Jenna Siddon
Adrienne Victor
Amber Ingalls
Rachael Forester
Melissa Wilson
Julie-Jo Stanton
Laura Luettger
Will Hernandez
Courtney Andros
Amber Wade
Ashley Morrell
Jean Brown
Cindy Lake
Sarah Unruh
Ashley Ware
Sally Dear-Healy
Sarah Zipp
Greg Sharer
Marie Blanden
Marie Blanden
Lori Burns
Paula Giroux
Devin Coppola
Glodibal Natera
Miguel Espaillat
Cassaundra Klinko
Jaclyn DeBouter
Ashlee Boughton
Shannon Reardon
Lizbeth Antonio
Gina Campese
Adiam Zerisenai
Stephanie Melendez
Brianna Fobbs
Dana Utz
Shavar Evans
Jessica Borio
Brianna Sullivan
Victoria Rasso
Nikki Anthis
Very Moraza
Natalie Yulfo
Kara St.John
Chauncey Bennett
Steve Rolfe
Alexandra Walker
Joe Aabye
Jonathan Rosen
Stephanie Roessel
Katelyn Schultz
Elise Gallignano
Rebecka Lubrano
Anthony D'accolti
Edward Cerverizzo
Sherry Ellis
James FitzGerald
Theresa Curtis
Tara Clancy
Jennifer Janes
Ester Edelman
JoAnna Tobias
Amy Garside
Jo Ellen Bailey
Kathryn Gallup
Michael Pitaro
Tim Delaune
Barbara Barton
Jeanne Galbraith
Mike Amsden
Anita Kuiken
Jennifer Wilson
Michael Sgro
Kim Wieczorek
Andrea LaChance
Linda Rosekrans
Joyce LoBue-Darling
Jaclyn Pittsley
Jesse Adams
Heidi Morton
Mical Williams
Patrick Woodward
Erin Boylan
Kieran Shaughnessy
James Burton
Valorie Gunther
Rebecca Mohn
Jane Evans
Welly Ekoumilong
Arielle Weinstein
Jhovany Berroa
Alexis Velseus
Syeda Whitaker
Andrea Harbin
Amanda Kenigsberg
Arissa Vargas
Carli Brienza
Justin Harvey
Jacklyn Machover
Chelsea Brockwell
Carolyn Encarnacion
Taylor Williamson
Morghen Axtell
Rosa Moore
Brian Hartrick
James Murphy
Maura Riccoboni
Juan Rodriguez
Anthony Pascarelli
Robbie Lippke
Brittnie Daugherty
Stefania Chomczyk
Connor Christopherson
Courtney Davis
Cameran Ralph
Kyle Kita
Mike Griffiths
Robert Galm
Samuel Mitchell
Klarisa Prikazsky
Ryan Willard
Manuel DeJesus
Jessica Reed
Maranda Maher
Joshua Rosansky
Mackenzie Pert
Patrick Brown
Jessica Chiodo
Abigail Adams
Amber Rice
Elias Gaston
Aaron Lober
Everett Phillips
Cristian Velasco
Briana Berardi
Parker Simoni
Ian Donaghue
Kiana Morris
Amanda Murphy
Haley Georgia
Victoria Nolan
Jill Toftegaard
Robin Wheeler
Bruce Mattingly
Katrina Bratge
Brian Story
Melissa Partigianoni
Pam Schroeder
Carol Van Der Karr
Eileen Gilroy
Ronnie Casella
Michelle LoGerfo
Dawn Norcross
Deidre Plumley
Ethan Lewis
Sylvia Mace
Nan Pasquarello
Rick Troyer
Paul Sandy
David M. Guerrera
Mike Catalano
Kelsey Ryan
Allison Garver
James Spruill
Carolyn Encarnacion
Jacob Richter
Kyle Evanetski
Philip Mastrosimone
David Griffiths
Jonathan Price
Maura Naioti
Sierra DeGale
Alexandra Konnerth
Keri Strejlau
Jaqueline Hart
Alanda Esler
Tamara Shannon
Welly Ekoumilong
Jacqueline Akins
Melanie Nguyen
Emily Cazer
Azurdee Secrest
Kirk Zinermon
Marina Fay
Marissa Rinde
Claudia Weskamp
Bailey Ward
Dylan Pitt
Amanda Fuller
Chloe Shutter
Christine Lare
Danielle DelAmo
Elizabeth Brokob
Lima Maria Stafford
Austin Nichols
Audrey Marion
Talika Tuczynski
Seth Buono
Anne Farnsworth
Natalie DiMeglio
Kelli Liotta
John Santarelli
Jordan Mitchell
Austin Brockley
Danielle Bodnar
Gabrielle Persichilli
Brian Alt
Abby Scharadin
Meghan Peysson
Toni Yancey
Tammy Henderson
Donna Sickmon
Karin Howe
Deborah Matherson
Jonah Reardon
Melissa Gretzler
Michael Baker
Christina DiGiusto
Annie Wilcox
Corrina Harvey
Larissa True
Eve Mascoli
Mary E. Murphy
Andrea Robinson-Kuretich
Samantha Howell
Niqua Kissi
Alexis Fullwood
Kristen Naclerio
Brianna Sullivan
Ashlee Boughton
Danielle DelAmo
Susan Wilson
Alexandra Walker
Emily Ann Cazer
Jessica Chiodo
Jamie Aperato
Lin Lin
Page Dobbs
Jeffrey Whetstone
Evan Faulkenburg
Julie Taibi
Erin Morris
Penny James
Amy Russell
Marissa Whitaker
Noralyn Masselink
Leslie Eaton
Karen Moroski
Chelsea Moroski
Angelina Gilbert
Claudia Weskamp
Daniel Hartman
Shelby Bergen
Merissah Gilbert
Gloria Hulede
Ryane O'Connor
Amanda Von Heyden
Joseph Mogavero
Michelle Hernandez
Jordan Pedroza
Colleen Kennedy
Richard Bradice
Elaina Batista
Candice Jaimungal
Rebecka Lubrano
David Dickerson
Bailey Ward
Jessica Bonham
Raquel Rodriguez-Asher
Ilana Winters
Brenna Culbreth
Brianna Johnsen
Nicole Daniel
Keith Ciecirski
Michael Guity
Kristen Grave
Peyton McKain
Ursula Mates
Andrew D'Abbiaccio
Pam Sullivan
Kristi Hughston
Kerrin Weiner
Amalia Tapia
Brittany Washington
Christina Papaleo
Samantha McCrae
Michael Dutson
Rachel Wilson
Heather Palermo
Sydney Lewis
Dawan Jones