A passionate staff dedicated to your inclusion.
AnnaMaria Omilanowicz,
Director of Multicultural Life and Diversity
AnnaMaria was born in Queens, NY and moved to the Central NY area in the year 2000. She attended Utica College and received her Bachelor of Arts Degree in Mathematics in 2010. After working at Utica College for three years, first as an Assistant Director of Admissions, covering travel in the NYC, DC and MD areas and then as a counselor in Opportunity Programs, AnnaMaria decided that she wanted to further her career in Student Affairs and go back to school for her master's.
In May 2015, she graduated with her Master of Science in Higher Education Administration from Syracuse University while she worked as one of the Graduate Assistants in the Office of Fraternity and Sorority Affairs. AnnaMaria is Greek as well and is an hermana of Hermandad de Sigma Iota Alpha, Inc. While pursuing her master's, she also served as a practicum student in the Days-Massolo Cultural Education Center at Hamilton College and the Office of Off-Campus and Commuter Services at Syracuse University. AnnaMaria's goal is to continue to promote equitable educational experiences for all students regardless of race, ethnicity, gender, sexual orientation, socio-economic status, religion, documentation status and all other aspects of human differences.
Katrina Hodge, Assistant Director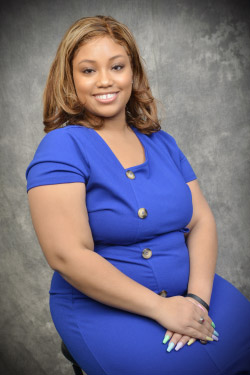 Katrina was born and raised in the state of Maryland. In May 2018, she graduated cum laude from Chowan
University with a Bachelor of Science Degree in Psychology and a minor in Criminal Justice. While at Chowan, she served as a Resident Assistant for the Summer Session program at Duke University. After graduating from Chowan, Katrina chose to pursue a career in Student Affairs. She accepted a Graduate Assistant position as a Residence Life Coordinator at Elmira College where she earned a Master of Science degree in General Management with a Business concentration in May 2020. While at Elmira, she also served as the advisor of the Black Student Union. Katrina was the Residence Hall Director for Dragon Hall at SUNY Cortland for two years prior to joining the MLDO. Katrina earned her Diversity, Equity, and Inclusion Certificate from Cornell University in August 2023.
As a first-generation college graduate, Katrina is passionate about creating inclusive environments in higher education along with supporting and empowering all students through their college enrollment. In her free time, Katrina enjoys cooking, traveling, and listening to music.
Bernice Cooper, Administrative Assistant 1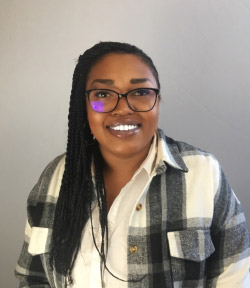 Bernice Cooper hails from New York City and comes to SUNY Cortland from the SUNY College of Optometry in Manhattan. There, Bernice began her career in state service with a focus on clinical administration in the high-paced University Eye Center. Bernice is currently pursuing a Bachelor of Business Administration degree. In the MLDO, Bernice is passionate about working with students to create an environment and community that is rich in diversity and inclusivity.