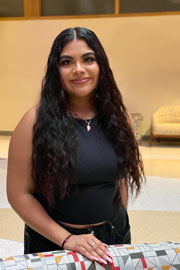 Campus Champion
Otilia Rivas just completed her second year as a Summer Institute residential staff member for incoming Educational Opportunity Program (EOP) students. The Yonkers native, a junior communications major with minors in political science and business management, is a first-generation college student, like many of the two-dozen incoming EOP students. Each brings strong academic and personal potential and would otherwise be excluded from higher education due to a lack of academic preparation and economic disadvantage. Supported by the EOP family at SUNY Cortland, Otilia helps guide new students through the transition from high school to college and remains a dedicated mentor — and friend — throughout the academic year.

Nominate a Campus Champion
---
Tuesday, Aug. 29 through Monday, Sept. 4
Welcome Week: See the Fall 2023 Welcome Week webpage for a full list of events, times and locations.
Tuesday, Aug. 29
Recreational Sports Fair: Student Life Center, 4 to 7 p.m.
Wednesday, Aug. 30
Study in Romania: Babes-Bolyai University Information Session. Affordable exchange semester in the Transylvania region of Romania, Old Main, Room 220, 3:30 to 4 p.m.
Dowd Gallery Opening Reception, Documentary Screening: "1989. Struggle for Democracy," Old Main Colloquium, Room 220, 4:30 to 6 p.m.
Wellness Wednesday: Intro to Yoga with yoga instructor Victoria Quick, Student Life Center Mind Body Room, 6 to 6:45 p.m.
Thursday, Aug. 31
Internship and Student Employment Fair: Corey Union Exhibition Lounge, 3 to 5 p.m.
Friday, Sept. 1
International Welcome Celebration: Enjoy free food, fun activities and meet international and returned study abroad students, Corey Union lower patio, noon to 1:30 p.m.
Welcome Week Resource Fair: For new students, Corey Union front steps, 2 to 4 p.m. Rain site: Corey Union Function Room.
Wednesday, Sept. 6
Introduction to SUNY Cortland's Institutional Review Board: Online via Webex, noon to 1 p.m.
Teacher Certification Overview: Online, register on Handshake, 6 to 7 p.m.
Wellness Wednesday: Put the Myths to "Bed," Corey Union Exhibition Lounge, 7 to 7:45 p.m.
Friday, Sept. 8
UUP Fall Welcome Picnic: Free to 2023 new members and families. Non-members can join UUP at uupinfo.org, Yamen Park Pavillion l & ll, 4 to 7 p.m.
Tuesday, Sept. 12
Disney Internship Info Session: Career Services, Van Hoesen Hall, Room B-5, 6 to 7:30 p.m.
---
---
President discusses success, challenges at Opening Meeting
Student support is the key to Cortland's success and problem-solving in the future. read more
SUNY Cortland football venue gets a new look
Field Red at SUNY Cortland's stadium complex isn't just getting a makeover. Thanks to a $1 million gift, it's got a new name as well. read more
---
Capture the Moment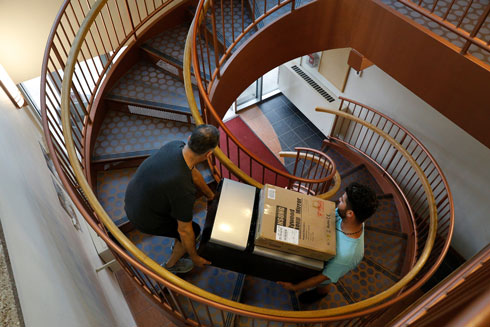 Making it look easy, a family helps their first-year student move into Bishop Hall, one of 16 campus residence halls, on Thursday, Aug. 24. By Sunday, nearly 3,000 Red Dragons were settled on campus in time for the start of classes the following morning. Residence Life and Housing Office staff worked closely with University Police to make the four-day process go smoothly. Welcome week continues through Monday, Sept. 4 with programs and activities geared to help new students connect with the campus community.
---
In Other News

Suggest a feature story
---
Faculty/Staff Activities
Kevin Dames recently presented research conducted with former student Cabel McCandless M '21. read more
Eric Edlund had an article published in the American Journal of Physics. read more
Thomas Hischak had his book, Broadway Decoded: Musical Theatre's Forgotten References, published. read more
Jeremy Jiménez coauthored a book chapter recently published in Empirical Ecocriticism: Environmental Narratives for Social Change. read more
David A. Kilpatrick attended an international conference and presented a paper and three professional development workshops in Australia this summer. read more
Christina Knopf participated in two panel discussions at the Comic-Con 2023 international conference in San Diego in July. read more

Submit your faculty/staff activity