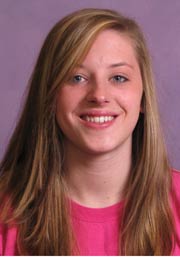 Campus Champion
Some 1,000 folks congregated in Lusk Field House from late Saturday night into the early hours of Sunday morning to participate in the Relay for Life. Organized for a second year by SUNY Cortland junior Marie Bieber, a psychology major from Conklin, N.Y., along with a dozen of her Colleges Against Cancer Club members, the event included bands, dance performances and food sales. Tens of thousands of dollars were raised for the American Cancer Society by a campus and a community that came together not only to remember loved ones lost to the disease, like Marie's late aunt, Siegrid Borner, but to demonstrate their conviction to finding a cure.

Nominate a Campus Champion
---
Friday, Dec. 4
Friday Films at Four FilmFest: "Saturday Night and Sunday Morning," (1961), directed by Karel Reisz, presented by Robert Rhodes, Anglo-Irish literature emeritus, Old Main, Room 223, 4 p.m., refreshments will be served beginning at 3:50 p.m.
---
Wednesday, Dec. 2
Sandwich Seminar: "The Gaza Freedom March," Timothy Rodriguez '09, Brockway Hall Jacobus Lounge, 12:30 p.m.
---
Tuesday, Dec. 1
Faculty Senate Meeting: Brockway Hall Jacobus Lounge, 1:15 p.m.
---
Monday, Nov. 30
Classes resume: 8 a.m.
---
Thursday, Nov. 26
Thanksgiving: No classes, offices closed.
---
Wednesday, Nov. 25
Thanksgiving Break begins: 8 a.m.
---
Thursday, Dec. 3
Community Roundtable: "Is That Park Accessible? Ask the New York State Inclusive Recreation Resource Center at SUNY Cortland" panel discussion, Park Center Hall of Fame Room, 8-9 a.m. Refreshments will be served at 7:45 a.m.
---
Thursday, Dec. 3
Sandwich Seminar: "Introduction to China's Booming GOP and Its Structure - What Does the Hot Investment Mean?" Visiting Scholar Ximbo Wang, economics, Brockway Hall Jacobus Lounge, 12:30 p.m.
---
Friday, Dec. 4
Recognition Luncheon: 40th Annual Service Recognition Ceremony, Corey Union Function Room, reception at 11:30 a.m.; luncheon begins at noon.
---
---
SUNY Cortland Athletes Help Families in Need of Thanksgiving Meals
On Sunday, Nov. 22, SUNY Cortland student-athletes and staff once again boxed up and hand delivered turkeys and all of the fixings for 17 Thanksgiving meals for needy families in Cortland County. read more
SUNY Cortland and Onondaga County Health Department Partner to Control Tobacco Use
In an effort to reduce smoking among college students, SUNY Cortland will partner with the Onondaga County Health Department (OCHD) through the Colleges for Change (C4C) program aimed at limiting where and how tobacco products are used, promoted, advertised and sold. The program also advances local action to prevent and reduce tobacco use. read more
---
Capture the Moment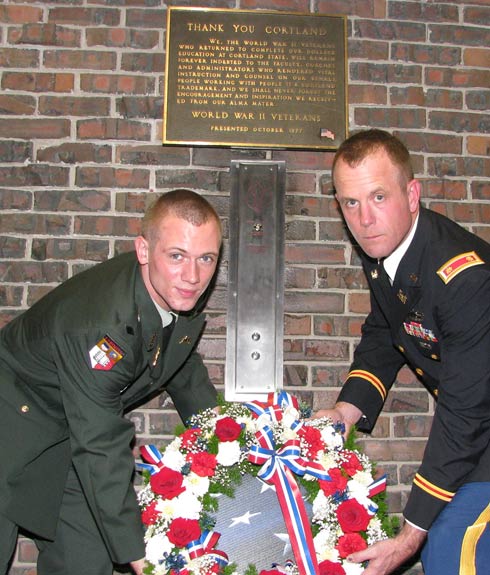 As part of the campus Veterans Day ceremony Nov. 10 in Old Main, SUNY Cortland ROTC cadet Todd Staiger, pictured on the left, and SUNY Cortland alumnus Maj. Richard Brown, an instructor in the Cornell ROTC Program, addressed a gathering in Brown Auditorium. Afterward, the two placed a wreath in the Miller Building lobby in front of the plaque donated to the College in 1977 by alumni who had fought in World War II. "We shall never forget the encouragement and inspiration we received from our alma mater," wrote the veterans. In turn, SUNY Cortland has never forgotten the sacrifices they made on behalf of their country.
---
In Other News

Suggest a feature story
---
People on the Move
---
Faculty/Staff Activities
Robert Spitzer is the author of an article titled, "Why do Americans love guns so much, and does everyone own one?" read more
C. Ashley Ellefson had his manuscript added to the Archives of Maryland Online. read more
Denise D. Knight and Noralyn Masselink have had their article accepted for publication. read more

Submit your faculty/staff activity