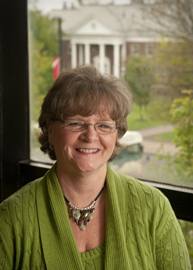 Campus Champion
"Students, they are the reason we are here," says Deb Williams, who works closely with several of her Communications Studies Department-affiliated student organizations, such as the Dragon Chronicle, WSUC-FM, the Gospel Choir, the SUNY Cortland Debate Team, Speak Magazine and CSTV. "I hope that my interactions with them have had a positive impact." Williams, a Secretary I who has worked on campus for more than three decades, will receive the prestigious SUNY Chancellor's Award for Excellence in Classified Service this month. Humbled and honored by the recognition, Deb considers herself "blessed by the friendships" she has made over the years. SUNY Cortland considers itself fortunate to have her as a campus champion.

Nominate a Campus Champion
---
Monday, May 17
Health Fair: "Paws for Stress Relief," Corey Union Function Room, 10 a.m.-4 p.m.
---
Wednesday, May 19
Make a Difference Day: Meet at Moffett Center front entrance, 8-11 a.m. Register by contacting Marianne Evangelista at (607) 753-5582.
---
Friday, May 21
Graduate Commencement: Park Center Alumni Arena, 7 p.m.
---
Friday, May 21
$ Golf Tournament: Red Dragon 2010 Golf Classic sponsored by the SUNY Cortland Athletics Department, Elm Tree Golf Course, Cortland. Shotgun start beginning at noon, for more information, call (607) 753-4959.
---
Saturday, May 22
Undergraduate Commencement: Park Center Alumni Arena, Ceremony A, 9:30 a.m.; Ceremony B, 2:30 p.m.
---
---
Make a Difference Day on May 19
The campus community is invited to participate in "Make a Difference Day," an annual campus beautification event, on Wednesday, May 19. read more
Deborah Williams Honored by Chancellor
Deborah Williams, a SUNY Cortland employee for the past 30 years, has been honored with the Chancellor's Award for Excellence in Classified Staff. read more
---
Capture the Moment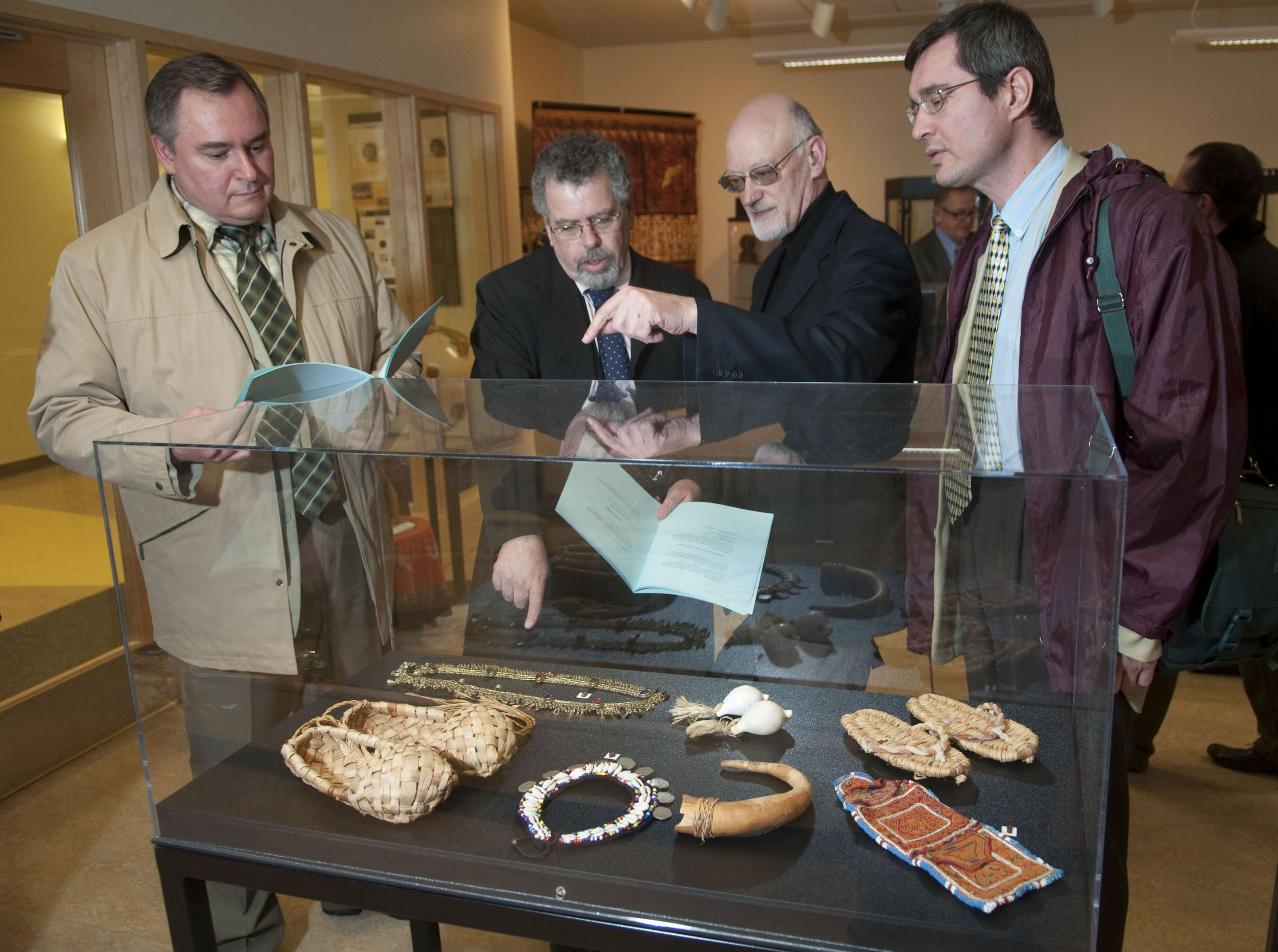 A Russian faculty delegation from Moscow State University's Department of Poliotology visited campus last week for a series of meetings with their Political Science Department counterparts. The group took a break to tour the Brooks Museum in the Moffett Center. SUNY Director of International Programs John Ryder, second from the left, points out an early 20th century ceremonial belt from Turkmenistan to three of the visitors.
---
In Other News

Suggest a feature story
---
People on the Move
---
Faculty/Staff Activities
Mary McGuire served as chair and discussant on a panel at the New York State Political Science Association's annual meeting. read more
Jean W. LeLoup was presented with the Outstanding Academy Educator Award by the United States Air Force Academy. read more
Jerome O'Callaghan presented a paper at the annual meeting of the North East Academy of Legal Studies in Business. read more
John Cottone discussed "Athletic Risk Management: Concepts, Controversy and Confusion" as the keynote speaker for the New York State Association of Independent Schools annual meeting for athletic directors. read more
Ralph Dudgeon will deliver a paper at the Library of Congress as part of the annual meeting of the American Musical Instrument Society. read more
Timothy J. Baroni recently had two papers published about macrofungal biodiversity in Guyana, South America. read more
Sam Kelley attended a performance of his play, "Pill Hill" at Coppin State University in Baltimore, Md., and provided feedback to the students. read more
Cynthia Sarver and Shufang Shi organized a daylong event to demonstrate incorporating World Wide Web technology into classrooms. read more
Henry Steck had his article published in a recent edition of SUNY at Sixty. read more

Submit your faculty/staff activity