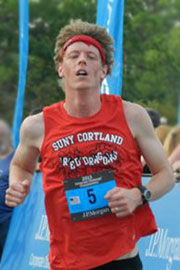 Campus Champion
For Assistant Professor of History John Aerni-Flessner, the days of rest and relaxation have been few and far between since the spring semester's conclusion. An accomplished runner, John posted the College's top time at the J.P. Morgan Chase Corporate Challenge Championship on May 21, tackling the 3.5-mile race of blazing fast professionals in 18 minutes and 57 seconds. Then, the devoted African history scholar turned around for a productive two-week research trip to the British National Archives in London, finally arriving back in Cortland on Sunday to officially kick off the summer.

Nominate a Campus Champion
---
Tuesday, June 18
J.P. Morgan Chase Corporate Challenge: SUNY Cortland will sponsor a team, Onondaga Lake Parkway, Syracuse. Race starts at 6:25 p.m.
---
Wednesday, June 26
Summer Session I Ends
---
Thursday, July 4
Independence Day: No classes, offices are closed.
---
Monday, July 8
Summer Session II Begins: Continues through Thursday, Aug. 8.
---
Friday, July 12 - Sunday, July 14
Alumni Reunion 2013: Campus-wide events throughout the weekend.
---
---
College Earns State Grant for High-Need Fields
A $368,289 award will help prepare SUNY Cortland students in two high-need fields. read more
Training Camp Means More than X's and O's
The New York Jets again will land on campus for preseason training camp this summer. read more
---
Capture the Moment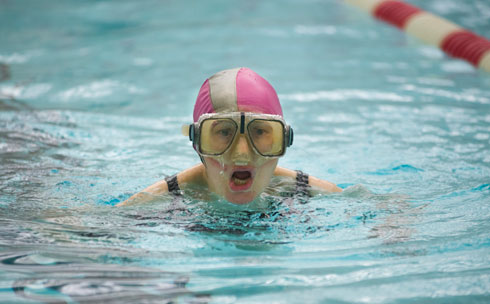 Hannah Groskin of Fayetteville, N.Y., won a gold medal swimming the 200-meter Individual Medley in the 80-84 age group at the 2013 Empire State Senior Games when swimmers, ages 70 to 100, swam at Park Center's Holsten Pool on June 7. Many events for the games, which took place from June 2 through June 8, were held on SUNY Cortland campus.
---
In Other News

Suggest a feature story
---
People on the Move
---
Faculty/Staff Activities
Edward Caffarella gave several presentations while in Malaysia on a Fulbright Specialist project grant from April 24 through May 26. read more
Richard Hunter was named an associate editor of the Journal of Latin American Geography. read more
Richard Kendrick presented civic engagement and high-impact learning practices at SUNY Geneseo in April. read more
Mechthild Nagel co-edited a chapter that will be published in Andrew Fitz-Gibbon's social philosophy series. read more
Matt Whitman was recognized by the Southern Tier Opportunity Coalition as a recipient of a "20 in their Twenties" award. read more

Submit your faculty/staff activity