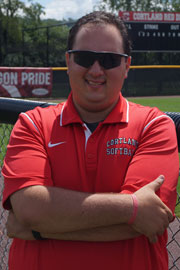 Campus Champion
One of the most active people running around the College's athletic fields during the summer isn't a competitor, but a busy Athletics Department staff member who is relied on for a little bit of everything. Larry Miller '11 has served as the assistant director of summer sports camps for the past several weeks, juggling many of the day-to-day duties that involve young athletes training on campus. And during New York Jets Training Camp, it's not uncommon he's hanging banners or executing behind-the-scenes work. With any job tied to athletics, there's a good chance Larry does it — and does it well.

Nominate a Campus Champion
---
Friday, July 26 to Wednesday, Aug. 14
New York Jets Training Camp at SUNY Cortland: 15 practices are scheduled over this three-week period. Dates, times and information about attending is posted online at newyorkjets.com/camp.
---
Wednesday, Aug. 14
2013 Francis J. Cheney Educational Leadership Summer Conference: "Evidence-Based Observation for Teacher Evaluation," for current and future educators, Sperry Center, sign in at 8 a.m., program from 8:30 a.m.-3:30 p.m. Register by contacting Janice Eaton by Friday, Aug. 2.
---
Thursday, Aug. 22
President's Opening Meeting: Corey Union Function Room, light refreshments will be served at 8 a.m.
---
Friday, Aug. 23
Move-in Day for New Students
---
Saturday, Aug. 24 to Sunday, Aug. 25
Move-in Days for Returning Students
---
Sunday, Aug. 25
Academic Convocation: Designed for all first-year and new transfer students. Park Center Alumni Arena, 4-5 p.m.
---
Monday, Aug. 26
Fall Semester Classes Begin
---
Monday, Sept. 2
Labor Day: No classes, offices are closed
---
Saturday, Sept. 7
Employee Fall Festival: Catered food, entertainment, music, bounce houses, 11 a.m.-3 p.m.
---
---
Students Start Fall Classes Aug. 26
Approximately 7,200 students are expected to enroll for the fall semester. read more
---
Capture the Moment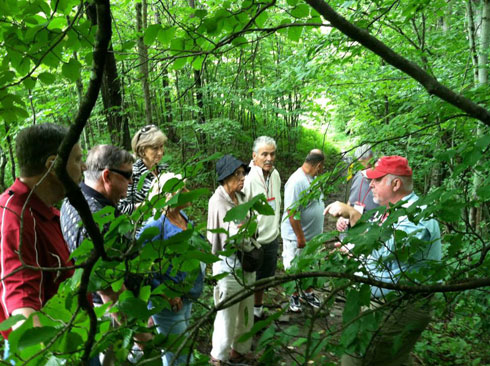 During Alumni Reunion 2013 from July 12 to 14, Timothy J. Baroni, far right, distinguished professor of biological sciences and noted mycologist, led a hike at Hoxie Gorge Nature Preserve, one of SUNY Cortland's outdoor education facilities. Steven B. Broyles, professor of biological sciences, also led the hike. More than 500 alumni and friends participated in a variety of events over the three days.
---
In Other News

Suggest a feature story
---
Faculty/Staff Activities
David Barclay led a focus group at the 2013 North American Dendroecological Fieldweek. read more
Christa Chatfield presented her research at the Northeastern Microbiologists' annual meeting in June. read more
Kerri Freese and Gregory D. Phelan presented "Noyce Regional Conferences: Lessons Learned and Best Practices," in Washington, D.C. read more
Janet L. Huie recently presented at an FDA pre-investigational device meeting in Maryland. read more
Nancy Kane will perform in a production of Shakespeare's "Othello" in Ithaca this summer. read more
Gregory D. Phelan and Kerri Freese attended the Eighth Annual NSF Robert Noyce Teacher Scholarship Program Conference in May in Washington, D.C. read more

Submit your faculty/staff activity