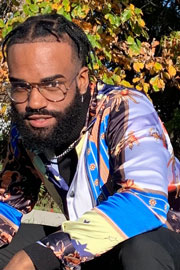 Campus Champion
Alfred "Fredo" Robertson is president of Know Your Roots (KYR), a student organization dedicated to connecting Black history with current world issues to empower and educate. He learned about KYR as a freshman, committed to a double major in Africana studies and mass media communications and found his voice. Alfred is an accomplished and inspirational speaker, musician and collaborator. He's performed at past Afro Essence events and will co-chair this year's celebration of Black consciousness and unity beginning at 7 p.m. on Thursday, Feb. 25 via Webex. Despite COVID limitations, the music, art and poetry will honor the achievements and talents of SUNY Cortland's underrepresented students.

Nominate a Campus Champion
---
Tuesday, Feb. 23
Black History Month Event: R & B 'n Paint, presented by the Black Student Union, online via Webex, 5 p.m.
Alumni Speakers Series: English/Professional Writing panel discussion, sponsored by Alumni Engagement and Career Services, register on Red Dragon Network, 7 to 8:30 p.m.
Wednesday, Feb. 24
Convergence of the BSUs: Discussing PWI Cultures from the Perspective of Black Students, online via Webex, 6 p.m.
Internship Info Session: Sponsored by Career Services, online via Handshake, 7 to 8 p.m.
Thursday, Feb. 25
Sandwich Seminar: Quota System: (In)Justice in America, panel presentation, online via Webex Link, meeting number: 132 254 9039, password: Quota, noon to 1 p.m.
Conversation: Elders in Prison and the Impact of COVID, online via Zoom, meeting ID: 951 620 9351, passcode: 98765, 3 to 4 p.m.
Black History Month Event: Afro-Essence, presented by Know Your Roots and Black Student Union, online via WebEx Link meeting number: 132 251 0189, password: Weyk7Gc7FP6, 7 p.m.
Friday, Feb. 26
Faculty Workshop: Racial Justice at SUNY Cortland: Our Stories, Our Solutions, RSVP, 10:30 a.m. to noon.
Black History Month Workshop: Afro-Fusion Dance, online via Zoom, meeting ID: 844 2721 0495, passcode: 082674, 5 p.m.
Psychic Fair: Students will sign up online to participate; to have five-minute session with a psychic through Zoom, Link to Register, 6 to 10 p.m.
Tuesday, March 2
Diversity in Sports Management Alumni Panel: Six alumni will share how their employers embrace diversity, online via Webex, meeting number: 132 137 6306, password: TcM7cVC7ym3, 6 p.m.
Wednesday, March 3
Voices of Diversity Panel collaboration with Alumni Engagement: Online via Webex, register, 11:30 a.m. to 12:30 p.m.
Spring Career Fair: Online via Handshake, 1 to 4 p.m.
Intro to Handshake and LinkedIn - A Virtual/Online Workshop: Join the Webex meeting on the afternoon of the workshop, 4 to 5 p.m.
Wellness Wednesday: Hazing: The Fallout, presented by Travis Apgar, 7:30 p.m., read more
Friday, March 5
TransAction Conference: Presenting the needs and experiences of transgender and gender queer students in the college environment, online registration, 9:10 a.m. to 1:30 p.m. with keynote speaker Harrison Browne presenting from 11:30 a.m. to 12:30 p.m.
Saturday, March 6
Men of Color Student Leadership Summit: Third annual event on the topic Self-Worth, Self-Value, Self-Care, keynote speaker is Brian Heat, Registration is free, 12:30 to 4:45 p.m.
SAB Make a Sequin Pillow: Sign up online to participate then visit Corey Union's Information Desk during your scheduled time to pick up the supplies, 6 to 9 p.m.
Monday, March 8
Paint and Sip Mondays: Join Pride Club and create works of art. Join online event, 7 to 8:30 p.m.
An Evening with Leslie David Baker: Join SAB for a night of questions and answers with "The Office" star. DM @cortlandsab with questions for the Q&A, online, 8 to 9 p.m.
Tuesday, March 9
Wellness Day: Campus-wide and online events scheduled. Stay tuned to Cortland Connect, the campus calendar and Cortland Nites on Instagram for the latest information.
---
---
SUNYAC resuming intercollegiate athletics for spring season
Competitions may begin on Saturday, March 20. read more
State change in COVID-19 guidelines raises Cortland threshold for "pause"
New state guidelines don't trigger a "pause" unless 209 COVID-19 cases reported over 14 days. read more
---
Capture the Moment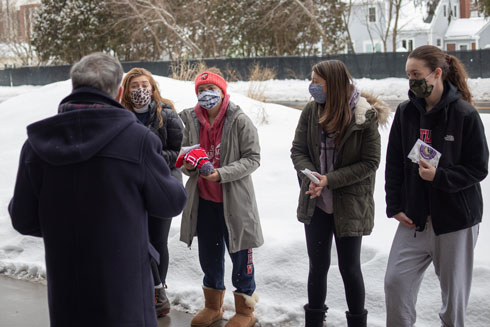 President Bitterbaum and members of the university administration handed out cookies, snacks and prizes to students exiting COVID-19 testing at the Student Life Center on Friday, Feb. 19. They thanked students for committing to regular testing and doing the right thing and also encouraged them to make smart choices and avoid large off-campus gatherings over the weekend.
---
In Other News

Suggest a feature story
---
Faculty/Staff Activities
Tyler Bradway presented an invited lecture to the "Future Theory" seminar at Durham University, UK. read more
Jack Carr directed a short film, "Quota System," and his play won first prize for drama. read more
Kevin Dames and Megan Wagner '18 had an article published in Journal of Sport Rehabilitation. read more
Christopher D. Gascón had an article published in Living the Comedia. read more
Jim Hokanson presented research at University of Salamanca.  read more
Angela Pagano was awarded the 2020 Excellence in Teaching Award from the Science Teachers Association of New York. read more
Jeffrey Radloff, Angela Pagano and Dominick Fantacone presented at the International Conference of the Association of Science Teacher Education. read more
Katie Silvestri co-authored an article recently published in the Journal for Pre-College Engineering Education Research. read more

Submit your faculty/staff activity