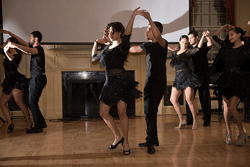 02/23/2021

"Afro-Essence," a talent show and open mic event that represents the music, Latinx culture, poetry and art appreciation of people of color, will be held on Thursday, Feb. 25, at SUNY Cortland.
Because this lively annual event is not possible in person due to the pandemic, organizers plan a Webex meeting instead from 7 to 8:30 p.m.
Select the Webex link to attend the event and use the Meeting Number 132 251 0189 and Password Weyk7Gc7FP6.
Cortland's Black Student Union and Know Your Roots - Africana Studies Association (KYR-ASA) will cosponsor this year's event.
Shaneya Simmelkjaer and Alfred Robertson, presidents of BSU and KYR-ASA, respectively, will address "Afro-Essence."
During the first virtual "Afro-Essence" event, Black creators of all types will come to together and perform and share their talents at the event. Participants will address black issues and uplift one another. "Afro-Essence" events are held nationally, as can be found on the following Facebook page.
"Our goal is to empower those who don't know how to express themselves as the person they are," Robertson said. "No matter the age, creed, color or gender of an individual, we should all have the opportunity to express our emotions openly and freely."
"Students can expect to see a wonderful display of what the culture feels, looks and sounds like at Cortland," Robertson said. "From a dance performance by the Drama Club to a spoken word performance done by yours truly! All of the performances by extremely gifted people who inspired me throughout my college career. I hope it's the same outcome for you all.
"In contrast to previous years when we all had the opportunity to meet in person with the performances, dim lights, and artificial candles, we will follow social distancing and COVID-19 regulations," he said. "Other than that, the event will be the same: a time to remember."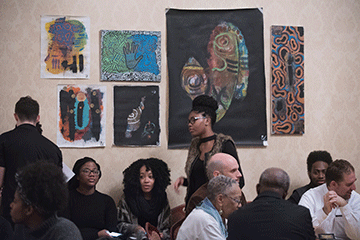 The event continues the university's Black History Month event series, which gives students of all races the opportunity to learn about a past, present and hopeful future of which they may be unaware.
The month celebrates the achievements of people of African descent and their contributions to U.S. society and history. The first nationally recognized Black History Month was announced in 1976 by President Gerald Ford and has been celebrated internationally.
The series is sponsored by the Africana Studies Department and organized by Seth N. Asumah, a SUNY ­­Distinguished Teaching Professor, professor of political science and chair of the Africana Studies Department.
For more information about "Afro-Essence," contact event coordinator Simmelkjaer. For more information about Black History Month, contact Asumah at 607-753-2064.
Prepared by Communications Office writing intern Jenna Donofrio
---