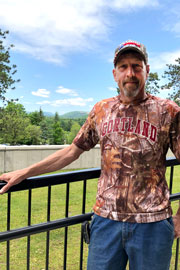 Campus Champion
Refrigeration Mechanic Daron Foster's accommodating personality is indispensable in his line of work. He answers calls to turn on the heat one day and flip on the air conditioning the next. This month he's focused on the seasonal transition to ready campus buildings for the summer heat, all while servicing and troubleshooting the College's numerous heating and cooling systems. Daron earned a journeyman Grade 12 HVAC title through the NYS & CSEA Partnership program, accomplished while working full time, raising his daughter, Kaidon, and volunteering at Dwyer Memorial Park in Little York, where he was nominated to serve on the Citizens Advisory Board.

Nominate a Campus Champion
---
Tuesday, June 11
Empire State Senior Games: Check-in at Corey Union, campus-wide events continue through Saturday, June 15.
Monday, June 24
Summer Orientation Sessions Begin: Transfer student sessions begin Monday, June 24 and first-year student sessions begin Tuesday, July 2. Sessions continue through Friday, July 19.
Tuesday, June 25
Orientation Skit Preview: Corey Union Function Room, 2 p.m.
Monday, July 1
Summer Session II Begins: Read full schedule
Thursday, July 11 to Sunday, July 14
---
---
Ficarra Wins International Study Abroad Award
Julie Ficarra was honored by NAFSA: Association of International Educators in May. read more
SUNY Cortland earns elite "gold" status for being "green"
SUNY Cortland has once again been recognized as one of the most sustainable campuses in the nation. read more
---
Capture the Moment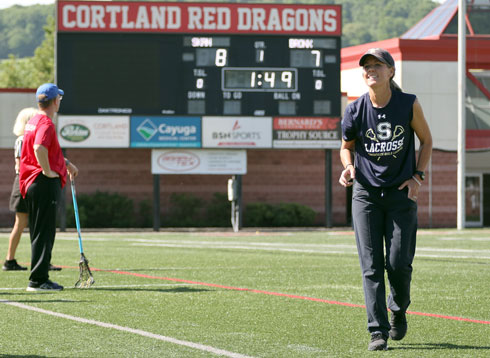 Bridget Dorr Marquardt '95, M '99, C.A.S. '04 returned to campus to coach the Skaneateles girls' lacrosse team in the New York state Public High School Athletic Association Class D semifinals on Friday. Marquardt, a member of the Upstate New York chapter of the United States Lacrosse Hall of Fame, won her 300th career game in April. She has led the Lakers to four state titles during her 17 seasons as head coach. SUNY Cortland's athletic facilities play host to a number of high school contests each year as well as the Empire State Senior Games, which run through Saturday.
---
In Other News

Suggest a feature story
---
People on the Move
---
Faculty/Staff Activities
Eric Edlund coauthored a paper that was published in the journal Physical Review E. read more
James Felton learned that his book made Spelman Johnson's Summer Reading List and earned a positive review from Choice. read more
Thomas Lickona was featured as the author of How to Raise Kind Kids in a National Public Radio podcast. read more
Rhiannon Maton co-authored book chapter that was published in an edited volume. read more
Kate McCormick co-presented a paper at the International Congress of Qualitative Inquiry in May. read more
Vierne Placide presented at AcademyHealth Annual Research Meeting in Washington, D.C. read more
Jeanine Rose was a presenter at the Northeastern Regional Supplemental Instruction (NERSI) Conference in Massachusetts. read more
Henry Steck presented a lecture at the Ratiu Dialogues on Democracy-Transylvania 2019 held in Romania. read more

Submit your faculty/staff activity