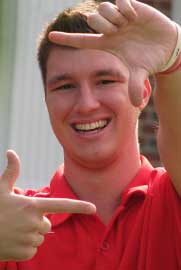 Campus Champion
When you look at the lighter side of SUNY Cortland – through the creative videos posted on SUNYCortlandTV, the College's YouTube page – you start to scratch the surface of Ryan Walker's talents. The junior physical education major is a high-energy champion who is the College's first male president of the Gymnastics Club, a trickster on his snowboard and an academic success story. But it's his talents as a videographer (his credits include the "Call Me OA" parody and New York Jets training camp footage) that currently have momentum.

Nominate a Campus Champion
---
Tuesday, Sept. 11
Disney College Internship Interviews: Career Services, Van Hoesen Hall, Room B-5, 5 p.m.
---
Tuesday, Sept. 11
Sept. 11 Commemoration Ceremony: Corey Union steps, 9 p.m.
---
Wednesday, Sept. 12
Study Abroad Fair: Corey Union Dragon's Court hallway, 11 a.m.-2 p.m.
---
Wednesday, Sept. 12
Wellness Wednesday Series: "Walk the Walk of Student Services" open house, meet in Corey Union lobby and tour offices and facilities, 5:30-7:30 p.m.
---
Thursday, Sept. 13
Biology Speaker: "The Old-Growth Forest Network: America's Next Idea," Joan Maloof, Sperry Center, Room 104, 7 p.m.
---
Friday, Sept. 14
Latino and Latin American Studies Open House/Mixer: SUNY Cortland Alumni House, 29 Tompkins St., Cortland, 3 p.m.
---
Saturday, Sept. 15
SUNY Cortland Fall Festival: SUNY Cortland employees and their guests, prior registration required, Lusk Field House, 11 a.m.-3 p.m.
---
Monday, Sept. 17
Constitution Day Lecture: "The Constitution and the Presidential Elections," Brockway Hall, Jacobus Lounge, 3 p.m.
---
Tuesday, Sept. 18
Sandwich Seminar: "Australian Curriculum and Update," Suzanne Innes, Office of the Assistant Provost for Teacher Education, Brockway Hall Jacobus Lounge, noon-1 p.m.
---
Tuesday, Sept. 18
Coffeehouse: "Tuesday Night Live," Corey Union Exhibition Lounge, 7 p.m.
---
Wednesday, Sept. 19
Brooks Museum Series Lecture: "The Value of Secrets: Pragmatic Healers and Proprietary Knowledge," by Stacey A. Langwick of Cornell University, Moffett Center, Room 2125, 4:30 p.m. A reception begins at 4 p.m. in the Brooks Museum, Moffett Center, Room 2126.
---
Wednesday, Sept. 19
Wellness Wednesday Series: Farmer's Market, Neubig Hall, 11 a.m.-2 p.m.
---
Monday, Sept. 24
Islamic Community Dinner: Interfaith Center, 5-7 p.m.
---
---
College Spending Fuels Local Economic Engine
The College's estimated economic impact was more than $251 million in 2011-12. read more
SUNY Cortland: It's Now in Your Pocket
New feature offers one-stop, mobile-device access to the campus community. read more
---
Capture the Moment
William Sheets, left, watches as Owen and Drew Thomas "explore" Brooklyn, N.Y.-based artist Wennie Huang's interactive display, "The Price of Inflation." The boys attended the Sept. 6 opening reception of Dowd Gallery's exhibition "Remembered/Re-imagined," with their parents, who are SUNY Cortland faculty and staff members. The exhibit will be on display through Saturday, Oct. 20, in the gallery's temporary off-campus location at Main Street SUNY Cortland, 9 Main Street.
---
In Other News

Suggest a feature story
---
People on the Move
---
Faculty/Staff Activities
Karen Downey presented at the American Chemical Society's national meeting. read more
Charles Heasley was awarded for his photogravure entries in a touring exhibition. read more
Bonni C. Hodges helped develop materials for promoting healthy behaviors by adolescents. read more
Jordan Kobritz co-authored two articles recently published on the state of labor negotiations in the National Hockey League. read more
Jean W. LeLoup had her article published in the New York State Language Association Journal. read more
Robert Spitzer helped commemorate a milestone for the television program, "The Ivory Tower Half Hour." read more

Submit your faculty/staff activity