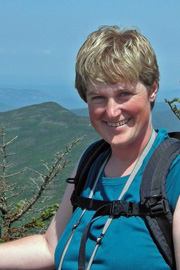 Campus Champion
"Rhonda Jacobs' passion and guardianship of the history and future of the Outdoor Education Program is truly her greatest strength," wrote a colleague. The Center for Environmental and Outdoor Education assistant director is deeply rooted in the Raquette Lake Facilities – first as a recreation student visiting Huntington Camp in 2000, as an intern in 2001, working at Kirby Camp in 2002, and since 2003, managing programs at Antlers. Her ability to think outside the box has resulted in new education programs for the College and other educators, who have discovered that Antlers is a great place to build community and create bonds while connecting with the outdoors.

Nominate a Campus Champion
---
Thursday, July 4
Independence Day: No classes, offices are closed.
---
Monday, July 8
Summer Session II Begins: Continues through Thursday, Aug. 8.
---
Friday, July 12 - Sunday, July 14
Alumni Reunion 2013: Campus-wide events throughout the weekend.
---
Thursday, Aug. 22
Fall Opening Meeting: Corey Union Function Room, light refreshments served at 8 a.m.
---
Sunday, Aug. 25
Academic Convocation: Park Center Alumni Arena, 4-5 p.m.
---
---
"Tax-Free" Program Touted on Campus
A spokesman for Gov. Cuomo says the plan could make campus a business launchpad. read more
Jets Start Cortland Camp July 25
The first of 15 practices open to the public will be Friday, July 26. read more
---
Capture the Moment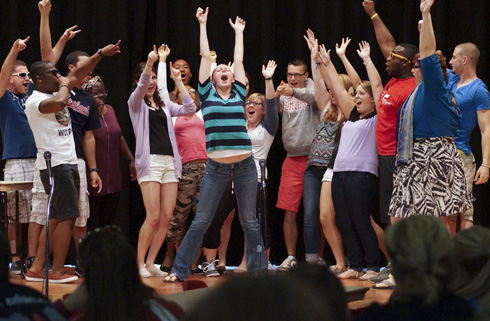 Among their many responsibilities, SUNY Cortland's student orientation assistants are trusted to act out scenarios that first-year students could face when they acclimate to college life. The orientation crew offered faculty and staff members a first look at its comical short skits during a June preview in the Corey Union Function Room then performed them at the different Orientation sessions, which began in late June and wrap up in mid-July.
---
In Other News

Suggest a feature story
---
Faculty/Staff Activities
Denise D. Knight recently presented at the Transatlantic Women II Conference in Italy. read more

Submit your faculty/staff activity