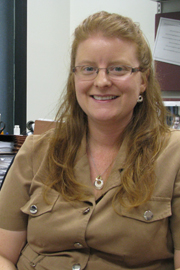 Campus Champion
Kerry Mincher likes to juggle event planning and her schedule is full this summer. When it comes to the details, the procurement card administrator says simply: "Bring it on." She's coordinating a wide range of particulars for the J.P. Morgan Chase Corporate Challenge, which takes place Tuesday, June 19, in Syracuse. She's also serving as chair of the CSEA picnic on Friday, July 13. A record 120 participants will head to the Challenge and more than 200 employees and their families will attend the picnic in Homer. Sandwiched between both events, she'll celebrate her 20th high school reunion, not surprisingly as chair of its committee.

Nominate a Campus Champion
---
Monday, June 18
$ Process Education Conference: "Establishing Meaning in Teaching and Learning: Innovation, Reflection and Scholarship," Corey Union Exhibiton Lounge, 3-8 p.m. Continues through Thursday, June 21.
---
Tuesday, June 19
J.P. Morgan Chase Corporate Challenge: SUNY Cortland will sponsor a 120-person team, Onondaga Lake Park, Syracuse. Race starts at 6:25 p.m.
---
---
Vice President Raymond Franco to Retire
Franco, who has served his alma mater for 40 years, retires on Aug. 31. read more
At Championships, Academic Stars Shine
Three student-athletes received the NCAA Elite 89 Award this spring. read more
---
Capture the Moment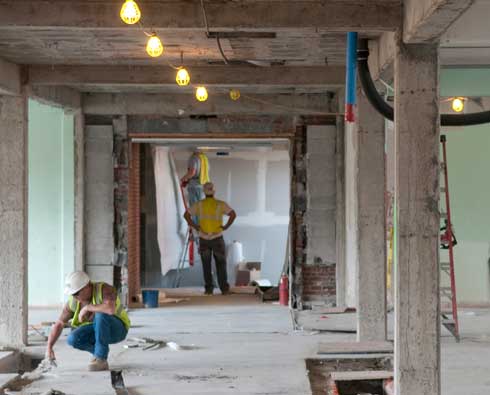 Three of nearly 50 workers from Barr & Barr construction management firm working on campus chip away at concrete on the third floor of Bowers Hall in early June. The demolition phase is under way on the $33 million project, which is slated for completion in spring 2014.
---
In Other News

Suggest a feature story
---
People on the Move
---
Faculty/Staff Activities
Rena Janke, Gregory D. Phelan, Kerri Freese and Dominick Fantacone presented a poster at the Noyce Scholarship Conference. read more
Nick Koziol received a NEAT grant to assist the Alumni Affairs Office with a communications audit. read more
Mechthild Nagel presented a paper at a philosophy conference in Athens, Greece. read more
Gregory Phelan and Kerri Freese presented a session at the Noyce Scholarship Conference held in May in Washington, D.C. read more
Harry M. Sydow will retire from the College on Aug. 31. read more

Submit your faculty/staff activity