Vice President Raymond Franco to Retire
06/12/2012
Raymond D. Franco '72, M '75, a respected and well-liked senior administrator at SUNY Cortland who has served his alma mater for 40 years, will retire on Aug. 31.
He will be designated as vice president for student affairs and vice president for institutional advancement emeritus.
Franco was appointed to his current position of vice president for institutional advancement in 2007, after having served as interim vice president for a year. Previously, he had been the College's vice president for student affairs since 1994.
Franco played a key role in conceiving and planning both the College's $18 million Stadium Complex and, more recently, the $56 million Student Life Center. He worked closely with campus leaders, area legislators and state officials on both sides of the political aisle to obtain state funding for the projects.
As vice president for student affairs, he helped lead the effort to solve the College's growing need for additional high-quality athletic space by developing the stadium's turf-covered fields.
Similarly, as a member of the President's Cabinet, Franco was an early and vocal advocate for the creation of a student life center that would enhance recreational and social opportunities and serve as a unifying campus hub. Franco will see that dream realized this fall when contractors begin construction of the nearly 147,000-square-foot facility on the south end of campus.
"I am really proud of the fact that we are going to be building the Student Life Center," Franco said. "(Recreational Sports Director) Julian Wright has been carrying that torch since he walked on campus and I have wanted to make it happen from the moment he talked to me about it. He pointed out we are a national role model in terms of campus health and wellness, and that the Student Life Center will affirm the importance of campus health and well being as it becomes the focal point for healthy living at college.
"I always felt that we had programs that were among the best in the SUNYsystem: residence life, counseling, university police, student health, recreational sports," Franco said. "Our staff are among the best in the student affairs profession."
A 1986 recipient of a SUNY Chancellor's Award for Excellence in Professional Service, Franco joined SUNY Cortland in 1972 as a residence hall director and rose through the ranks as assistant director of housing, director of residence life, assistant vice president for student affairs/director of residential services and as interim vice president before becoming vice president for student affairs.
For six years Franco has supervised the offices of Alumni Affairs, Publications and Electronic Media, Public Relations, and the Cortland College Foundation. The division focuses on building support, assisting in marketing the College to students, raising funds and strengthening bonds with graduates. It serves as the College's primary source for communicating with external audiences, as well as the campus community.
Franco presided over a significant expansion in all those areas, including alumni programming, both on campus and at the Lynne Parks '68 SUNY Cortland Alumni House. He improved communication with the college community, alumni and the public through a greatly expanded online media and public communications presence, and developed improved loyalty and support for the College's educational mission.
Franco focused on making the SUNY Cortland Alumni Association a more financially stable operation by negotiating a Memorandum of Understanding with the College. Now Alumni Affairs Office staff are far less dependent on the vagaries of sponsorship fees and programs to retain solvency.
Under his leadership, the Cortland College Foundation launched the College's ambitious $25 million Educating Champions: The Campaign for Cortland, despite the fact the nation's economy was just then entering its worst slump since the Great Depression. Franco's unwavering confidence in the generosity of the College's alumni, friends, faculty and staff, and corporate donors was validated at the kickoff of the campaign's public phase last September, when he announced the campaign had already raised $20 million. Another year remains to reach the goal.
He oversaw the successful completion of an initiative to permanently endow the Parks Alumni House at $1.7 million so future alumni are able to use and enjoy the 29 Tompkins St. facility far into the future. The Educating Champions campaign encompasses a similar, $1.5 million campaign to ensure that future generations will have access to the Center for Environment and Outdoor Education at Raquette Lake.
Within the Student Affairs Division, Franco spearheaded programs relating to student orientation, student housing, alcohol and drug abuse prevention, and residence life. In 1976, Franco's first year as director of residence life, the program started the SUNY Cortland Residence Life Conference, which annually attracts hundreds of student affairs participants from colleges throughout the Northeast.
Franco provided leadership as the campus converted its residence halls from relying completely on SUNY for funding into a self-sustaining enterprise relying totally on room fees for maintenance and support.
A 1972 graduate of SUNY Cortland, Franco was president of the SUNY Cortland Alumni Association from 1986 to 1988. He also served on its board of directors and its Finance and Long Range Planning Committees.
A native of Herkimer, N.Y., and a graduate of Herkimer High School, Franco earned bachelor's and master's degrees in psychology from SUNY Cortland, in 1972 and 1975, respectively. He obtained an Ed.D. in higher education administration from Syracuse University in 1989.
At SUNY Cortland, Franco served from 1991 to 1996 as president of the Auxiliary Services Corporation, a private, not-for-profit organization that operates the College Store and provides food service for the campus. Franco was president of the SUNY Housing Administrators Association, and was president, vice president and secretary of the Council of Chief Student Affairs Administrators Association.
The chair of the Cortland Regional Medical Center Board of Directors from 2009 to 2011, he also was vice chair, treasurer and secretary during his 13 years of service on behalf of the local healthcare provider. Franco is a long-time Rotary Club member and a former United Way of Cortland County board member.
He is married to Donna Still Franco '73, M '76, a retired reading teacher from the Cortland City School District. They live in Cortland and have three grown sons, Stephen, Bradley and Brian; and five grandchildren.
At Championships, Academic Stars Shine
06/01/2012
Three SUNY Cortland team sports sent squads to their respective championship sites to vie for national titles this spring. And at all three sites, the smartest athlete on the field, based on grade point average (GPA), was playing for the Red Dragons.
That's because the College's baseball and men's and women's lacrosse teams each boasted the student-athlete with the highest GPA in attendance at their respective national championships.
Baseball player Zachary Badanes, a junior biology major from Syosset, N.Y.; women's lacrosse player Jamie Flood, a junior kinesiology major from East Islip, N.Y.; and men's lacrosse player Michael Tota, a senior business economics major from Webster, N.Y., each took home an NCAA Elite 89 Award this spring. That honor goes to the student athlete with the highest cumulative GPA participating at the finals site for each of the NCAA's 89 championships, across three divisions.
"This is an extraordinary group of student-athletes," said College President Erik J. Bitterbaum. "These most recent awards are reminders that SUNY Cortland students are champions, both in the classroom and in competition."
Here's a closer look at each of the Elite 89 Award winners:
Zachary Badanes
Badanes, a member of the College's baseball team, boasts two numbers that would make most collegiate pitchers drool: a sub-3.00 earned run average (ERA) and a GPA that exceeds 4.0.
"School, to me, it's just like baseball," said Badanes, who transferred to SUNY Cortland from C.W. Post — Long Island University. "I like to succeed and I know that with both school and baseball, if you work hard then you're going to get there."
Badanes
This spring, he earned the SUNY Cortland Biological Sciences Department's Outstanding Academic Achievement Junior Award, which is presented to the junior biology major with the highest GPA. Badanes has a 4.04 cumulative GPA. He's also a regular on the College's President's List.
"There have been a lot of late nights at the library," said Badanes, who aspires to attend veterinary school. "But to be honest, I don't do it for (the accolades)."
Badanes was selected to the 2012 Capital One Division III Academic All-District Baseball first team for District 3, which encompasses all Division III schools in New York state.
In 11 appearances on the mound this season, he put together a 2.48 ERA to go along with 20 strikeouts.
He credited his mother, Bridget, with instilling his passion for both his studies and baseball.
"She's always pushed me, but in a good way," Badanes said. "And she's always been there to support me, especially after tough games or if I'm going through a rough time. The only thing is, she doesn't like to watch when I pitch. It makes her nervous."
Badanes boasted the highest GPA of the eight teams that competed at the Div. III World Series in Appleton, Wis.
Jamie Flood
Flood has been a contributor since day one, both in the classroom and as a defender on the women's lacrosse team.
Flood
"Ever since I was little, my parents told me: 'School is going to take you where you want to go in life,'" said Flood, an aspiring strength and conditioning coach.
Next spring, she'll take the exam for her Certified Strength and Conditioning Specialist certification. But she's already had a taste of undergraduate research related to the field at SUNY Cortland.
This past spring, she assisted a graduate student who was researching women's fitness and trying to determine whether eccentric or concentric muscle contraction builds more strength.
"It was an awesome experience, just being able to assist with something that I'm seriously interested in," Flood said of the eight-week experience.
A regular honoree on the College's Dean's and President's Lists for her academic achievement, Flood also has been one of the College's top defenders on the lacrosse field for three years, forcing turnovers and collecting ground balls with regularity. She has started games in each of her three seasons at SUNY Cortland and this year served as a team captain.
Her 3.84 cumulative GPA was tops among all women's lacrosse competitors who made it to the "final four" in Montclair, N.J.
"When we were (at the national semifinals) last year, I knew I was really close to the winner," she said, speaking about their GPAs. "I knew I was nominated this year and was excited to see the hard work paid off."
Michael Tota
Several impressive numbers were topics of discussion during the NCAA Div. III men's lacrosse national championship between SUNY Cortland and Salisbury University on May 27.
Tota
The two teams entered the game with a combined record of 43 wins and zero losses. Nineteen All-America athletes suited up for both sides. Eight of the past nine national titles had been won by either Cortland or Salisbury.
But one of the game's more impressive numbers - 4.09 - didn't get that much attention. It represented the cumulative GPA for Tota, a third team All-America attackman, before the spring semester this year.
Tota, pictured at the top of the page to the left, has never been a stranger to success in the classroom or on the lacrosse field.
"When I visited Cortland for the first time, I was immediately blown away by the facilities and I felt it was the best combination of academics and athletics for me," Tota said. "Everyone from the coaches to my teammates to the tour guides made it feel like home."
Earlier this year, he collected a SUNY Chancellor's Award for Student Excellence and the Irmgard Mechlenburg Taylor Award, which is given to the student with the highest GPA of Phi Kappa Phi members in the School of Arts and Sciences.
Those accolades come on top of the many different all-academic nods he received and the school records he challenged during his four-year career. He finished his career with a school-record 174 goals, and sits second in school history with 247 total points.
Tota, who will pursue his Master of Business Administration at the University of Rochester in the fall, achieved the highest GPA of the Cortland and Salisbury men's lacrosse team members who traveled to the national championship in Foxborough, Mass.
---
Capture the Moment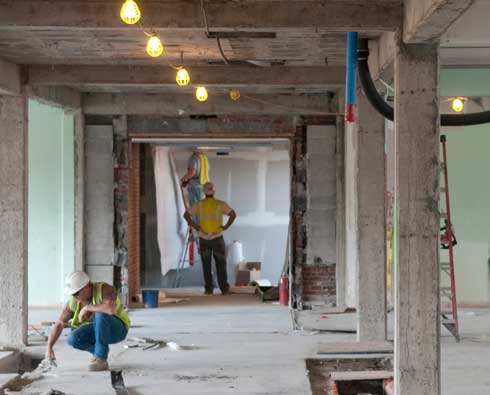 Three of nearly 50 workers from Barr & Barr construction management firm working on campus chip away at concrete on the third floor of Bowers Hall in early June. The demolition phase is under way on the $33 million project, which is slated for completion in spring 2014.
---
In Other News
SUNY Cortland Names New Vice President
06/12/2012
Kimberly Pietro of LaFayette, N.Y., the former associate vice president for development at Onondaga Community College (OCC) since 2010, joined SUNY Cortland as its vice president for institutional advancement on Monday, June 25.
Reporting to College President Erik J. Bitterbaum, Pietro will oversee all of SUNY Cortland's fundraising initiatives and lead the College's efforts in alumni relations, government affairs, public relations and print and electronic communications.
"With so many exciting things happening on the Cortland campus, our continued growth and success will rest on our ability to maintain a balance of public and private philanthropic support," Pietro said. "By creating relevance to our various constituency groups and utilizing a college-wide marketing and communications program, we will foster strong relationships and enhance our ability to secure the resources required to fulfill Cortland's educational mission. Cortland is poised for great discoveries and achievements and we will continue to respond to the large and small challenges and opportunities that we encounter as we pursue our vision."
She assumes the cabinet-level position held by Raymond Franco '72, M '75, a 40-year SUNY Cortland administrator, who will retire later in the summer.
Pietro brings more than a decade of experience in development and institutional advancement leadership roles to Cortland, having previously served at Le Moyne College and OCC in Syracuse, N.Y.
Most recently, her guidance helped OCC as it successfully reached the $7.5 million goal of the "Reach Beyond" capital campaign.
Pietro managed and oversaw several complex projects at OCC related to fundraising, sponsorship opportunities within the college's SRC Arena, and corporate and foundation partnerships. She served in a leadership role in the college's strategic planning process. She also helped create annual budgets and established metrics to track annual giving, major giving and planned giving efforts.
Pietro worked at Le Moyne from 2001 to 2010, rising through the positions of assistant director and director of annual giving to become director of major and planned giving. In her most senior role, she proved instrumental in the college's $50 million "Achieving New Heights" capital campaign, for which she coordinated the volunteer structure, secured major restricted and unrestricted gifts and was responsible for numerous campaign communication pieces.
As director of major and planned giving at Le Moyne, a position she held from 2004 to 2010, Pietro was responsible for cultivating gifts of $50,000 or more while supervising a staff of two major gift officers. She boosted the membership of the college's planned giving society and managed more than 250 scholarships in cooperation with the school's Office of Financial Aid. Pietro worked with alumni and corporate volunteers and assisted with the Division of Institutional Advancement's stewardship efforts. She created personal acknowledgement programs for donors and created the communication for all major and planned gift agreements. Pietro also coordinated the annual "President's Club" leadership giving dinner and the scholarship benefactors and recipient dinner.
From 2002 to 2004, Pietro served as director of annual giving at Le Moyne, where she led a $2 million annual fund which used a phone outreach program that pulled in more than $380,000 annually. In addition to alumni fundraising, she managed fundraising programs related to the college's athletics department, parents' fund, senior class gift and assisted with corporate and foundation fundraising efforts.
Pietro began working at Le Moyne in 2001 as its first assistant director of annual giving. In that role, she assisted in the daily operation of the annual giving programs.
After earning a bachelor's degree in physical education at the University of South Carolina, where she was a first-team All-American and Southeastern Conference Player of the Year in softball in 1999, Pietro served as an assistant softball coach at Syracuse University.
She holds a Master of Science in Higher Education from Syracuse University and a Master of Business Administration from Le Moyne College.
Pietro is a member of four professional organizations: the Council for Advancement and Support of Education District II, the American College Personnel Association, the National Committee of Planned Giving and the Association of Fundraising Professionals.
President Lauds SUNY "Tobacco-Free" Policy
06/12/2012
SUNY Cortland President Erik J. Bitterbaum praised today's vote by the SUNY Board of Trustees to create the nation's largest tobacco-free public university system, noting that the Cortland campus already plans to ban tobacco starting in January 2013.
"I commend the board and Chancellor Nancy Zimpher for their commitment to promoting healthy lifestyles among the nearly half a million students in the State University of New York system," Bitterbaum said. "Having made this decision in 2011, SUNY Cortland's faculty and staff understand the challenges involved with this change, and are proud to be at the forefront of what is clearly a national movement."
Cortland last year became the second comprehensive college in the SUNY system to declare it would go completely tobacco free. A committee appointed by President Bitterbaum set a Jan. 1, 2013, date for the ban to give students and employees time to learn about the policy and hopefully ¾ quit using tobacco. The policy applies to both smoking and chewing tobacco.
"SUNY Cortland strives to be one of the healthiest college campuses in the United States," Bitterbaum said. "We work to educate and develop all aspects of our students' lives, and tobacco use is inconsistent with that goal."
Tobacco use accounts for at least 30 percent of all cancer deaths in the United States, according to the American Cancer Society. Smoking is by far the leading risk factor for lung cancer, and lung cancer is the most common — and most preventable — type of cancer for both men and women.
Of the 15 million college students in the United States today, it is estimated that 1.7 million will die of smoking-related illnesses, most prematurely, according to the American Cancer Society. That amounts to more than 10 percent of current college students.
The College has launched a variety of tobacco education and smoking cessation programs in preparation for the change.
The SUNY Board of Trustees Tuesday passed a resolution supporting a Tobacco-Free SUNY policy and the development of legislation banning the use of tobacco on all grounds and in all facilities and vehicles owned or controlled by SUNY.
The resolution is a result of the Chancellor's Task Force for a Tobacco-Free SUNY. Its goal is to make all campuses tobacco free by the end of 2013, a year after SUNY Cortland's policy goes into affect.
Recreation Center Makes Access Top Priority
06/01/2012
Summer is a traditional time for rest, recreation and relaxation.
But for hundreds of thousands of New Yorkers with disabilities, going out to play is not a simple decision.
Parks, campgrounds, shopping malls, bowling alleys museums and other recreational facilities all have different levels of accessibility. They may, or may not, offer a wide range of services that make it easier for people with disabilities to enjoy themselves.
Helping recreational destinations become more accessible, and empowering disabled people with information about how accommodating New York recreational areas are to people with special needs are central missions of the Inclusive Recreation Resource Center (IRRC) at SUNY Cortland.
The goal is simple, says Lynn Anderson, the center's founder and a SUNY distinguished service professor of recreation, parks and leisure studies at the College. "It's to help all people play wherever they choose."
Whether a person is planning a summer fishing trip in the Catskills or a winter ski getaway in the Adirondacks, the IRRC is available year-round to help people learn more about recreation facilities across New York state. Funded by the New York State Developmental Disabilities Planning Council (DDPC), the center is especially helpful for people with disabilities and their families.
The IRRC's recreation referral service, for example, offers an individualized recreation recommendation for people who may have difficulty with gaining access to buildings or parks due to a disability. And the center's online recreation database — arguably its most impressive tool — provides detailed recreation inclusion information about hundreds of facilities across the state, from parks to museums to baseball stadiums.
The database includes basic information, such as parking availability, but goes further to include the width of restroom doors, the slope of accessible ramps and many other facility features of interest to individuals with disabilities and their families.
"It's a great tool to use," said Frances Pizzola '86, M.S.Ed. '91, the community education coordinator at Access to Independence, a Cortland County disability organization that, among its many services, ensures facilities are compliant with the Americans with Disabilities Act of 1990. "The IRRC basically tells people: 'This is what's accessible at this point.'"
Launched in 2006, the IRRC in its first year developed an inclusivity assessment tool, used to track a facility's accessibility for people with disabilities. It also created the first version of Inclusion U, a training program that teaches best practices related to inclusion. Inclusion U produces certified assessors who compile descriptive information about recreation sites across New York state.
Since 2009, SUNY Cortland has developed partnerships with eight other colleges statewide by incorporating Inclusion U into their recreation degree programs.
"The goal is to have every college student entering the parks and recreation field as a certified inclusivity assessor, ready to promote accessibility and inclusion in their parks, community centers, sports programs, gyms and the like," Anderson said.
Pizzola, who uses a wheelchair, has performed assessments locally. So has Karina Murphy M.S. '97, an instructor at Tompkins Cortland Community College (TC3) and the owner of the Blue Frog Café and Music Club. Murphy tackled the IRCC training with her students this fall and she has since participated in assessments of Cass Park in Ithaca, N.Y., and the George Eastman House: International Museum of Photography and Film in Rochester, N.Y.
"This is a concrete, hands-on way to make a difference in people's lives," said Murphy, who teaches a course related to diversity at TC3. "A lot of times, classes involve a lot of talking. This really gave us something to sink our teeth into."
Murphy noted that the purpose of each assessment isn't to grade a facility, but simply to review it from the perspective of a person with a disability.
"It's not a judgment," she said. "It's objective. We're not saying: 'This is a good place or this is a bad place and you're going to get a grade.' We're providing a resource that tells people what to expect, so that they know where a bathroom is, if they're going to be able to maneuver in it or if there are any floors that are inaccessible."
In its six years of existence, the IRRC has grown to include a full-time project coordinator, several graduate assistants and an AmeriCorps member. It has built working partnerships with many statewide offices, including the Department of Environmental Conservation and the New York State Recreation and Park Society.
The center also has added new training efforts, including Recreation Inclusion Tips and Tools, a half-day session developed with the Office for People with Developmental Disabilities for those who work firsthand with people with disabilities, such as Medicaid service coordinators or case managers.
Recently, the DDPC, which helps fund the center, announced that it will honor the IRRC in the 2012 Forging Pathways Grantee Recognition Program on Thursday, May 31.
"The IRRC has grown from an idea to a thriving center," Anderson said.
More than 1,000 certified inclusivity assessors have graduated from Inclusion U and organizers are working to develop a web-based version of the training to reach a wider audience.
"The database will become more populated, more automated and, hopefully, more useful to those who need it most," Anderson said.
There's also a plan to take SUNY Cortland's project global, Anderson said. This summer, Anderson and Vicki Wilkins, a SUNY Cortland professor of recreation, parks and leisure studies, will travel to Belize to work with Belize Zoo staff on accessibility. SUNY Cortland students would then travel to the country in Central America during the fall and winter to implement inclusive measures at the zoo.
Campus EMS Named Local Agency of the Year
06/12/2012
From a raised section of Interstate 81 near Binghamton, N.Y., the SUNY Cortland Emergency Medical Services (EMS) team spotted building tops and portions of children's playground equipment poking above the floodwater in the distance. It was Sept. 10, 2011, and heavy rains had just pounded New York state's Southern Tier.
"I remember driving there and thinking: 'We've got some serious work to do,"' said Matthew Green '12, the former EMS chief.
So as the surrounding areas sorted through the devastating flood's aftermath, a brave troupe of SUNY Cortland students leapt into action to help their neighbors to the south. They worked "full force" for 46 straight hours, aiding the Harpur's Ferry Student Volunteer Ambulance Service at Binghamton University, Green said.
The Central New York Regional EMS Council considered that quick response to the flood victims when selecting the SUNY Cortland student group for its EMS Agency of the Year Award. The SUNY Cortland EMS will be honored on Tuesday, July 17, at Drumlins Golf and Country Club in Syracuse, N.Y.
"There's a reason — plenty of them, actually — that they came to the top of the pile of nominations as agency of the year," said Warren Darby, the president of the Regional EMS Council. The award, Darby said, has been presented both to campus and professional emergency first-response crews in the past. It recognizes one agency in a region that covers five counties: Cayuga, Cortland, Onondaga, Oswego and Tompkins.
And it comes for the first time to SUNY Cortland EMS.
"This is something we'd never been able to accomplish, something we probably would never be considered for in the past," Green said.
Founded in 1976, SUNY Cortland EMS is a non-transporting agency, meaning that it does not provide transportation to hospitals. It is staffed by student volunteers 24 hours a day, seven days a week while classes are in session. Its student volunteers are highly qualified in basic life-support skills and there is at least one certified New York state emergency medical technician with each crew at all times.
The last two years, however, have been particularly special for SUNY Cortland EMS, Green said. The group "rebranded" by rewriting its standard operating procedure. It even went so far as to repaint its campus ambulance with a dragon logo and bold red and black lettering to match the College's University Police Department.
"We had become such a professional organization and it was about time that we properly showed it," Green said.
The group's work went beyond written words in a mission statement or a fresh coat of paint. Membership has more than doubled since Green's freshman year — to 67 student volunteers — and morale has ballooned with it. Increased programming efforts, including an educational workshop for local high school and college students about the dangers of binge drinking, have been added by the group.
And SUNY Cortland EMS, which receives between 300 and 400 emergency calls each academic year, hasn't missed a single call in the past two years.
"That says something because we're not full-time volunteers; we're students first," Green said. "These calls don't just come while we're on shift. They come when we're in class and they come at any time during our weekend when we should be out with friends. And we've made them all."
This year, the group also responded courageously to heartache.
While EMS was making the last of its four trips to help flood victims in the Southern Tier in late October, Michael C. Holland, the group's faculty advisor and the College's executive assistant to the vice president for student affairs, died suddenly from a heart attack.
He passed away after helping students deliver emergency supplies and clean up flood wreckage.
"Mike was our biggest advocate and he supported everything we did," Green said, mentioning that Holland cared enough to check on the grades of student volunteers and ask for their opinions on complex EMS-related decisions.
At the student group's end-of-the-year banquet, an event Green called the crowning moment of his EMS experience, members bestowed the first Michael C. Holland "Committed to Excellence" Award to Holland's family. "Committed to Excellence" is an expression that SUNY Cortland EMS lives by and one that Holland exemplified, Green said.
"Whenever we achieve something, he's on our mind," Green said. "And that certainly will be the case (when the group receives the EMS Agency of the Year Award) in July."
Both Green and Darby, who will present the group with its award, said that the honor recognizes more than a single flood-relief effort or a series of effective educational programs. The award, both men agreed, was several years in the making.
"The pride that this group has is palpable, from general member to advisor," Green said. "In collegiate EMS, that's how we survive. With a four-year overturn, if you don't absolutely love this place, if it's not something you can have respect for, then it will sink.
"No one's getting paid here. No one's reaping the reward of (course) credits. It comes from loving the organization, loving the people in it and knowing that you're doing a great thing."
Other SUNY Cortland past and present EMS officers who will receive the EMS Agency of the Year Award with Green include: Katherine Aylward '12, Austin Glickman '12, Sean Jolliff, Devon Keir, Amanda Linehan, Rebecca Schwartzman '12, Katharine Warszycki and Alexander Watkins. Scwartzman, Gilckman and Green are pictured above to the left.
College Finishes 10th in National Standings
06/08/2012
The SUNY Cortland men's and women's intercollegiate athletic program finished in 10th place in the 2011-12 Learfield Sports Directors' Cup competition among the approximately 440 eligible NCAA Division III programs competing nationally for the prestigious honor. The National Association of Collegiate Directors of Athletics (NACDA), Learfield Sports and USA Today present the award annually to recognize overall excellence among collegiate athletic programs.
Cortland is one of only five schools nationwide, and the only New York institution, to place in the top 20 each of the 17 years the standings have been compiled on the Division III level. The other schools that hold that distinction are Williams College (Mass.), Amherst College (Mass.), Middlebury College (Vt.) and The College of New Jersey. The Red Dragons have placed in the top 10 nationally nine times.
The Red Dragons were the top finisher this season among New York Div. III schools with 673.50 points. Middlebury won its first Cup with 1,040.75 points, followed by Washington University (Mo.) with 980.25 and Williams with 964.50 points. Williams had its streak of 14 consecutive Directors' Cup victories end.
Cortland had 15 teams participate in NCAA postseason competition in 2011-12 with nine top-20 finishes. The men's lacrosse team finished second nationally, the women's lacrosse team tied for third place and the baseball team placed fourth. The women's soccer and women's volleyball teams each tied for fifth and the wrestling team finished 10th. Field hockey and softball each tied for 17th place and the men's cross country squad finished 20th. The women's gymnastics team finished fourth nationally at the National Collegiate Gymnastics Association (NCGA) Division III Championships. That result, however, is not counted in the Directors' Cup standings.
The standings are compiled based on schools' national finishes in different sports. Teams earn points by qualifying for the NCAA postseason and additional points for advancing in the playoffs. The national champion in each sport receives 100 points.
There are four Directors' Cup Awards, one to honor overall champions in each of the NCAA's Divisions (I, II and III) and the NAIA. It is the first-ever cross-sectional all-sports national recognition award for both men and women. NACDA, which is now in its 47th year, is the professional and educational association for more than 6,100 college athletics directors, associates, assistants and conference commissioners at more than 1,600 institutions throughout the United States, Mexico and Canada.
Fall Opening Meeting Set
President Erik J. Bitterbaum has announced that the opening meeting of the Fall 2012 semester is scheduled for Thursday, Aug. 23. The meeting will begin with light refreshments at 8 a.m. in the Corey Union Function Room.
Detailed information including an agenda and response form will be sent via email by Wednesday, July 25.
All classified, UUP and M/C campus community members are invited to attend.
For more information, refer to the email or call the President's Office at (607) 753-2201.

Suggest a feature story
---
People on the Move
Steve Axtell Appointed Men's Soccer Head Coach
06/07/2012
Steve Axtell has been named SUNY Cortland's men's soccer head coach, according to director of athletics Mike Urtz. Axtell served as the program's interim head coach since January and was an assistant coach for the Red Dragons the past two seasons. He also was a volunteer student assistant coach during the 2007 season.
A goalie for the Red Dragons for three seasons (2006, 2008-09), Axtell earned All-SUNYAC honors in 2008 and appeared in 39 career games with nine shutouts. He earned a bachelor's degree in kinesiology in 2008 and is currently pursuing a master's degree in exercise science.
A native of Franklin, N.Y., Axtell holds an Advanced National Diploma and an Advanced National Goalkeeping Diploma from the National Soccer Coaches Association of America (NSCAA) with Distinguished Pass and is an Associate National Goalkeeping Staff. He is also a certified strength and conditioning specialist and has received a conditioning for soccer diploma from the International Coaches Association. Axtell is the founder and director of the One+ Goalkeeper Academy in Ithaca, N.Y., with programs in Elmira and Oneonta and summer camps throughout the Northeast.
Besides assisting with both the men's and women's soccer programs at Cortland, Axtell has served as the head coach of the Central Region scholastic soccer team at the Empire State Games and the WAZA FLO soccer club in Ithaca. He has acted as director of soccer at Camp Winadu in Mass. for two years and Ithaca MicroSoccer for one year.
Currently, Axtell is head coach and Director of Goalkeeping at the TCW Academy in Ithaca and is a New York ODP staff coach.
(NOTE: Wade Jean, the associate head coach at the University of Vermont, briefly accepted the Cortland head coaching position in May but withdrew his acceptance.)
Interim Executive Director of Alumni Affairs Named
06/12/2012
Erin Boylan, an associate director of alumni affairs at SUNY Cortland since 2009, has been named interim executive director of alumni affairs at the College. She began her duties on June 7.
As interim executive director, Boylan serves as liaison to the College's alumni residing in all 50 U.S. states and more than 40 countries. In its 144-year history, SUNY Cortland has graduated more than 68,000 alumni.
She will supervise the Alumni Affairs Office and Alumni Association staff and will organize Alumni Association Board of Directors meetings.
A search for a permanent director will be conducted in the coming year.
Boylan will continue to coordinate the annual Alumni Reunion as well as oversee other alumni events, reunion committees, Cortaca Jug alumni programming and Student Alumni Association activities.
She joined the College in 2003 as assistant director of The Cortland Fund. In 2006, she was named assistant director of alumni affairs.
In April 2010, Boylan was recognized with the College's 2010 Award for Excellence in Professional Service to Students, which honors leadership in the development or enhancement of programs that respond to student needs. Award recipients have demonstrated that they "go the extra mile" in their service to students and the College.
A native of Cortland, Boylan graduated cum laude from SUNY Fredonia with a bachelor's degree in business marketing.
She and her husband, Jeremy, reside in Homer, N.Y., with their two children, Christopher, 4, and Kaitlyn, 2.
---
Faculty/Staff Activities
Rena Janke, Gregory D. Phelan, Kerri Freese and Dominick Fantacone
Rena Janke, Biological Sciences Department, Gregory D. Phelan and Kerri Freese, Chemistry Department, and Dominick Fantacone M '12 attended and presented a poster at the 7th Annual Noyce Scholarship Conference, Building Excellence in STEM Teaching, held May 23-25 in Washington, D.C. Carl Wieman, recipient of the 2001 Nobel Prize in Physics, spoke at the conference, which celebrated 10 years of the Noyce Scholarship. The conference included representatives from nearly 350 Noyce Scholarship programs from throughout the U.S.
Nick Koziol
Nick Koziol, Alumni Affairs Office, recently learned that his office was awarded a National Educational Alumni Trust (NEAT) grant to assist with an alumni communications audit. The grant, which Koziol discovered and applied for, will fund research into how alumni communicate and how they want to communicate with the College. The findings will be used to re-vamp the SUNY Cortland's alumni communications strategy.
Mechthild Nagel
Mechthild Nagel, Philosophy Department and Center for Gender and Intercultural Studies (CGIS), holds a German Academic Exchange Service (DAAD) 2012-13 Visiting Professorship at Fulda University of Applied Science, a partner university of SUNY Cortland. Recently, she presented a paper titled "An Ubuntu Ethics of Punishment" at the 7th Philosophy Conference hosted by Athens Institute for Education & Research (ATINER) in Athens, Greece. Also, Nagel has been invited to chair the program committee for gender studies, which will be embedded in the 2014 sociology conference hosted by ATINER.
Gregory Phelan and Kerri Freese
Gregory Phelan and Kerri Freese, Chemistry Department, presented a one-hour session on obtaining funding for planning and implementing a regional conference at the 2012 Annual Noyce Scholarship Conference held May 25 in Washington, D.C. This year's regional conference, which expects 200 professional investigators (PIs) and scholars from the Northeast Region, will be held Oct. 11-13 in Boston, Mass.
Harry M. Sydow
Harry M. Sydow, Foundations and Social Advocacy Department, will earn the title of lecturer IV emeritus when he retires from the College on Aug. 31. He joined SUNY Cortland in July 2001 and is a coordinator/supervisor of field studies.

Submit your faculty/staff activity