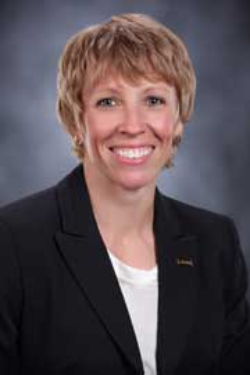 06/12/2012

Kimberly Pietro of LaFayette, N.Y., the former associate vice president for development at Onondaga Community College (OCC) since 2010, joined SUNY Cortland as its vice president for institutional advancement on Monday, June 25.
Reporting to College President Erik J. Bitterbaum, Pietro will oversee all of SUNY Cortland's fundraising initiatives and lead the College's efforts in alumni relations, government affairs, public relations and print and electronic communications.
"With so many exciting things happening on the Cortland campus, our continued growth and success will rest on our ability to maintain a balance of public and private philanthropic support," Pietro said. "By creating relevance to our various constituency groups and utilizing a college-wide marketing and communications program, we will foster strong relationships and enhance our ability to secure the resources required to fulfill Cortland's educational mission. Cortland is poised for great discoveries and achievements and we will continue to respond to the large and small challenges and opportunities that we encounter as we pursue our vision."
She assumes the cabinet-level position held by Raymond Franco '72, M '75, a 40-year SUNY Cortland administrator, who will retire later in the summer.
Pietro brings more than a decade of experience in development and institutional advancement leadership roles to Cortland, having previously served at Le Moyne College and OCC in Syracuse, N.Y.
Most recently, her guidance helped OCC as it successfully reached the $7.5 million goal of the "Reach Beyond" capital campaign.
Pietro managed and oversaw several complex projects at OCC related to fundraising, sponsorship opportunities within the college's SRC Arena, and corporate and foundation partnerships. She served in a leadership role in the college's strategic planning process. She also helped create annual budgets and established metrics to track annual giving, major giving and planned giving efforts.
Pietro worked at Le Moyne from 2001 to 2010, rising through the positions of assistant director and director of annual giving to become director of major and planned giving. In her most senior role, she proved instrumental in the college's $50 million "Achieving New Heights" capital campaign, for which she coordinated the volunteer structure, secured major restricted and unrestricted gifts and was responsible for numerous campaign communication pieces.
As director of major and planned giving at Le Moyne, a position she held from 2004 to 2010, Pietro was responsible for cultivating gifts of $50,000 or more while supervising a staff of two major gift officers. She boosted the membership of the college's planned giving society and managed more than 250 scholarships in cooperation with the school's Office of Financial Aid. Pietro worked with alumni and corporate volunteers and assisted with the Division of Institutional Advancement's stewardship efforts. She created personal acknowledgement programs for donors and created the communication for all major and planned gift agreements. Pietro also coordinated the annual "President's Club" leadership giving dinner and the scholarship benefactors and recipient dinner.
From 2002 to 2004, Pietro served as director of annual giving at Le Moyne, where she led a $2 million annual fund which used a phone outreach program that pulled in more than $380,000 annually. In addition to alumni fundraising, she managed fundraising programs related to the college's athletics department, parents' fund, senior class gift and assisted with corporate and foundation fundraising efforts.
Pietro began working at Le Moyne in 2001 as its first assistant director of annual giving. In that role, she assisted in the daily operation of the annual giving programs.
After earning a bachelor's degree in physical education at the University of South Carolina, where she was a first-team All-American and Southeastern Conference Player of the Year in softball in 1999, Pietro served as an assistant softball coach at Syracuse University.
She holds a Master of Science in Higher Education from Syracuse University and a Master of Business Administration from Le Moyne College.
Pietro is a member of four professional organizations: the Council for Advancement and Support of Education District II, the American College Personnel Association, the National Committee of Planned Giving and the Association of Fundraising Professionals.
---