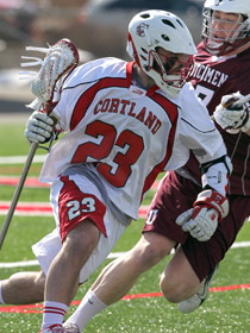 06/01/2012

Three SUNY Cortland team sports sent squads to their respective championship sites to vie for national titles this spring. And at all three sites, the smartest athlete on the field, based on grade point average (GPA), was playing for the Red Dragons.
That's because the College's baseball and men's and women's lacrosse teams each boasted the student-athlete with the highest GPA in attendance at their respective national championships.
Baseball player Zachary Badanes, a junior biology major from Syosset, N.Y.; women's lacrosse player Jamie Flood, a junior kinesiology major from East Islip, N.Y.; and men's lacrosse player Michael Tota, a senior business economics major from Webster, N.Y., each took home an NCAA Elite 89 Award this spring. That honor goes to the student athlete with the highest cumulative GPA participating at the finals site for each of the NCAA's 89 championships, across three divisions.
"This is an extraordinary group of student-athletes," said College President Erik J. Bitterbaum. "These most recent awards are reminders that SUNY Cortland students are champions, both in the classroom and in competition."
Here's a closer look at each of the Elite 89 Award winners:
Zachary Badanes
Badanes, a member of the College's baseball team, boasts two numbers that would make most collegiate pitchers drool: a sub-3.00 earned run average (ERA) and a GPA that exceeds 4.0.
"School, to me, it's just like baseball," said Badanes, who transferred to SUNY Cortland from C.W. Post — Long Island University. "I like to succeed and I know that with both school and baseball, if you work hard then you're going to get there."
Badanes
This spring, he earned the SUNY Cortland Biological Sciences Department's Outstanding Academic Achievement Junior Award, which is presented to the junior biology major with the highest GPA. Badanes has a 4.04 cumulative GPA. He's also a regular on the College's President's List.
"There have been a lot of late nights at the library," said Badanes, who aspires to attend veterinary school. "But to be honest, I don't do it for (the accolades)."
Badanes was selected to the 2012 Capital One Division III Academic All-District Baseball first team for District 3, which encompasses all Division III schools in New York state.
In 11 appearances on the mound this season, he put together a 2.48 ERA to go along with 20 strikeouts.
He credited his mother, Bridget, with instilling his passion for both his studies and baseball.
"She's always pushed me, but in a good way," Badanes said. "And she's always been there to support me, especially after tough games or if I'm going through a rough time. The only thing is, she doesn't like to watch when I pitch. It makes her nervous."
Badanes boasted the highest GPA of the eight teams that competed at the Div. III World Series in Appleton, Wis.
Jamie Flood
Flood has been a contributor since day one, both in the classroom and as a defender on the women's lacrosse team.
Flood
"Ever since I was little, my parents told me: 'School is going to take you where you want to go in life,'" said Flood, an aspiring strength and conditioning coach.
Next spring, she'll take the exam for her Certified Strength and Conditioning Specialist certification. But she's already had a taste of undergraduate research related to the field at SUNY Cortland.
This past spring, she assisted a graduate student who was researching women's fitness and trying to determine whether eccentric or concentric muscle contraction builds more strength.
"It was an awesome experience, just being able to assist with something that I'm seriously interested in," Flood said of the eight-week experience.
A regular honoree on the College's Dean's and President's Lists for her academic achievement, Flood also has been one of the College's top defenders on the lacrosse field for three years, forcing turnovers and collecting ground balls with regularity. She has started games in each of her three seasons at SUNY Cortland and this year served as a team captain.
Her 3.84 cumulative GPA was tops among all women's lacrosse competitors who made it to the "final four" in Montclair, N.J.
"When we were (at the national semifinals) last year, I knew I was really close to the winner," she said, speaking about their GPAs. "I knew I was nominated this year and was excited to see the hard work paid off."
Michael Tota
Several impressive numbers were topics of discussion during the NCAA Div. III men's lacrosse national championship between SUNY Cortland and Salisbury University on May 27.
Tota
The two teams entered the game with a combined record of 43 wins and zero losses. Nineteen All-America athletes suited up for both sides. Eight of the past nine national titles had been won by either Cortland or Salisbury.
But one of the game's more impressive numbers - 4.09 - didn't get that much attention. It represented the cumulative GPA for Tota, a third team All-America attackman, before the spring semester this year.
Tota, pictured at the top of the page to the left, has never been a stranger to success in the classroom or on the lacrosse field.
"When I visited Cortland for the first time, I was immediately blown away by the facilities and I felt it was the best combination of academics and athletics for me," Tota said. "Everyone from the coaches to my teammates to the tour guides made it feel like home."
Earlier this year, he collected a SUNY Chancellor's Award for Student Excellence and the Irmgard Mechlenburg Taylor Award, which is given to the student with the highest GPA of Phi Kappa Phi members in the School of Arts and Sciences.
Those accolades come on top of the many different all-academic nods he received and the school records he challenged during his four-year career. He finished his career with a school-record 174 goals, and sits second in school history with 247 total points.
Tota, who will pursue his Master of Business Administration at the University of Rochester in the fall, achieved the highest GPA of the Cortland and Salisbury men's lacrosse team members who traveled to the national championship in Foxborough, Mass.
---