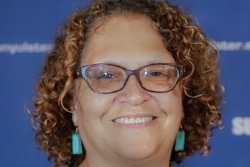 06/02/2020

Lorraine Lopez-Janove will join SUNY Cortland as chief diversity and inclusion officer and will lead and support the university's effort to promote diversity and inclusive excellence throughout all aspects of the institution. Lopez-Janove, who begins her new role Aug. 10, previously served as the joint chief diversity officer for the SUNY Orange, SUNY Sullivan and SUNY Ulster community college campuses.
At those three campuses, she provided leadership and guidance in the delivery of a comprehensive range of programs and services promoting a culture of inclusive excellence. She was a member of the president's cabinet at those institutions, participating in all aspects of institutional planning and assisting each college in its efforts to meet the needs of diverse student, faculty and staff populations.
Prior to her time with the SUNY community colleges, Lopez-Janove served as executive director of the Human Rights Commission of Sullivan County, giving her a unique perspective on the value of working with local agencies and organizations to foster mutual understanding and collaboration among diverse groups in a larger community. Her pivotal experiences include working with the New York State Education Department while at New York University to investigate and address the disproportionality of students of color in special education in schools across the state. She also has experience as an educator and administrator through Orange-Ulster BOCES.
Lopez-Janove holds certifications in Affirmative Action, Title IX and Conflict Resolution and brings a broad array of rich experiences related to equity, diversity and inclusion. Lopez-Janove attended Marist College in Poughkeepsie, N.Y., where she earned both a B.A. in social work and a master's in public administration.
"Based on my interactions with Lorraine I am very impressed by this wide range of experience and its pervasive impact on her approach to these critical issues in higher education," said President Erik J. Bitterbaum. "Further, she is completely committed to being an institutional change agent in the leadership and vision she brings to the position. Most exciting to me is her demonstrated ability to work with and inspire students, a quality that came through clearly during her campus interview. I am confident that Lorraine's experience, collaborative style of working with all stakeholders and record of achievement will serve our community well, and I am very happy she will be joining our team."
For more information, visit SUNY Cortland's Institutional Equity and Inclusion Office online.
---