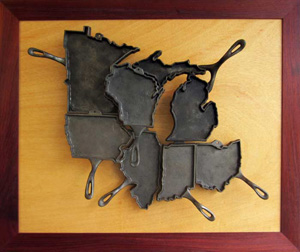 08/28/2011

A cast iron/forged iron exhibition featuring the work of 13 artists will open on Monday, Aug. 29, in Dowd Gallery at SUNY Cortland.
"Post Industrial Iron" explores sculpture using the process of casting iron, a difficult material to work with, as it requires intensive heat, fumes, heavy lifting and potential for personal harm. Juror Vaughn Randall, an assistant professor in the College's Art and Art History Department, selected the show from an open call for submissions.
Also on display is a special iron presentation, "In and Out," by New York state artists Kenyon and Powell. Kenyon's work demonstrates innovation in technological processes used for sculpture-making that often extend beyond traditional gallery settings to performances in public spaces.
An opening reception will take place from 4-7 p.m. on Wednesday, Sept. 7, in Dowd Gallery. Refreshments will be served.
Three additional programs will accompany the exhibit, which runs through Friday, Oct. 14:
• Randall will give a juror's talk at 4:45 p.m. on Wednesday, Sept. 14, in the gallery;
• Kenyon will present "In & Out, Outer Space and the Human Condition" at 4:45 p.m. on Tuesday, Sept. 27, in the gallery. Kenyon's talk will explore aspects of creative process in the context of contemporary culture and the significance of giving back to the community; and
• An Invitational Iron Pour will begin at 5 p.m. on Friday, Sept. 30, in the Studio West Foundry, weather permitting.
All events are free and open to the public.
"The 13 selected works represent a diverse spectrum of approaches to the media, yet are bound by the use of the conceptual value of the material itself," said Randall. "Every sculptor comes at the process with different goals for the end result, but they all have in common a value of the material and a healthy respect for labor."
Artists include: Stephen Coles, Kevin Dartt, Kurt Dyrhaug, James Gallagher, Adam Junior, Jack King, Coral Penelope Lambert, Teresa Lind, Nikki Moser, Wayne E. Potratz, Clifton A. Prokop, Alisa Toninato and M.E. Ware.
For more information, contact Bryan Thomas, interim gallery director, by email or by phone at (607) 753-6216. Gallery hours are from 10 a.m.-4 p.m. Monday-Friday.
---