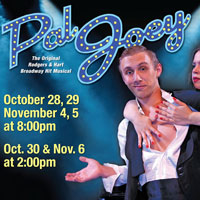 10/24/2011

The Dowd Fine Arts Theatre will transform into a tawdry South Side Chicago nightclub for six days beginning Oct. 28 when SUNY Cortland's Performing Arts Department presents the original 1940 Broadway hit musical "Pal Joey."
The production is the regional premier of the Depression-era classic starring Joey Evans, an unsympathetic antihero, who was blamed for having "too much imagination to behave himself."
Staying true to the music and lyrics of Richard Rodgers and Lorenz Hart, with book by John O'Hara, this production revives the story of Joey Evans, a small-time song and dance man who is desperate for success.
The play will be performed at Dowd Fine Arts Theatre from Friday, Oct. 28, to Sunday, Oct. 30, and Friday, Nov. 4, to Sunday, Nov. 6. Friday and Saturday performances are at 8 p.m. and Sunday matinees begin at 2 p.m.
Admission is $16 for the general public; $14 for senior citizens and SUNY staff; and $7 for all students and children. Tickets are on sale at Jodi's Hallmark Shop on Main Street in Cortland, and at the door prior to each performance.
The performance includes familiar songs, such as "Bewitched, Bothered and Bewildered" and "I Could Write A Book," and is highlighted by the spectacular choreography that has become a hallmark of SUNY Cortland musicals.
The cast includes Tim Fuchs as Joey; Sam Rey as Vera; Annali Fuchs as Gladys; Angelia Golden as Linda; Derek Mellor as Lowell; Keith Golden as Louis; Mallory Walton as Melba; and Rasheem Ford as Mike. Katie Quigley and Ricky Wenthen perform as specialty dancers, and the chorines ("chorus girls") are played by Lauren Collins, Lindsey Galgano, Chrissy Jackson, Sara Laursen, Grace McGeoch, Carly Merrill and Katie Quigley. The ensembles include Jacqui Fisher, Kerry Maloney, Melissa Pipher, Lauren Puente, Lisa Reid, Katie Stanton, Joey Gugliemelli, Chad Henke, David Newman, Charles O'Connor, Paul Warren Smith and Ricky Wenthen.
"Pal Joey" is directed and choreographed by Kevin Halpin. The associate director and choreographer is Cindy Halpin and the musical director and conductor is Corinne Aquilina. Howard Lindh is the set designer, Preston Mayre is technical director, Joel Pape is the sound designer and lighting designer and Mark Reynolds is the costume designer.
For more information, visit the Performing Arts Department website or call (607) 753-2811.
---