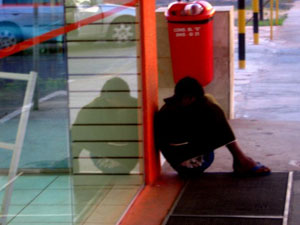 10/22/2013

Emergency room physician Tracey H. Reilly can tell students first-hand why they will never want to try any of the emerging, non-traditional drugs that are sold on the Internet.
She'll do just that in a lecture on Wednesday, Oct. 30, at SUNY Cortland. Her talk, "NEW Drugs of the Internet: Getting Amped on Ladybugs Is Not a Good Thing," begins at 7 p.m. in the Corey Union Exhibition Lounge.
After she's shared her knowledge, "even if you've tried them before, you'll never want to again," said Reilly, an attending physician in emergency medicine and medical toxicology at the UHS Wilson Medical Center in Johnson City, N.Y. since 2008.
Reilly will divulge the social and legal issues of synthetic legal intoxicating drugs and offer a clinical discussion of the medical management of acute toxicity for select new, synthetic drugs.
The talk continues the College's Wellness Wednesday series intended to encourage campus and community members to pursue a lifetime of good health.
"You no longer need 'street contacts,'" Reilly explained about the new Web drugs. "Your next therapeutic misadventure is just a click away."
Marketing and easy accessibility via the Internet has been prevalent for over a decade, she noted. To evade the label of a controlled substance, the drugs are marked "not for human consumption" and have been labeled as "incense," "plant food," "lady bug attractant" and "bath salts."
The kinds of drugs that are landing kids, teenagers and college students in the emergency room for treatment of an overdose include substances grouped as Syntheticcannabinoids, Syntheticcathinones, Kratom, Mitragyna speciosa, S Asian tree (Korth), Salviadivinorum, Methoxetamine, Piperazinederivatives, "legal Ecstasy," 1-benzylpiperazine and "legal ketamine."
Sponsored by the Health Promotion Office and the Student Development Center, the Fall 2013 Wellness Wednesday series takes place each Wednesday at 7 p.m. in Corey Union Exhibition Lounge, unless otherwise noted. The events are free and open to the public.
Reilly is board certified in emergency medicine medical toxicology with the American Board of Emergency Medicine. She completed a fellowship in medical toxicology from the University of Virginia at Charlottesville and her residency in emergency medicine at Upstate Medical University in Syracuse, where she also earned her medical degree.
For more information or physical accommodation to attend an event, contact Catherine Smith, the College's health educator, in Van Hoesen Hall, Room B-1, at catherine.smith@cortland.edu or at 607-753-2066.
---