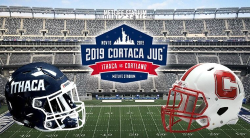 09/10/2019

SUNY Cortland students, faculty, staff and ASC employees who want to be a part of sports history will be able to buy tickets to the once-in-a-lifetime Cortaca Jug 2019 game in MetLife Stadium through Friday, Sept. 13. Any remaining tickets will be opened to the public as well as campus community and sold Sept. 19 and Sept. 20.
Purchasing tickets on campus is the only way to get them for $15 and avoid service fees. A limited number of round-trip bus seats will be available to purchase for an additional $20. All sales are cash only. ​
For more information, go to SUNY Cortland's official Cortaca Jug webpage.
The Cortaca Jug game will be played on Saturday, Nov. 16 at MetLife Stadium in East Rutherford, N.J. Kickoff is 1 p.m. There, SUNY Cortland and Ithaca College hope to break the national attendance record of 37,355 for a Division III football game.
You can help make it happen.
Ticket sale details:
Dates: Through Friday, Sept. 13
Times: 9 to 11 a.m. and 1:30 to 4 p.m. each day
Location: Corey Union, Room 406
Price: $15 for a ticket, an additional $20 for round-trip bus transportation
Students, faculty, staff and ASC employees may buy up to five game tickets. Bus tickets are limited to one per SUNY Cortland student and one for a guest and one per employee and one for a guest.
Any $15 Cortaca Jug tickets which remain after this week will be sold next week on Thursday and Friday, Sept. 19 and 20, between 11 a.m. and 4 p.m. from the ticket office in the Chugger Davis Building of the SUNY Cortland Stadium Complex. Any remaining bus tickets will also be available for an additional $20 each.
Next week's additional sale days will be the last chance for anyone to buy Cortaca Jug 2019 tickets on campus, without additional online fees.
Please note that next week's sale is open to the public, as well as students, faculty, staff and ASC employees. There will be no limits on how many tickets may be purchased, and the sale will continue only as long as the supply lasts. All sales on these days are final and are cash only. Short-term parking will be available.
Ticket sale terms:
All game and bus ticket sales are final. No refunds or exchanges. Cash only.
If you are looking to sit with a group of friends, please come together to purchase tickets, as all seats are assigned by sections.
Game and bus tickets are first-come, first-served while supplies last.
You must present your SUNY Cortland ID to purchase tickets.
Stadium and bus policies:
The following items are prohibited and will not be allowed on the bus or in the stadium:
Alcoholic beverages
Bottles, cans or food
Apparel with profanity or offensive slogans and/or pictures
Artificial noisemakers
Umbrellas, backpacks, bags, purses and pocketbooks per MetLife policies
Banners, flags or signs attached to sticks or poles
Charcoal grills
Containers or coolers
Pets of any kind
Strollers
Tobacco products
Weapons of any kind
Charter buses also have policies to keep everyone on board safe. Please respect their rules. Stay seated while moving. No tobacco products, alcohol, drugs or weapons are allowed. Do not disturb the driver or other passengers.
Avoid conflicts and delays by reviewing the policies and regulations via the MetLife Stadium website:
---