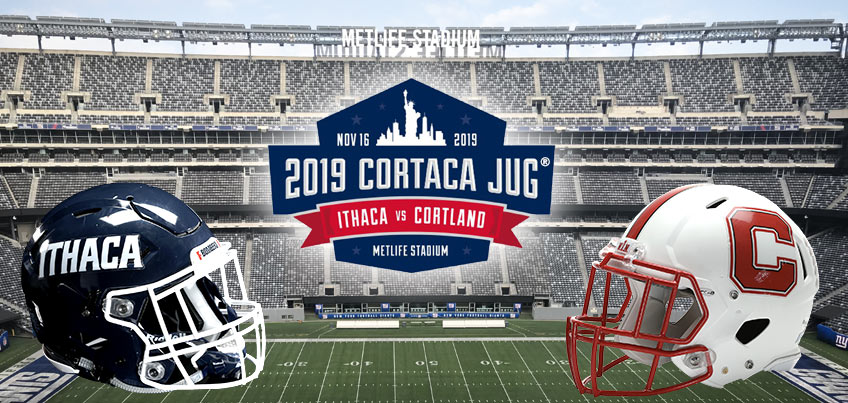 Billed as "the biggest little game in the nation" by Sports Illustrated, the annual Cortland-Ithaca football contest has been one of the top draws in NCAA Division III football for decades and a SUNY Cortland tradition for more than half a century.
Cortaca Jug 2019
The 61st Cortaca Jug game will be held at MetLife Stadium in East Rutherford, N.J. on Saturday, Nov. 16, with a 1 p.m. kickoff.
Streaming
Want to keep up with the game in real time? Watch the game live on ictv.org.
Tickets
Tickets for the general public are $15, $25 and $35 and will be sold through Ticketmaster.
Transportation
Information for SUNY Cortland Cortaca bus passengers
Be at the steps of Corey Union (or the Corey Union lobby if the weather is bad) by 7 a.m. Saturday, Nov. 16, to get checked in.
Make sure all riders have both a bus ticket and a game ticket. These are not the same things, and you will need a bus ticket to board.
All bags and items will be subject to multiple screenings prior to entering MetLife Stadium.
Be aware of what you can and cannot bring on the trip. We will provide all bus passengers with water on the way down and back from the stadium. A list of prohibited and allowed items from MetLife Stadium is below.
Please direct any questions via email to Kevin.Pristash@cortland.edu
Items allowed at MetLife Stadium
Clear bags that are 12" x 6" x 12" or less in size. Only one bag is allowed per person.
Small purses/handbags (clutch-type bags) that are 4.5" x 6.5" or less in size. Only one is allowed per person.
Food of any kind as long as it is contained in a clear plastic bag
Still-photography cameras with a lens that is 6" or less in length not contained in a case
Hand-carried jackets, blankets, or other items. They will be patted down or searched at the stadium
Official national flags that can reasonably be held by a single person that do not obstruct the view of other guests. No sticks or poles are allowed.
Items not allowed at MetLife Stadium or the Cortaca bus
Seat cushions of any size except those needed for medical reasons.
Glass bottles, cans, coolers of any kind, thermoses or ice chests; personal water bottles or coffee cups.
Alcohol of any kind
Banners of any size
Flags that are not the official flag of a country, or are displayed on a stick or a pole or cannot reasonably be held by a single person
Umbrellas, strollers, laser pointers or balls of any kind.
Single purpose video cameras or still-photography cameras with a lens longer than 6".
Selfie Sticks
Weapons, or any item that may be used as a projectile or s deemed dangerous by MetLife Stadium management.
Any animal, with the exception of a service animal.
Round-trip tickets from Crossgates Mall (Albany, NY) to MetLife Stadium are available at $30 per seat—this does not include tickets to the game. Purchase bus tickets online or by calling Alumni Engagement at 607-753-2516. No one-way tickets will be sold.
Events and Contests
In the News
2019 Cortaca Jug game to break the all-time ticket sales record for a Division III football game.