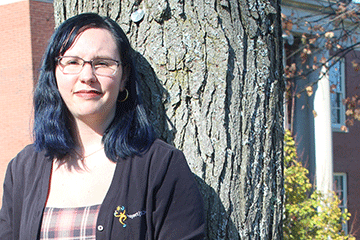 11/16/2022

Rosemarie Groesbeck has worked more than seven years as a job coach and employment specialist for people with intellectual, developmental and other disabilities.
But that's not why the SUNY Cortland senior now is majoring in psychology.
"The major just worked well with what I do," Groesbeck said.
"I am interested in true crime," said Groesbeck, one of SUNY Cortland's roughly 225 non-traditional students.
"I want to know why criminals are killing people or hurting people. What is the psyche that makes people want to commit murder? Plus, it's just fascinating, the things that people do."
Enrolled at the university since fall 2021, she's one semester shy of graduating with a degree that can make her dream career possible.
Groesbeck is one half of a married couple who, for the sake of their hopes and dreams, take turns as non-traditional students.
"It was my turn to finish school," she said.
Groesbeck lived in Howard Beach, Queens, until she was 26 years old. She followed the path of most of her family by never quite earning a baccalaureate degree after she graduated from Forest Hills High School in 2010.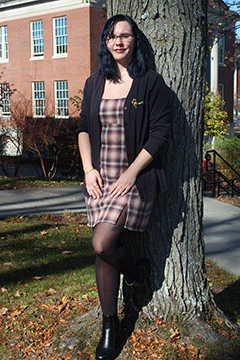 "I originally started college the traditional way," she said. "I went to Queensborough Community College for one year in liberal arts. I had wanted to be a teacher growing up."
She then transferred to St. Francis College and studied for three years while living at home, ending with an associate degree in liberal arts.
While she was studying at St. Francis and working at a supermarket, a friend from St. Francis steered her into becoming a supportive employment specialist in the afterschool program with the Mary McDowell Friends School in Brooklyn. Three years later Groesbeck, at 22, was offered a full-time position of employment specialist working with people with disabilities at the nonprofit agency, Queens Center for Progress.
"It was my first full-time job," she said of her four-and-a-half years there. "I learned a lot that I was able to carry it over, which is really cool."
In 2018, she followed her future husband to Buffalo. Now well-qualified in her field, she became a job coach with The Summit Center, a provider of behavioral health and autism services.
"My husband graduated from University at Buffalo as a software engineer and got a job at Lockheed Martin in Binghamton," Groesbeck said, noting he worked a lot in retail before that. The couple moved to the Southern Tier in 2021. Until recently, Groesbeck has supplemented their income as a job coach to a clientele with special needs.
"My husband knew about Cortland, that I was going back to school, and that it would be a good fit," she said. "It worked out really well, except the hour traveling back and forth."
At SUNY Cortland, Groesbeck has made the Dean's List every semester since she started. She combines her academic goal with a lifelong love for teaching.
Graduate school is in the picture after she earns her bachelor's degree.
"Sure, I have a big love for true crime, which interested me in psychology," Groesbeck said. "But since I genuinely enjoy working with people with disabilities, I ultimately want to pursue a career working with them as a school psychologist and, down the line, get my Ph.D. in school psychology and teach stats."
Presently, she's a teaching assistant for a course called Psych 201, Statistics of Psychology, and next semester will assist a professor again for a different psychology course.
"Don't worry about what other people think of you," she advises today's college students. "As long as you're happy, that's what really matters. Enjoy life. That's essentially how I live."
The university defines non-traditional students as undergraduates who are 24 years of age or older or, regardless of age, who may have dependent children, be working full-time, have military experience or have made a break in education at some point after high school.
The university will acknowledge these individuals Monday, Nov. 14, through Friday, Nov. 18, during its celebration of Non-Traditional Students Week.
Stories about outstanding non-traditional students will be shared during the week.
The week also includes a host of special activities, both on campus and virtually. Unless otherwise indicated, the events will take place in the Non-Traditional Student Lounge located in Cornish Hall, Room 1221.
---