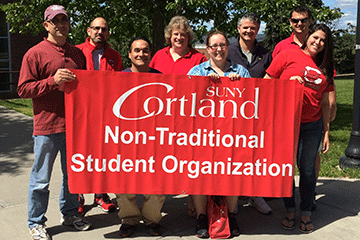 11/08/2022

Approximately 225 non-traditional students are enrolled at SUNY Cortland. Although their backgrounds often are wildly different, they all have stories to tell.
The university defines non-traditional students as undergraduate students who are 24 years of age or older or, regardless of age, may have dependent children, be working full-time, have military experience or have made a break in education at some point after high school.
"I really enjoy this week of celebrating our non-traditional students," said Cheryl Smith '05, coordinator of student outreach and non-traditional student support. "They have such interesting experiences and perspectives on their classes and life. I learn so much from those I get to meet."
The university will acknowledge these individuals Monday, Nov. 14, through Friday, Nov. 18, during its celebration of Non-Traditional Students Week.
Stories about outstanding non-traditional students will be shared during the week by the links with the dates below.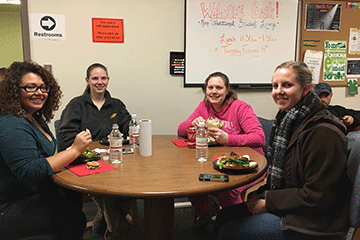 Monday, Nov. 14: Gina Williams, an outstanding senior history and archeology dual major, manages a blended family with two teenagers still at home. Her family recently welcomed her stepmother, who is dealing with health issues, into their new home in Dryden, N.Y. She found time to cofound the Archeology Club and to explore her complex European and Native American roots.
Tuesday, Nov. 15: Caesaré German, a senior inclusive childhood education major from Syracuse, N.Y., is restarting her college career after a 16-year stretch working, helping her family and checking out the West Coast. She is also featured as Campus Champion in today's issue of The Bulletin.
Wednesday, Nov. 16: Senior psychology major Rosemarie Groesbeck of Binghamton, N.Y., has worked as a job coach or employment specialist for individuals with disabilities. A completed bachelor's degree will help her pursue the field of school psychology, with her sights on a doctorate.
Thursday, Nov. 17: Senior healthcare management major Patricia Parshall of Moravia, N.Y., is earning a bachelor's degree to move her career to the next level in information technology, namely as an operations director. Parshall, a full-time data reporting analyst with Cayuga Medical Associates, is a wife, mother and grandmother.
Friday, Nov. 18: Natalya Shatskikh moved to America from Lipetsk, Russia, 16 years ago to continue her college studies so she could teach English and French. Life took over, and the senior childhood/early childhood education major and treasurer for the non-traditional student organization (NTSO) raises a daughter as she attempts to fulfill her lifelong dream.
Next week will include a host of special activities, both on campus and virtually. Unless otherwise indicated, these will take place in the Non-Traditional Student Lounge located in Cornish Hall, Room 1221.
Events include:
Monday, Nov. 14: Monday Morning Warm-Up, 8:30 to 10 a.m. Stretch out those muscles before you test your brain in the classroom.
Tuesday, Nov. 15: Soup and Sandwiches, noon to 1:30 p.m. A light lunch with your classmates will set you up for the rest of the afternoon.
Wednesday, Nov. 16: Pizza and Wings, 11:30 a.m. to 1 p.m. Soar right over Hump Day with a fun lunch with companions.
Wednesday, Nov. 16: Scholarship Information Session for Non-Trads, at 1:30 p.m., Moffett Center, Room 133. Learn how to apply for scholarships, including those for non-traditional students, with a representative from the Financial Aid Office.
Thursday, Nov. 17: Bowtie Pasta Lunch, 12 to 1:30 p.m. Enjoy your noon meal with a beverage in the company of your fellow non-traditional students.
Friday, Nov. 18: TGIF! Relax with Coloring and Zentangles, 9 a.m. to 4 p.m. Color, doodle and have some creative fun while unwinding from the school week with friends.
All Week:
Celebrate-a-Non-Trad Campaign. Nominations are being accepted for the "Celebrate-a-Non-Trad" campaign, which aims to recognize non-traditional students who often balance college with other commitments such as family, jobs and long commutes. SUNY Cortland will present nominated non-traditional students with a certificate and campus recognition. Nominations should include the student's name, contact information, relationship to the student and comments about the nominee. Comments will be listed on the certificate, unless otherwise noted. To nominate a student, fill out the nomination form. Complete this form by 4 p.m. on Friday, Nov. 18.
"You Know You Are/Were a Non-Trad Student When…" Kudoboard. Current and former non-traditional students are encouraged to check out the Kudoboard link, complete that sentence and post on our online message board, a bit like Post-It notes.
Non-Traditional Students Week is co-sponsored by the Non-Traditional Student Organization and Advisement and Transition with a grant from Cortland Auxiliary Services.
For more information about Non-Traditional Students Week events, contact Non-Traditional Student Support at 607-753-4726.
---