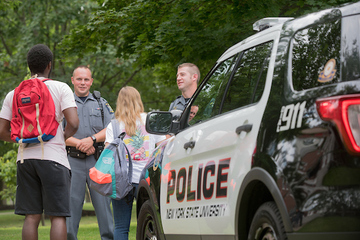 08/22/2019

Student safety is one of the foremost concerns of parents when their child is making a college decision.
It's also SUNY Cortland's primary concern.
Safewise.com is the latest organization to recognize the university's commitment to safety, naming Cortland, N.Y. to its annual ranking of the safest college towns in America. Cortland, the only municipality in New York state to make SafeWise's list, placed at No. 20.
"We want our students' time at SUNY Cortland to be filled with positive, life-improving experiences, and our surrounding community helps provide the safe, enriching environment that makes that possible," SUNY Cortland President Erik J. Bitterbaum said. "This ranking is no surprise to us. We know that the beautiful hills of Central New York provide a perfect backdrop for a safe, but extraordinary, educational adventure."
The ranking examined statistics and population data from the Federal Bureau of Investigation on violent crimes per 1,000 people for each city and also considered property crimes. Safewise built its list using cities with a population of at least 15,000 residents that are home to an accredited college that offers four-year degrees. Colleges with an enrollment of fewer than 2,000 students were excluded.
Safewise specifically lauded the City of Cortland's decrease in the property and violent crime rates over the past year.
SUNY Cortland has received a number of plaudits for its efforts to keep campus safe for students.
YourLocalSecurity.com named Cortland the safest college environment in New York state earlier this year.
Safewise has previously ranked Cortland on its list of the 50 safest college towns in America in 2017 and 2018.
The university provides a number of services that provide for a secure atmosphere on campus. The University Police Department, which moved into a state-of-the-art facility in Whitaker Hall in 2017, has uniformed officers who monitor the campus 24 hours a day. UPD sponsors educational programs on crime prevention, personal safety, self-defense, sexual assault prevention and other topics.
Cortland's Title IX Office works to raise awareness about sexual harassment, sexual assault and sexual violence as well as offer training to students, faculty and staff on how to identify and prevent domestic violence, dating violence and stalking.
---